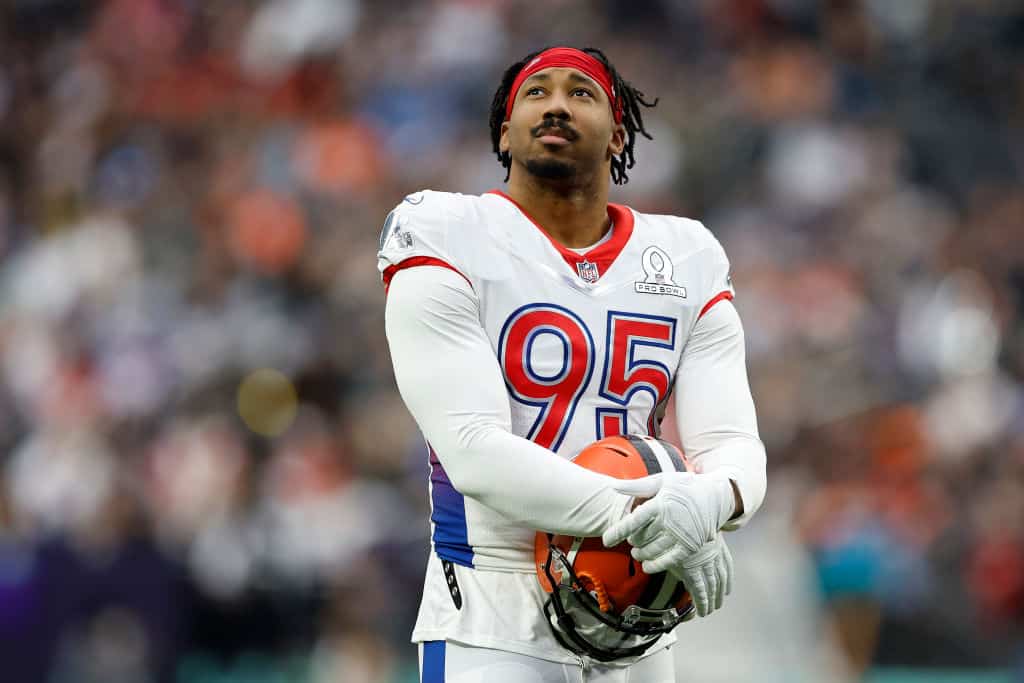 The Cleveland Browns had five players in the 2022 Pro Bowl.
Congrats to @NickChubb21 @Flash_Garrett @denzelward @JoelBitonio and Wyatt Teller on playing in the Pro Bowl today 🔥 #Browns

— Sir Yacht🛥 (@SirYacht_) February 6, 2022
There were plenty of critics that took to social media to talk about the Pro Bowl (more on that later), but there was one really exciting play for Browns and AFC North fans.
It was the defensive touchdown that displayed the athleticism and agility of two of the best defensive ends in football, T.J. Watt and Myles Garrett.
The Play
NFC quarterback Kirk Cousins threw a pass that was tipped by Watt.
Garrett caught the deflection and took it to the house.
.@Flash_Garrett with the AFC North assisted Pick-6! 😈

📺: #ProBowl on ESPN pic.twitter.com/kLOyuTd7WB

— Cleveland Browns (@Browns) February 6, 2022
The AFC North reinforced the point that it is a powerhouse for defensive ends playing at the top of their game.
Criticism Of The Pro Bowl
The Pro Bowl returned after not being played in 2021 due to the COVID-19 pandemic.
It was played at Allegiant Stadium in Las Vegas, Nevada.
Critics did not like that the game was the equivalent of a flag football game.
Watt's big brother, J.J. Watt, inserted a laughing emoji in his commentary so it is not clear if he was offended by how the game was played.
"I've seen walk-thrus more intense than this."
I've seen walk-thrus more intense than this 😂#ProBowl

— JJ Watt (@JJWatt) February 6, 2022
Hall of Famer Deion Sanders made his opinion known that this game was not up to the standards of when he played.
.@DeionSanders sounds off on the Pro Bowl 🗣

You tune in this year? pic.twitter.com/M82fwqKyZ7

— B/R Gridiron (@brgridiron) February 6, 2022
Conclusion
There was more contact during the celebrations..than the actual play #ProBowl

— Oke Ezege (@LoverBoy_Nwanne) February 7, 2022
Both sides have valid arguments about how the Pro Bowl was played.
Players already have an extra regular-season game on their schedule as of 2021 so they are a little more beaten up entering the Pro Bowl.
No one wants to see a catastrophic injury in the Pro Bowl that could impact a player's availability for the 2022 regular season.
The Pro Bowl Skills Showdown, in addition to a few key plays during the game like the Watt and Garrett one, are the high points of Pro Bowl week.