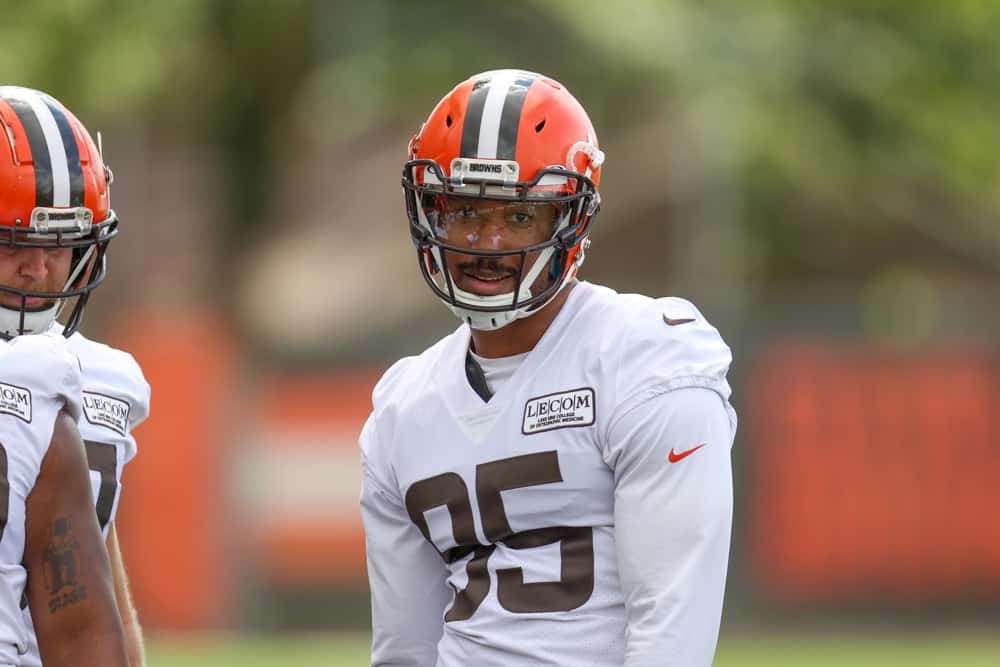 It was one of the uglier on-field incidents in recent NFL history.
Myles Garrett and Mason Rudolph's brawl last year on Thursday Night Football, culminating with the infamous helmet smash, has been talked about at-length ever since Garrett swung that big arm over Rudolph.
Mason was far from innocent, with Garrett even claiming the use of racial slurs from Rudolph.
Nothing was ever proven and both parties eventually moved along.
On Sunday, following a Browns win over Pittsburgh, the two men held a more civil post-game interaction.
Looks like Mason Rudolph and Myles Garrett cleared the air after today's game. From Rudolph's IG: pic.twitter.com/2W929CdOwk

— NFL Update (@MySportsUpdate) January 3, 2021
Is the Beef Squashed?
What happened between these two last year was something many will never forget.
Not just the incident itself, but the drama that would follow. Again, Garrett made claims of Rudolph using racial slurs in an interview on ESPN back in February.
"He called me the N-word…", Garrett said. "He called me a 'stupid N-word'".
Those are far from light accusations to make against another player.
The NFL would investigate this, but ultimately found no evidence that supported these claims.
Rudolph also denied these claims, claiming he "could not believe" Garrett would accuse him of using slurs.
Steelers head coach Mike Tomlin would also appear on ESPN and support his quarterback.
Regardless, however, the Browns faithful remain confident Garrett was provoked by something Rudolph said.
The two teams are yet to have a matchup following that night where the fight is not talked about.
Since that string of interviews, the dust has settled regarding the brawl.
That was until it was announced Rudolph would be starting in the place of Ben Roethlisberger on Sunday.
Immediately, the internet memes were formed for this matchup.
Wait. Mason Rudolph is playing against Myles Garrett today? pic.twitter.com/P1bqllz1Yl

— Aaron Rodgers doppelganger (@szechuan_sean) January 3, 2021
There would be no end-of-game fisticuffs this time around though.
In fact, the opposite would take place.
"Onward and Upward" is what Rudolph's caption on Instagram reads.
While that may receive an eye roll from many in Cleveland, it beats a repeat from one season ago.
When asked about the post-game discussion with Garrett on Sunday, Rudolph recounted a calmer scene than the last time these two met in Cleveland.
"Myles came over and said 'good game', and that's all it was… I told him good luck, I have a lot of respect for him".
Myles Garrett went and found Mason Rudolph in the Steelers tunnel after the game. On that exchange: "I just told him good game. Hell of a game. And we'll see ya'll next week."

— Jake Trotter (@Jake_Trotter) January 3, 2021
Unless Roethlisberger calls it quits at the end of this season, it's hard to tell when the next time Garrett and Rudolph will be starting in the same game again.
Given the coverage this post-game conversation between the two has garnered though, I doubt the Thursday night incident remains a talking point between Cleveland and Pittsburgh moving forward.
It's evident the two men want to put that in the past.
It would serve the NFL community well to do the same.