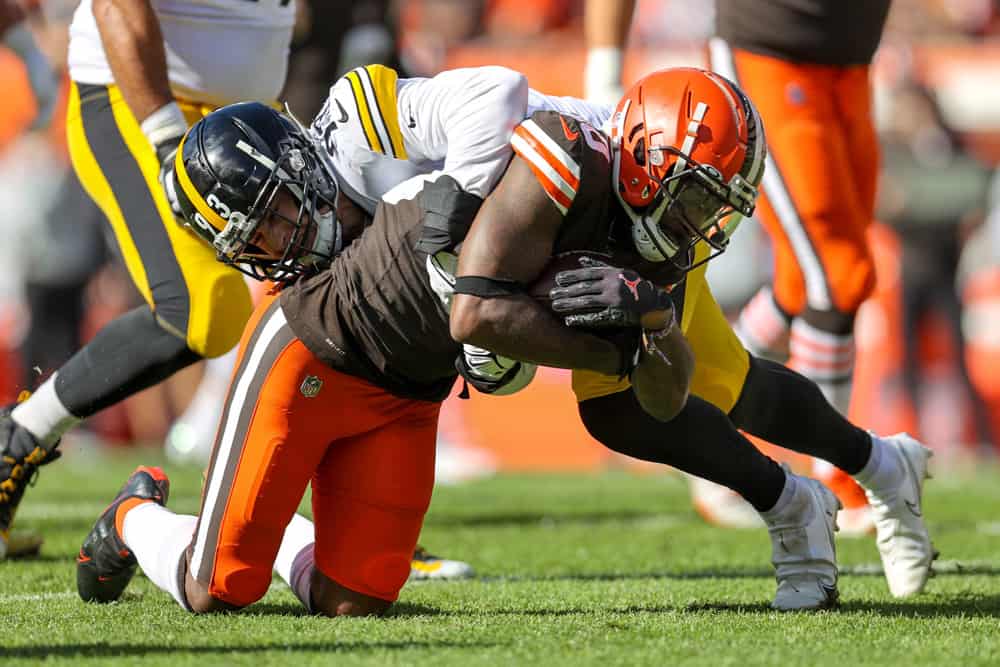 There was just one Cleveland Browns turnover in Sunday's Week 8 loss, and it involved one current Brown and one former Brown.
With six minutes and 14 seconds remaining in the fourth quarter, Joe Schobert stripped Jarvis Landry of the football and changed the ballgame.
It was not the first time Schobert stripped Landry.
He also had done it in training camp when both were a member of the Browns.
This is pretty cool: Joe Schobert told us today that his game-changing strip of Jarvis Landry was something he'd done before in training camp when they were both Browns.

Fact check: True! Thanks to @dan_labbe for dutifully filming and tweeting it in 2019:https://t.co/dV5Y71iEAz pic.twitter.com/nlzsoSplcu

— Brian Batko (@BrianBatko) November 1, 2021
Schobert, who made a one-year stop in Jacksonville last year, was acquired by Pittsburgh in August.
The Browns drafted the linebacker in the fourth round of the 2016 draft, and he spent four years with the team.
Schobert led the league in tackles in 2017.
He and Landry then spent two years together in Cleveland: 2018 and 2019.
It seems that Schobert learned Landry's tactics by their second season together, and that helped the Steelers on Sunday.
It was Schobert's first forced fumble since December 27, 2020.
Even though Schobert made a tremendous play, Landry deserves the most blame for Sunday's loss to Pittsburgh.
The only giveaway of the contest came as the Browns were approaching the red zone.
It would end up being the Browns' second-to-last possession of the important divisional clash.
If Cleveland had even settled for a field goal on both of their final drives, the Browns would have had a strong chance at winning.
Yet, it did not happen due to Landry's first fumble of the season.
The difference between 5-3 and 4-4 may have been that fumble.
The Browns entered Week 8 as the second-best NFL team this season, according to Pro Football Focus.
Unfortunately, they did not play like that against the Steelers in the 15-10 loss.
The Browns Passing Game Needs to Improve
To add insult to injury for the five-time Pro Bowl receiver, he has yet to catch a touchdown pass this year.
He, along with Odell Beckham Jr., has made this year a difficult one for the Browns offense.
The passing game has been such a struggle this year in Cleveland
David Njoku surprisingly leads the Browns in receiving yards, followed by Beckham Jr. and Donovan Peoples-Jones.
However, even combining the top Browns pass-catchers cannot reach the top three in the NFL:
Top Three Browns in 2021 Receiving Yards Combine for 783 Receiving Yards
David Njoku, 323
Odell Beckham Jr., 232
Donovan Peoples-Jones, 228
Top Three NFL Players, 2021 Receiving Yards
Cooper Kupp, 924
Deebo Samuel, 819
Ja'Marr Chase, 786
Landry does not reach the top three in the above Browns leaderboard.
However, the good news is that he does lead the team with 45.5 receiving yards per game.
The bad news is that mark ranks 71st in the NFL.
Njoku's 40.4 yards per game are 82nd, and Beckham Jr.'s 38.7 are 86th.
Peoples-Jones also makes the top 100 at 38 yards per game (89th).
Overall, the Browns have the following rankings in the passing game this year:
26th in passing yards
30th in passing touchdowns
Third-fewest interceptions
The bottom two marks are good to see, but the top two are very frustrating.
Now, is everyone on offense to blame?
Mayfield is dealing with a labrum injury in his left shoulder.
Dan Orlovsky said that everyone let Mayfield down on Sunday.
The Browns next head to Cincinnati after both teams suffered losses in Week 8.
Hopefully for Cleveland, the blame game will not have to be played next Sunday.