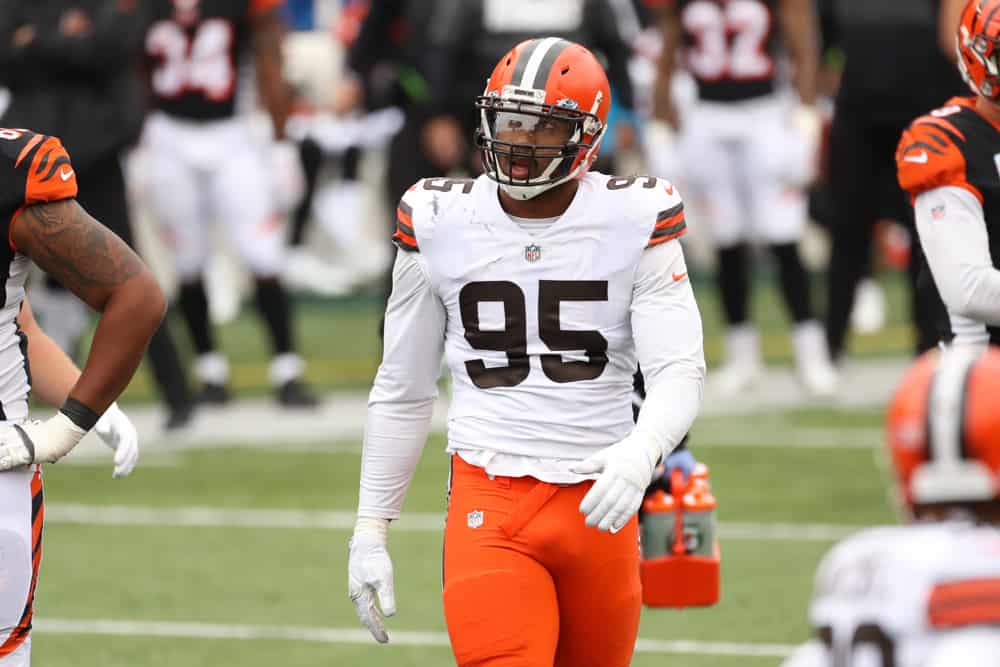 It won't be long before the Cleveland Browns and New England Patriots do battle in Week 10.
This is an important game for both organizations who are currently in the playoff hunt.
Both teams are coming off significant wins last week, but still have a long way to go.
Although, the main takeaway from the Patriots game was not their win, but instead what rookie quarterback Mac Jones did to defender Billy Burns.
Garrett is aware of what Jones did and is hopeful that it doesn't happen to him on Sunday.
Dirty Play By Jones?
Last week, rookie quarterback Mac Jones grabbed Carolina Panthers pass rusher Billy Burns' ankle after forcing Jones to fumble the ball.
Obviously, Burns was upset and believes it was a dirty play by Jones, but you can make that decision for yourself.
Here's the video of Mac Jones grabbing Brian Burns ankle (just follow those two and you'll see it). pic.twitter.com/OKWgBwIN9c

— Albert Breer (@AlbertBreer) November 7, 2021
It certainly appears that Jones grabs and twists Burns' ankle, but Garrett is hopeful that doesn't happen to him.
"I will hold my comments on that one. Hopefully, it does not happen to me. I do not know. Is he going to turn into the ankle grabber? I do not know. We will see," said Garrett.
Regardless of the intent, Burns is upset and wished "happy hunting" to his fellow D-Line brothers.
Jones mentioned later that he thought Burns had the ball after his strip sack.
Now, Burns is questionable for their upcoming matchup against the Arizona Cardinals on Sunday.
This is certainly the type of plays that the NFL wants to prevent going forward, but Jones was not fined for his actions in last Sunday's game.
Good Luck With Garrett
The Patriots are going to have to do everything in their power to try and slow down Garrett.
Through nine games, Garrett has 33 tackles and is leading the league in both sacks (12) and tackles for loss (12) this season.
Garrett is fully aware of what could happen to him on Sunday, but also said it's his fault if he lets it happen.
"If I tackled a man or I sacked him and I let him grab me, honestly, that is on me," the NFL's sack leader said. "I am not saying it is on Brian. He did not expect that. Now, we have all seen it. Now I know to get my behind up and get out of the way," said Garrett.
The 25-year-old has put himself and the fast path to Defensive Player of the Year.
Although, one injury could change that, so Garrett needs to be careful.
Hopefully, Jones has learned his lesson and won't do anything like that again.
The two teams are scheduled for a 1 p.m. ET kickoff Sunday at Gillette Stadium.