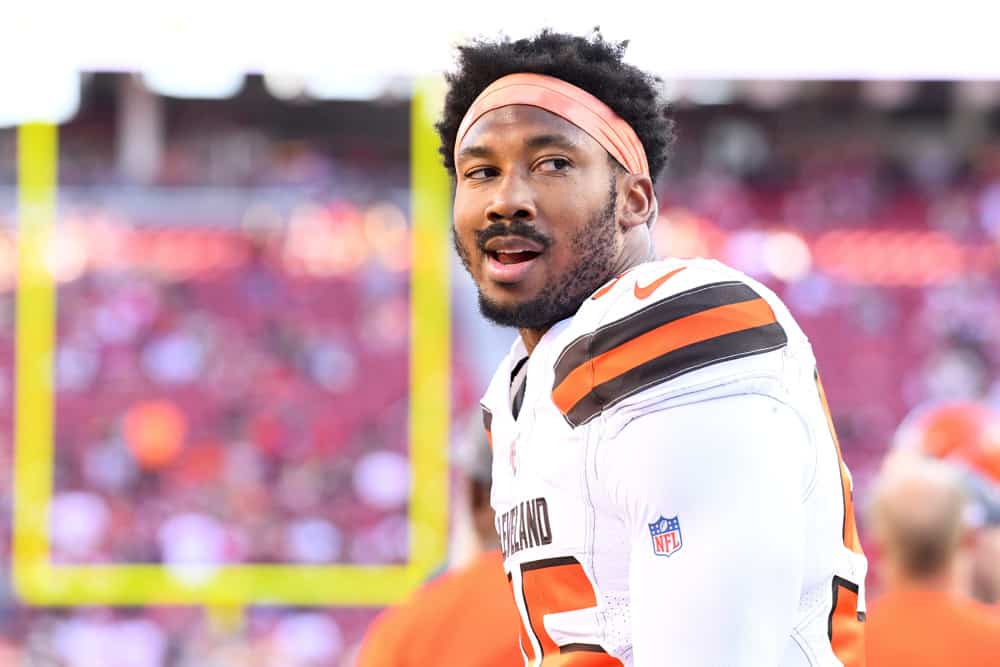 The Cleveland Browns are set to unveil their new uniforms Wednesday and many are wondering what changes we will see.
Browns star defensive end Myles Garrett took to social media to express his opinion of the new uniforms.
New unis are 🔥 #backtotheroots

— Myles Garrett ⚡️ (@MylesLGarrett) April 14, 2020

It seems that Garrett is a fan of the new uniforms.
Shortly after, the Cleveland Browns followed up with a teaser video of their own.
Tomorrow … pic.twitter.com/x4pePdIEGS

— Cleveland Browns (@Browns) April 14, 2020
The Browns are rumored to return to a more traditional look with the new uniforms.
The Browns also announced on Monday that profits from the first wave of jersey sales will be donated to COVID-19 relief efforts.
4.15.20. Noon ET.

All team proceeds from our new jersey sales will go to the "Hats off to Our Heroes" fund, which will aid those persisting in the face of adversity during the COVID-19 pandemic » https://t.co/ZVH9zDKwWh pic.twitter.com/KxehO1u2NT

— Cleveland Browns (@Browns) April 13, 2020

There has been a lot of speculation about what the new uniforms will look like and a rumor that there will be a minor tweak to the helmets.
According to Paul Lukas of Uni Watch, a decal manufacturer was working on "tweaks" to the Browns' helmet.
The original helmet did not include a side logo, and will not include one moving forward.
According to Luka's source, the helmet will receive a brown and white helmet strip.
Barring a leak, we will have to wait until the new uniforms are released to get all the details.
But, this certainly hasn't stopped fans from speculating.
The rumored new color rush uniforms.

How do we feel?#Browns pic.twitter.com/W2kYi37uYy

— MoreForYouCleveland (@MoreForYou_CLE) April 14, 2020
Browns will unveil new uniforms tomorrow. ICYMI, yesterday I had exclusive details on what they've been planning. Full info: https://t.co/51OIqYJaup pic.twitter.com/nmvthfGMtU

— Paul Lukas (@UniWatch) April 14, 2020
@wreckthisleague Hey, great work you're doing! I de-saturated every hue that isn't orange, and if you look closely enough, there is brown/orange/brown striping on the side of the jersey. Looks like a cleaner version of what's on the current uniforms. pic.twitter.com/QZ5BOG4KVD

— Ethan Andaloro (@ethanandaloro) April 12, 2020