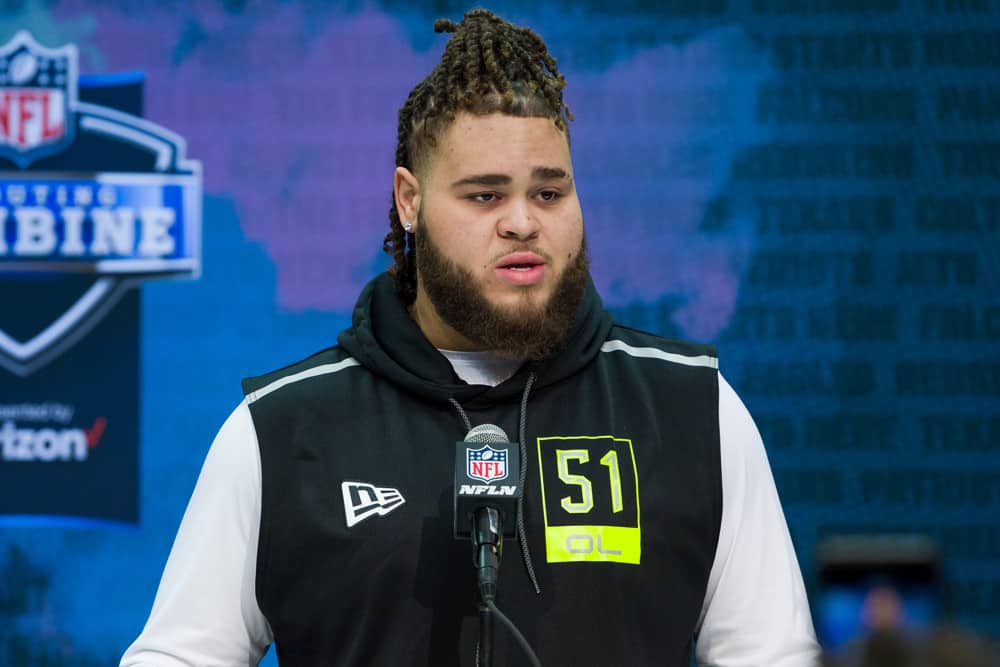 For the Cleveland Browns, this year's offseason program — or significant lack thereof — presents challenges across the board. The team is preparing for its first training camp under new coach Kevin Stefanski, one which may prove complicated considering every team meeting over the past few months has taken place via Zoom call.
Add in the fact we're still a few weeks away from Cleveland actually hosting padded practices, and you can see how the NFL's new camp setup intensifies more than a few items on the 2020 task list.
It goes without saying one of the biggest priorities impacted by the revised offseason program is the transition for Jedrick Wills Jr. Cleveland's first-round pick is set to make the move from right to left tackle in the days ahead, which is no easy feat under normal circumstances.
Now, with the way camp will be set up, said task has become more burdensome than before.
Admittedly, while transitioning from the right to left side of the line would be arduous for even the most experienced tackles, it's an adjustment which won't be catching Wills off guard. He reportedly began practicing as a left tackle ahead of the draft in anticipation of such a move. Knowing that, he's at least had plenty of time to mentally prepare for his role in the pros.
Ideally, this helps with the lack of opportunities he's had to prepare physically. Instead of having the luxury of OTAs and minicamp during his first summer in the NFL, the bulk of Wills' offseason program took place digitally.
Right off the bat, that'd appear to put him a little behind with his transition heading into camp.
However, things don't get any less complex in the weeks ahead.
For one, typical training camp schedules have been tossed aside as a result of the NFL's new mandates. The Browns are opening things up with strength and conditioning sessions, but won't hold in-person meetings until August 9.
Stefanski says Browns are splitting groups for next week's conditioning. No in-person meetings until Aug 9. Says team plans to "go beyond" league protocols to keep players virus free.

— Zac Jackson (@AkronJackson) July 30, 2020
On top of that, no padded practices can take place until August 17. Essentially, Wills' first opportunity for authentic in-game blocking simulations comes less than a month before Cleveland's Week 1 contest against the Baltimore Ravens.
It's not an ideal setup, one exacerbated by the fact the league completely scrapped all preseason games.
Tedious as these contests tend to be from a fan's perspective, there's no denying the fact preseason playing time would've been beneficial for Wills heading into the 2020 campaign. Game reps are the best possible practice for a move like this. Outside of some camp simulations, Wills will receive none of these before the season starts.
Needless to say, Wills' transition has quickly become one of the trickier tasks for Stefanski to deal with. It can be filed right under "learning the ins and outs of being an NFL head coach after spending the summer running virtual training sessions."
Stefanski did confirm yesterday there are no plans to change things up, that the goal is still to have Wills start at left tackle. In an effort to avoid sounding too doomsayer, this position change is still quite doable, even considering the circumstances listed above.
Wills spent his college career protecting the blindside of Alabama quarterback Tua Tagovailoa, which gives him some familiarity with the duties of his new role. Likewise, offensive line coach Bill Callahan didn't seem to have any worries with Wills' transition back in May when commenting on his virtual coaching sessions.
"No, that does not concern me, scare me or bother me in any respect," Callahan said of Wills' position change. "I'm quite confident that he is capable of being our LT."
Cleveland wouldn't have selected Wills tenth overall if it didn't have complete faith he could make this move. To date, there's no reason to believe he can't.
All that's being hammered home here is the fact new league protocols have made his route to left tackle significantly more unique and complicated. Thanks to enduring several significant limitations over the past few months, Wills' work is definitely cut out for him in the coming weeks.
That said, should he endure all of these setbacks and still see success at left tackle, it would be one heck of a start to what could be a very impressive NFL career.