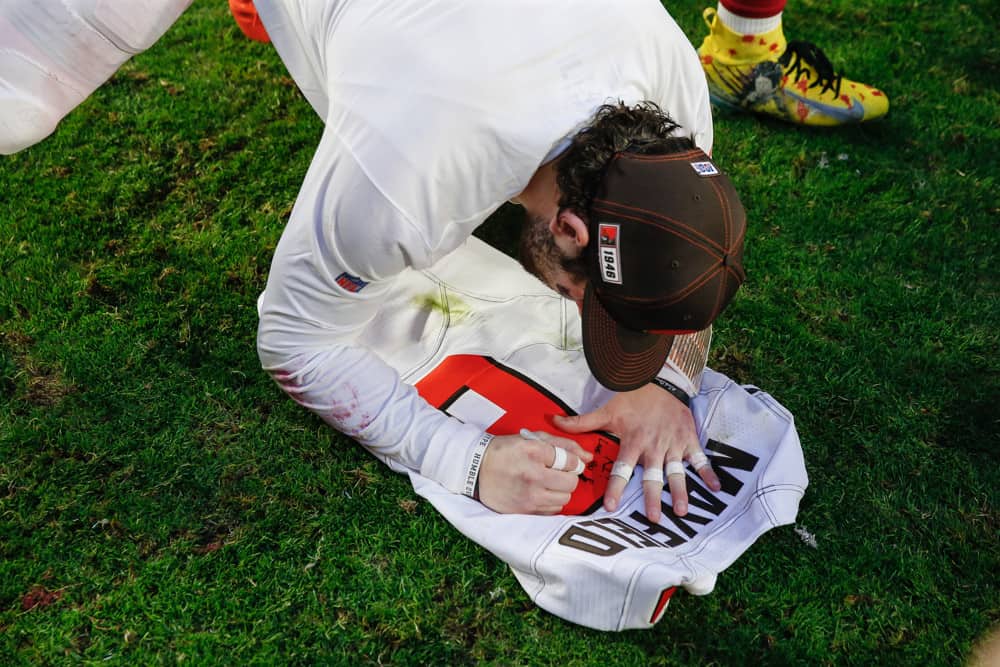 The Cleveland Browns had their big 75th-anniversary uniform reveal on Saturday July 24.
These are limited use uniforms that are styled almost exactly like the uniforms of the inaugural 1946 Browns team.
Browns unveil 75th anniversary uniform for this season: pic.twitter.com/3FD2ym0cXQ

— Jake Trotter (@Jake_Trotter) July 24, 2021
Those were received very well by fans and players, and sales have been brisk.
However, there was still a small segment of the Browns fan base that really wanted to see an orange jersey.
Whether it was planned or coincidence, an orange inverted jersey recently dropped on July 31.
i need this #browns jersey. pic.twitter.com/NkUGRKdDs1

— jennah (@Jensisko) July 31, 2021
You can find this jersey on fanatics.com by clicking here.
This jersey is currently only available with Nick Chubb's number in men's sizes.
It is unknown if more players' numbers will be available in this orange inverted jersey style or if we will see youth and women's sizes for sale also.
Unlike the much-anticipated jersey reveal last week, this orange inverted jersey dropped with no explanation.
Fans are happy but confused.
🚨🚨WE'RE ON ORANGE JERSEY ALERT PEOPLE!!! 🚨🚨

WE NEED AN EXPLANATION @Browns @JDubsIII @BrownsProShop !!! https://t.co/xSUUwfQ61y

— ParkerSCenter 🐶 D4L (@MrVanillaman9) July 31, 2021
New Browns Jerseys In 2020
The Browns have had a flurry of new uniform looks.
They had a new jersey for 2020.
Our 2020 Jersey Design Concept:

New Decade | New Mindset

SAME TRADITION. #Browns | #DawgPound pic.twitter.com/6qq2fjC0yv

— BrownsAccess (@BrownsAccess) January 5, 2020
This one was well-liked.
There has been a recent look that did not rate well with the fans; those were the 2015 uniforms.
Get your 2015 Cleveland Browns Jerseys NOW! #BrownsUnis >>> http://t.co/9DRJwpVatQ pic.twitter.com/7WJ2qmcU97

— Cleveland Browns (@Browns) April 15, 2015
The picture does not do these uniforms justice.
No one particularly cared for the Cleveland wording on top of the jersey number.
Even worse was the Browns name on the sides of the pants.
The 2015 Cleveland Browns Uniforms have officially arrived! #BrownsUnis >> http://t.co/vE1Jbsq31k pic.twitter.com/ibe7U6l3Ov

— Cleveland Browns (@Browns) April 14, 2015
The Browns look good with the brown jerseys over orange pants. Thank god they changed their set from the 2015 monstrosity as soon as the 5-year rule allowed possible. #TNF

— B-Dilly (@Titan4Ever2488) September 18, 2020
Browns in 2021
Just like the many diverse uniform options now available for fans to purchase, the 2021 Browns roster has many diverse superstars planning to excel this season.
The next pieces of fan memorabilia that many hope will be available for sale this season are AFC North Champion t-shirts.
There is a lot of work to do to get from this point in training camp in late July to a division championship six months from now.
Hopefully, the Browns stay healthy and COVID-19 free as they pursue these ambitious 2021 goals.