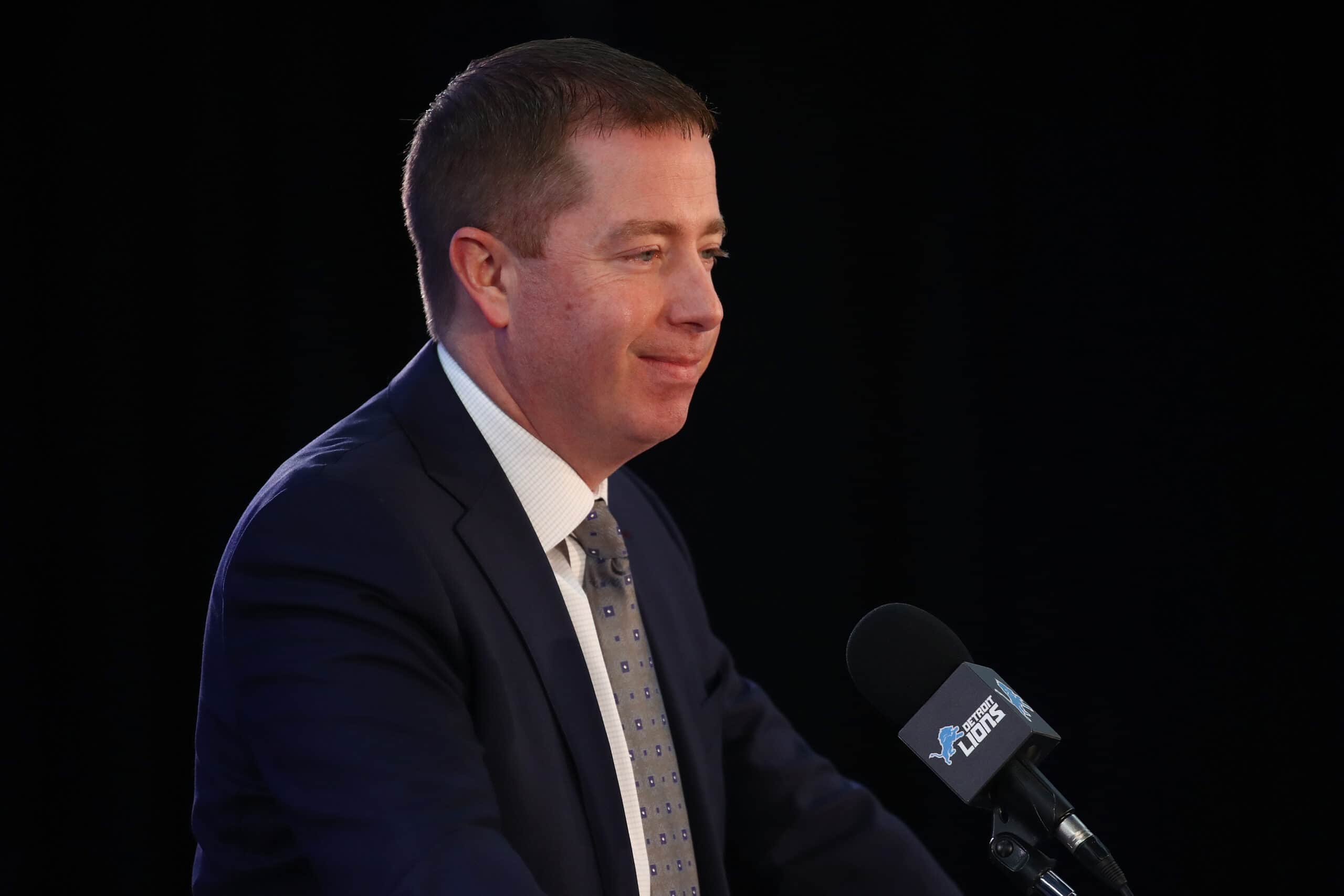 Cleveland Browns GM Andrew Berry raised some eyebrows recently when he hired Bob Quinn as a senior consultant.
Bob Quinn may not be a household name in Cleveland, but he has a long career in the NFL.
The #Browns have hired former #Lions GM Bob Quinn as a Senior Consultant to their Football Ops department, source said. A new voice and sounding board for GM Andrew Berry, Quinn will help in a multitude of areas.

— Ian Rapoport (@RapSheet) July 30, 2021
Here are three things to know about 45-year-old Bob Quinn.
1. Former GM Of Detroit Lions
Quinn was most recently employed by the Detroit Lions as the general manager.
He was in that role from 2016-2020.
His firing was part of the Lions' efforts to clean house which also included firing beleaguered head coach Matt Patricia.
He had two years remaining on his contract with the Lions when he was fired.
Quinn had been seeking a front office job after leaving the Lions; he was interviewed in Jacksonville.
2. New England Native
Quinn was born and raised in Massachusetts and went to college at the University of Connecticut.
He has a Bachelor's Degree in Political Science and a Master's Degree in Sports Management.
Quinn worked within the New England Patriots organization from 2000-2015 in various scouting and personnel roles.
He is a four-time Super Bowl champion as an executive with the Patriots.
What could Bob Quinn possibly offer the analytics minded Browns front office? What a weird hire. Surprised Pats didn't bring him back in to pretend to have a job while Bill does all the work.

— Nathan Armaly (@NathanA01) July 30, 2021
3. Switching Places
In an odd switcheroo, former Lions and Browns executives are changing roles.
Recall that former Browns GM John Dorsey (2017-2019) joined the Lions earlier this year as a senior personnel executive.
The Lions hired ex-Browns GM John Dorsey and now the Browns returned the favor by hiring ex-Lions GM Bob Quinn https://t.co/kqLdkaIzdn

— The Lions Wire (@thelionswire) July 31, 2021
Why Did Berry Add Quinn?
Some have questioned what Berry is thinking as he makes this addition to his staff, but Berry is thorough and meticulous so there is a method to the madness.
When the Browns hired Paul DePodesta everyone laughed because he was a "baseball guy."

When the Browns hired Kevin Stefanski everyone laughed because of a playoff loss.

The Browns are hiring Bob Quinn and people are laughing because he failed in Detroit.

Keep laughing. pic.twitter.com/LPpgNiA4Tg

— Nick Karns (@karnsies817) July 30, 2021
Berry already has a sounding board in former Indianapolis Colts GM Ryan Grigson at his disposal who has been a Browns senior football advisor since 2000.
Perhaps he is creating depth in the front office as he has with the roster.
He knows he has some young and bright stars on staff that could leave within the next couple of years.
Current Vice President of Operations Kwesi Adofo Mensah is one of those rising stars who was recently in the running for the GM position with the Carolina Panthers.
Quinn did not leave Detroit with a good reputation, and this move appeared to be bigger news in Detroit than in Cleveland.
It does seem like Quinn is looking to gain solid experience as a launching pad to another prominent front office job.
In the meantime, he can bring an outside and unbiased opinion on Browns' issues and decisions.