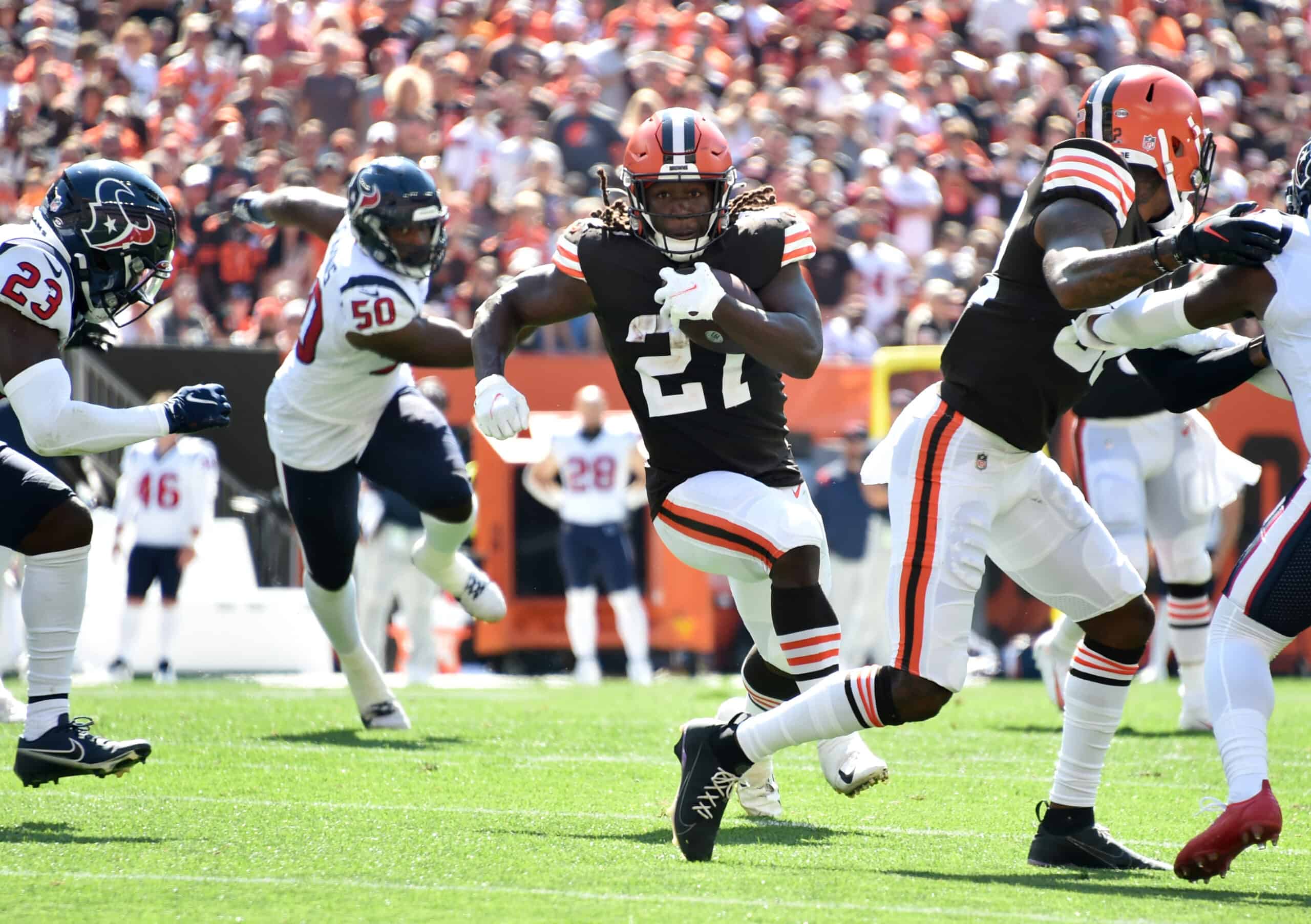 The Cleveland Browns 2021 home opener provided many thrills and chills.
Fans filled the stands, and FirstEnergy Stadium was rocking for the first time since the 2019 season.
WE'RE HOME #Browns pic.twitter.com/ryKQWNa9fm

— ESPN Cleveland (@ESPNCleveland) September 19, 2021
This game was tighter than the final score shows at 31-21, particularly in the first half when ex-Brown quarterback Tyrod Taylor was keeping the Houston Texans toe-to-toe with the Browns.
Check out my TikTok video spotlighting the Superman-like performance of quarterback Baker Mayfield.
Here are the news and notes from Week 2.
1. Browns Continue Pattern Under Coach Stefanski
Browns fans who are particularly superstitious are probably glad to find this out after the win.
The team has never dropped two consecutive games under Stefanski and thankfully the victory over the Texans continued that winning habit.
The #Browns have never lost consecutive games under Kevin Stefanski.
Read that again: Cleveland has not ever lost two games in a row while Kevin Stefanski has been their head coach.

— Aditi Kinkhabwala (@AKinkhabwala) September 20, 2021
2. Speaking Of Stefanski, His Postgame Summary Was Spot On
Calling out Malcolm Smith and Grant Delpit on defense for their efforts as well as the offensive and special teams successes, Stefanski talked about taking the win but correcting the mistakes.
As usual, he is spot on.
That's My HC!!!! #Browns pic.twitter.com/NevhF8lSfM

— BrownsTherapy (@BrownsTherapy) September 20, 2021
The win is fantastic, but it is never a good feeling watching wide receiver Jarvis Landry exit the game early and not come back.
Let's hope the injury is minor, and he is back soon.
Browns believe WR Jarvis Landry has a sprained MCL and he will undergo further testing, per source.

— Adam Schefter (@AdamSchefter) September 19, 2021
4. "Rookies" Rule
Grant Delpit never made it to the field last season in his true rookie year, but he made up for it in his debut against the Texans.
Grant Delpit had 1 sack. The other one was accounted as a tackle for loss because it was technically a run play the Texans QB ran wrong. They didn't award him a sack for it. 👎🏼 https://t.co/16xIZwVr4x

— MoreForYouCleveland (@MoreForYou_CLE) September 19, 2021
And Demetric Felton hauled in his first career reception, a touchdown catch, besides making an impact on special teams.
Demetric Felton spin move shook three defenders 😨

(via @NFL)pic.twitter.com/zH0SMt5ayL

— Bleacher Report (@BleacherReport) September 19, 2021
5. AFC North Is Deadlocked
With the Browns and Ravens wins and the Bengals and Steelers losses, all AFC North teams are 1-1.
This is exactly what we expected from one of the most competitive and underrated divisions in football that produced three playoff teams in 2020.
Well, to quote the great @EdBouchette, we have a four-way tie in the AFC North for first and last place.

— Aditi Kinkhabwala (@AKinkhabwala) September 20, 2021
Onto Week 3, the Browns host the Chicago Bears.
Sunday's win proved once again that there is a long season ahead, and the Browns will have to fight for every victory.