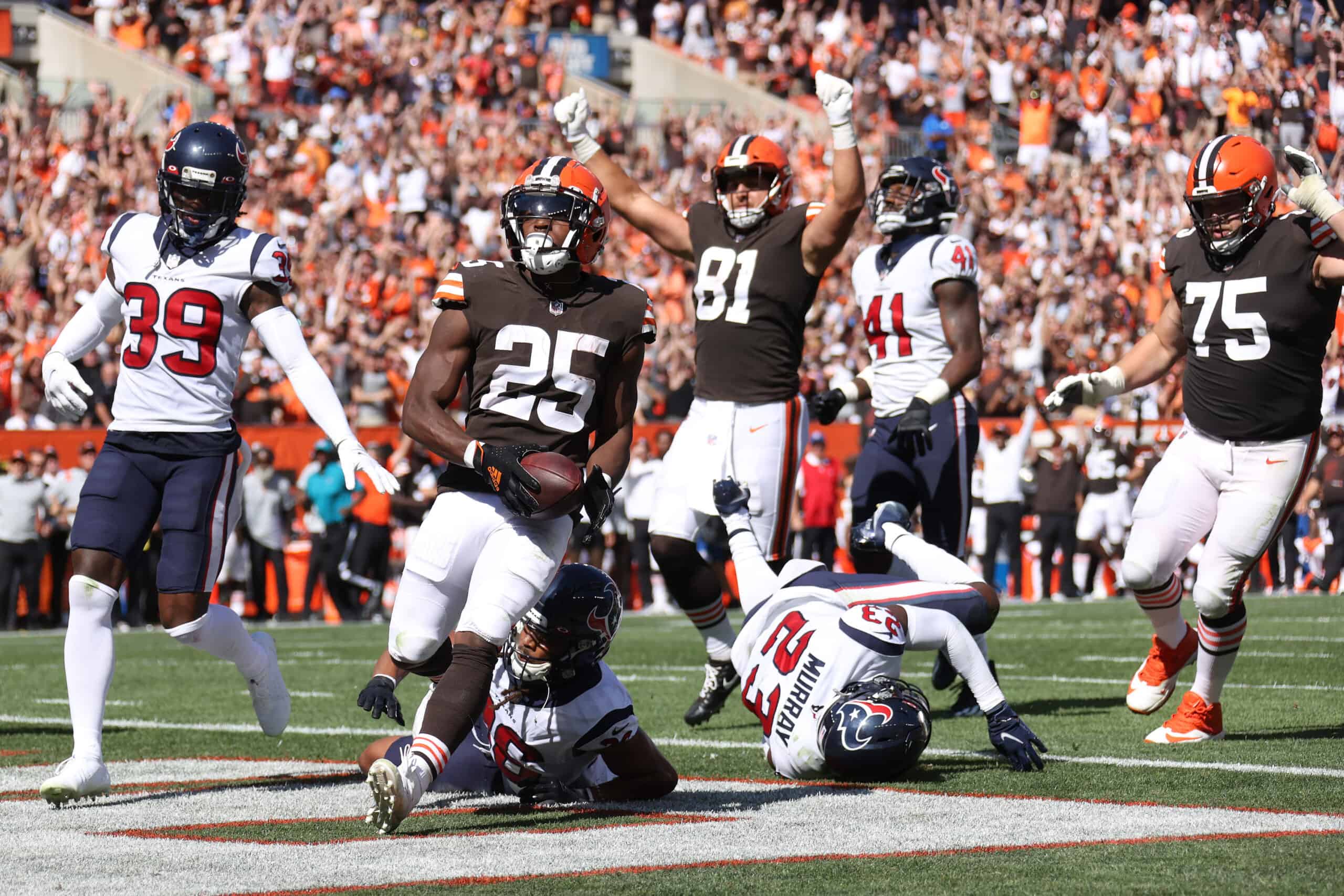 The Cleveland Browns leveled their 2021 record to 1-1 after a big home win over the Houston Texans by a score of 31-21.
This game, at times, was a lot closer than the final score indicates.
The Texans played tough and gave the Browns headaches especially early in the game.
Here are the studs and duds for the game.
Stud #1 – Sione Takitaki
Takitaki recovered the ball after the Texans fumbled it on the punt.
He also made his presence known on other defensive plays especially early in the game when not much was going the Browns' way.
Browns get new life after Texans muff the punt.

Sione Takitaki made the sliding recovery, and Browns get it at Houston's 35.

— Andrew Gribble (@Andrew_Gribble) September 19, 2021
Sione Takitaki (1 fumble recovery, 1 TFL) is having quite the start to this game

— Anthony Poisal (@AnthonyPoisal) September 19, 2021
While it is true that the Browns have a very capable second string quarterback in Case Keenum, this team is led by Baker Mayfield.
When his left shoulder was injured on the interception play, we did not know how serious it was or whether he would return.
He came running out of the locker room after a brief stint in there and returned to the field when the Browns got the ball back.
Mayfield was rock solid from that point forward.
#Browns Baker Mayfield since his INT:

9-9
100 yards
1 passing TD
1 rushing TD

— MoreForYouCleveland (@MoreForYou_CLE) September 19, 2021
Myles Garrett on Baker Mayfield's left shoulder injury: "The guy is tough. … Brett Favre 2.0." #Browns

— Jake Trotter (@Jake_Trotter) September 19, 2021
Mayfield only had two incomplete passes on the day; one was the interception when he got injured.
He went 19 for 21 for 213 yards with a passing touchdown and a rushing one.
Look at this angle of Demetric Felton's touchdown 👀pic.twitter.com/rtxpmcG3BV

— Billy Heyen (@BillyHeyen) September 19, 2021
Felton stepped up to be the scoring target Mayfield needed after Jarvis Landry got injured.
He caught a touchdown pass from Mayfield, the first reception and touchdown of his career and Mayfield's first of the season.
Felton's star also shined on special teams.
He fielded 2 kick returns for 41 yards and 3 punts for 22 yards.
#Browns HC Kevin Stefanski on RB/WR Demetric Felton: "His role will grow. As a rookie, he's doing a nice job for us. He, obviously, made an incredible individual effort on that play (TD)."

— 92.3 The Fan (@923TheFan) September 19, 2021
Dud #1 – Donovan Peoples-Jones
It pains me to put DPJ in the dud column.
He was outstanding in training camp and through the preseason.
He caught 1 pass for 14 yards and proceeded to fumble the ball.
Justin Reid getting some Browns revenge after last year, pops out a ball on Donovan Peoples-Jones pic.twitter.com/CLyiJGb4eH

— Rivers McCown (@riversmccown) September 19, 2021
Given that Landry was out of the game and OBJ was inactive, this was where DPJ should have balled out.
Dud #2 – Anthony Schwartz
This is another dud that pains me to acknowledge.
Schwartz also known as "Flash" for his lightning speed appeared to mess up his route and be out of position for a Mayfield pass.
Mayfield's pass was intercepted, and Mayfield subsequently got injured trying to tackle the defender who made the interception.
Coach Stefanski left Schwartz have it on the sidelines and pinned the blame on him after the game.
Kevin Stefanski said the INT was on Anthony Schwartz. He needs to at least do enough to break it up. "That's a mistake a young player makes and he won't make it again"

— Ben Axelrod (@BenAxelrod) September 19, 2021
Here's the Baker Mayfield interception and subsequent injury.

Seems like Anthony Schwartz gave up on his route, so it ends up being an overthrown INT.

Baker gets in on the tackle, and Justin Reid drove hard right through Mayfield's left shoulder.pic.twitter.com/20MA6sTH2b

— Billy Heyen (@BillyHeyen) September 19, 2021
Dud #3 – Joe Woods
The revamped defense is falling flat.
Joe Woods has been given all the possible tools he needs to make this defense dominate, and yet it is not.
It is getting beaten or not in the right position.
Tyrod Taylor practically walked into the end zone, and no one was around.
TYROD TAYLOR RUNS IT IN FOR THE TD!

He's looking REALLY GOOD so far this season #WeAreTexans #CLEvsHOU #NFLSunday

— Jake "Iggy" Ignaszewski (@JakeIggy) September 19, 2021
At what point is it OK to start worrying about #Browns defense and Joe Woods as DC?

— Chris Fedor (@ChrisFedor) September 19, 2021
The Browns' third-down defense through seven-plus quarters of play might be the worst I've ever seen. It's that bad.

— Brent Sobleski (@brentsobleski) September 19, 2021
They are not able to make important stops on third down and are staying on the field a lot longer than I would have expected before the season began.
I don't really understand what the exact problem is, but I certainly hope it is addressed this week before the Browns take on the Bears in Week 3.