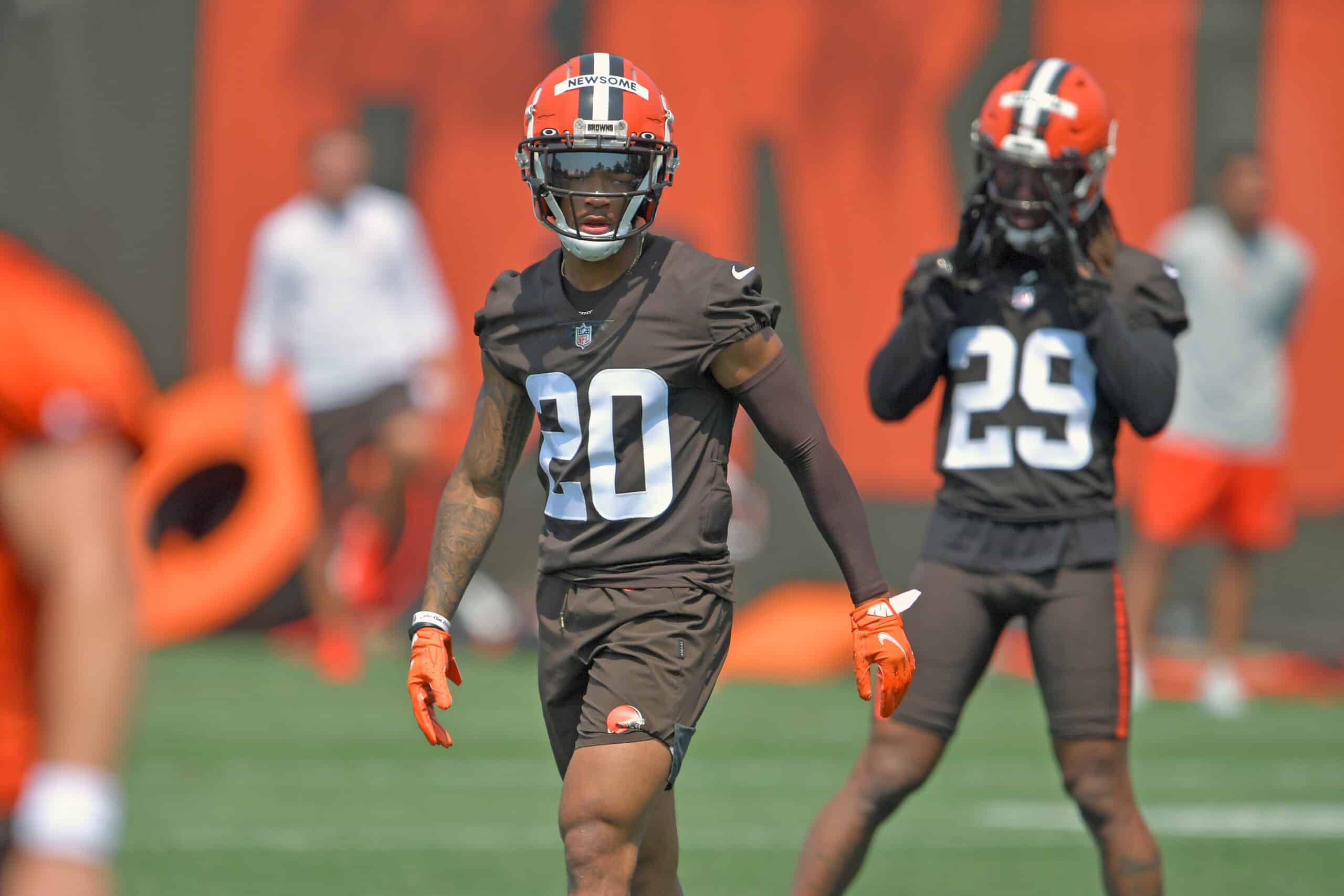 Cleveland Browns first round draft pick, cornerback Greg Newsome II, has brought a mixture of enthusiasm, hard work, and humility with him to Berea for his first ever NFL training camp.
Making the transition from the NCAA to the NFL is very difficult even for some of the best college football players.
Some do not make it, but Newsome is determined to not be one of those who do not make the grade in the NFL.
Here is what he has been up to at camp.
1. Bonding With Teammates
Newsome without hesitation got up and belted out the song "Charlene" by Anthony Williams when it was his turn to fulfill the rookie obligation of singing at camp.
He also has grown close with his draft class calling them "brothers" even though they really did not know each other before.
Greg Newsome on the rookie class: "It's kinda crazy. It kinda feels like we knew each other before we came here. Not a lot of us actually knew each other personally but I would call them my brothers now. We're a tight group and that just shows you the Cleveland Brown culture." pic.twitter.com/kAqf4dr2Uf

— Nick Karns (@karnsies817) August 16, 2021
#Browns Greg Newsome II on Jeremiah Owusu-Koramoah: "He's a stud. He's a beast. Glad we have him on our team for sure."

— Camryn Justice (@camijustice) August 15, 2021
2. Taking Coaching Well
Newsome is in a competition with Greedy Williams for a starting position on the team.
He has been both confident in his abilities but also highly coachable.
Browns linebackers coach Jeff Howard talked about the differences between Williams and Newsome and how Newsome is handling the rigors of training camp.
#Browns DBs coach Jeff Howard on Greedy Williams and Greg Newsome II: Greedy has a little more experience. Greg, I've been extremely impressed day to day with how he takes coaching, very consistent learner, wise beyond his years. Greedy is same way with being engaged.

— Nate Ulrich (@ByNateUlrich) August 11, 2021
Howard called the 21-year-old Newsome "wise beyond his years."
I am not sure there is a better compliment for a position coach to give a rookie at his first training camp.
3. Working Hard
I think Greg Newsome II is going to make a bigger impact than we're aware of in his rookie year. #Browns

— Nick Pedone (@NickPedone12) August 10, 2021
Coach Stefanski talked about Newsome's professionalism which is already evident.
"He is so diligent about his work, understanding his job, understanding his techniques and constantly working on them to fine tune them.  That is part of being a rookie, and particularly at that position where you are going up against some really good players."
Fellow cornerback Troy Hill, a six-year veteran, was impressed by Newsome's work ethic and called him "a star in the making."
In response to Hill's compliment, Newsome said:
"To get some of that praise from one of the best nickel cornerbacks in the league is just amazing.  I've still got a long way to go to get to that position, but that just shows that I came in and I was ready to work. I'm just trying to develop each and every day."
Great coverage by Greg Newsome II on KhaDarel Hodge. #Browns pic.twitter.com/Jz5X5XJFaC

— clevelanddotcom (@clevelanddotcom) August 12, 2021
4. Learning From Mistakes
#Browns CB Greg Newsome II said he has a "humbling experience" on the field every day. pic.twitter.com/a0L5uTBySi

— Tom Withers (@twithersAP) August 10, 2021
It is inevitable that rookies will make mistakes, and Newsome is no exception.
He is humbled by them.
And he knows that by going up against his teammates on the other side of the ball, he will only get better.
Greg Newsome II knows going up against Jarvis Landry and OBJ will only make him better. pic.twitter.com/toCfThlqRH

— 92.3 The Fan (@923TheFan) August 11, 2021
"We're all making each other better — like they say, iron sharpens iron, so going against these guys every single day is not only going to make me a better player but make them better as well."
He has not had the chance to face OBJ yet as he is still easing back from the ACL injury, but he will be up to the challenge when it happens.
"I can't wait to go against him. He's arguably, obviously, one of the best receivers in the league. So when he's getting out there full go, I can't wait for that too."
Newsome is the real deal, and the Browns are lucky to have him.