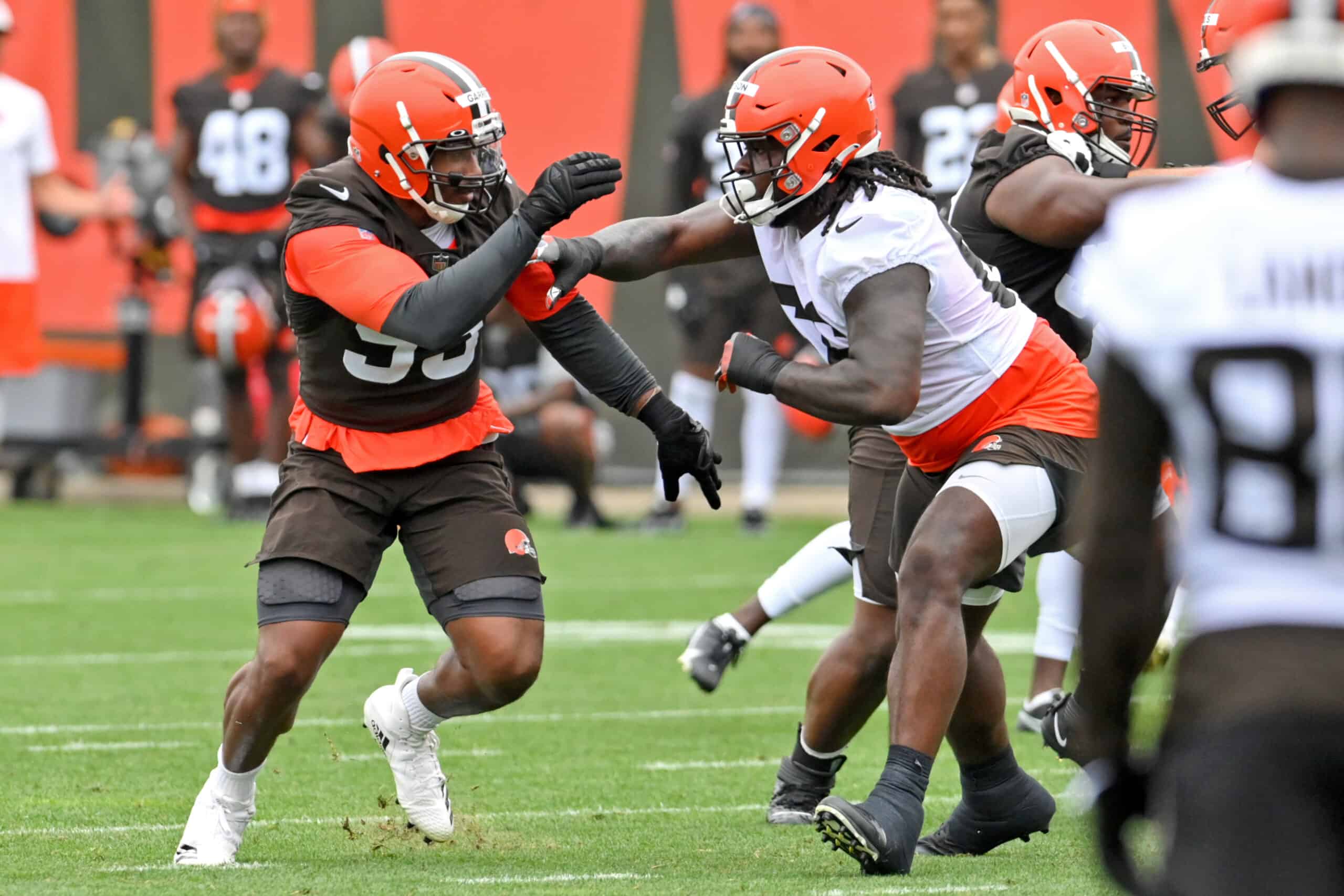 Now that Cleveland Browns training camp is underway, things are extremely busy in Berea.
Here are some of the key takeaways from Day 2.
1. Rashard Higgins 
Higgins reportedly has a minor ankle injury.
The specifics of the injury are unknown.
There were reports that he rolled his ankle.
He was spotted on the sidelines with OBJ with his left ankle taped.
OBJ & Rashard Higgins watching from the side. Higgins' left ankle is taped #Browns pic.twitter.com/Ul7kkOkFST

— Daryl Ruiter (@RuiterWrongFAN) July 29, 2021
Per Mary Kay Cabot, Coach Stefanski did not elaborate on the severity but said "he'll be fine."
#Browns WR Rashard Higgins rolled his ankle in practice yesterday and will sit out Day 2 of training camp today. Stefanski says 'he'll be fine.'

— Mary Kay Cabot (@MaryKayCabot) July 29, 2021
2. Baker Mayfield 
Entering his fourth season with the Browns, Mayfield is as fit and confident as we have seen him.
His 2020 was pretty great; he played smarter and threw fewer interceptions.
#Browns Baker Mayfield: "I can play a whole lot better than last year."

— Camryn Justice (@camijustice) July 29, 2021
In the second year of Stefanski's system and with Alex Van Pelt as his offensive coordinator, Browns fans are excited at the possibility of Mayfield's continuous maturity and improvement.
3. Cody Parkey
Day 2 was the first time we saw Cody Parkey attempting field goals.
He is off to a slow start, converting only one out of five.
Chase McLaughlin, whom the Browns claimed off waivers in May, could be stiff competition for Parkey.
He converted five out of five field goals attempts.
Can I interest you in some kicker video? #Browns pic.twitter.com/PUvfB7H0YD

— Daryl Ruiter (@RuiterWrongFAN) July 29, 2021
4. Jarvis Landry
Landry showed tremendous hand-eye coordination yesterday.
This is fun footage for Day 2 of training camp but certainly not what we want to see at games.
Watch what Jarvis Landry just did… 👀 #Browns pic.twitter.com/uL1RLeBjjt

— clevelanddotcom (@clevelanddotcom) July 29, 2021
5. John Johnson III
JJ3 is arguably one of the smartest free agent additions GM Andrew Berry made in the offseason.
He is motivated, experienced, humble, and intelligent.
It is clear he takes nothing for granted.
Loved this answer John Johnson III gave me about the position battles at #Browns training camp yesterday. pic.twitter.com/xIvGBXc4Ux

— Camryn Justice (@camijustice) July 30, 2021
JJ3 brings a winning mentality from the NFL's number one defense in 2020, the Los Angeles Rams.
We can't wait to see him in a Browns uniform and on the field in Week 1 against the Chiefs.
All of this leads up to a fantastic Day 3, Friday July 30, which is the first Browns first scheduled open practice in 2021.