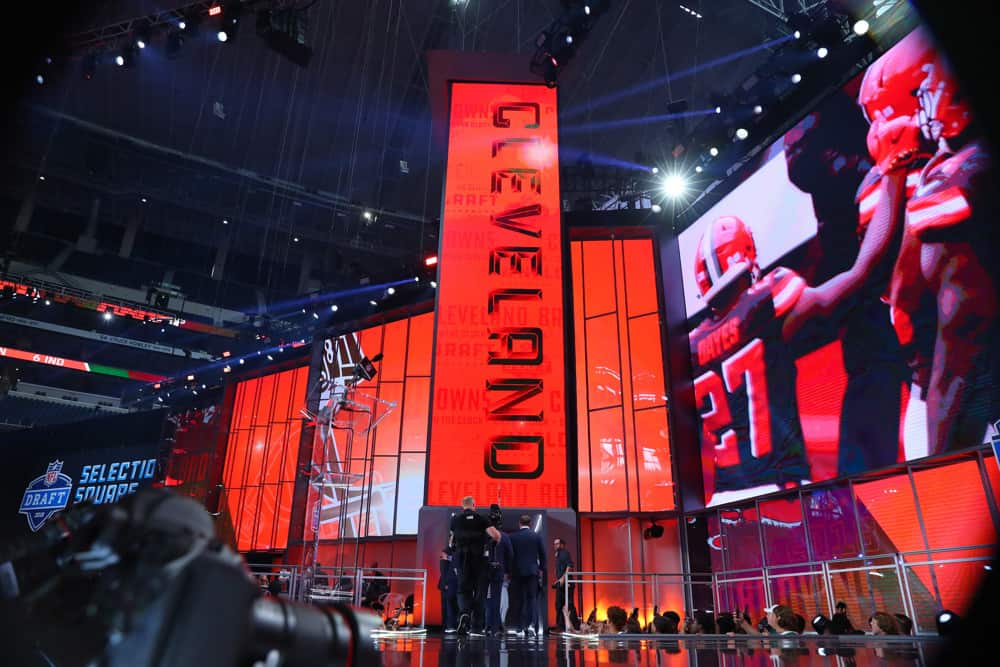 Fans of the Cleveland Browns are certainly familiar with their draft picks not living up to expectations.
Sadly, they've seen plenty of their top selections turn into complete duds.
There have also been a few high picks that worked out well such as Baker Mayfield and Myles Garrett.
At the end of the day, teams aren't ever 100 percent sure what they will be getting, but sometimes it's worth taking a chance based on potential.
That being said, Cleveland could have a few boom-or-bust type of prospects heading onto the roster this season.
Boom or Bust?
General manager Andrew Berry has done a tremendous job of drafting over the last few seasons.
However, you can never truly know what you have in a young player coming out of college.
Obviously, everyone knows about Tom Brady being a late-round pick and now he's arguably the greatest quarterback to ever play the game.
On the other hand, Browns fans surely want to forget the days of Johnny Manziel.
A former first-round selection of Cleveland that played a total of 14 games in the league.
The 28-year-old quarterback attempted to revive his career in other football leagues, but he was unable to ever turn around his career.
Damn, Mack Brown knew Johnny Manziel should have played safety all along… pic.twitter.com/bptzxbvdzA

— Jim Weber (@JimMWeber) August 4, 2018
Sadly, Cleveland has seen plenty of high-round selections turn into busts.
However, Berry has a great track record with Cleveland, so he deserves the benefit of the doubt.
High Hopes
The fact Cleveland had a lower-round selection meant they were not guaranteed the "top tier" prospects during the draft.
That means, the organization needed to do their homework and take a chance on someone who isn't quite a top-graded stud.
Although, out of all the Browns selections in 2021, Notre Dame linebacker Jeremiah Owusu-Koramoah appears to be the biggest boom-or-bust prospect.
It doesn't have anything to do with his numbers since he put together solid stats in college.
Through two seasons, Owusu-Koramoah finished with 142 tackles, 24.5 tackles for loss, and seven sacks.
He was expected to be one of the first linebackers taken on draft day.
However, it appears teams avoided him due to an apparent heart condition.
Cleveland selected Owusu-Koramoah in the second round and said they have no concerns about his health going forward.
#Browns GM Andrew Berry reiterated team's belief that second-round pick Jeremiah Owusu-Koramoah had no medical red flags:

"He's completely healthy," Berry said on @923TheFan. "There's really nothing in his background that would suggest that he can't have a nice, long career."

— Tom Withers (@twithersAP) May 4, 2021
It's good to know that Cleveland believes he's healthy, but that doesn't mean this heart condition cannot come back and hinder his career.
He'll be joining a crowded linebacker group, which is filled with young talented players.
That being said, Owusu-Koramoah is going to be forced to earn his playing time in Cleveland.
The Browns aren't going to let the rookie walk into camp and have a starting role on the team.
His numbers on the field point to Owusu-Koramoah having a possible Pro Bowl-caliber career.
The fact Cleveland is overcrowded at linebacker and this heart condition is cloudy is worrisome for Owusu-Koramoah's outlook on the team.
Obviously, the Browns selected him in the second round with the intention of giving him a significant role on the team.
It seems like the sky is the limit, but things could also go south quickly for Owusu-Koramoah in Cleveland.