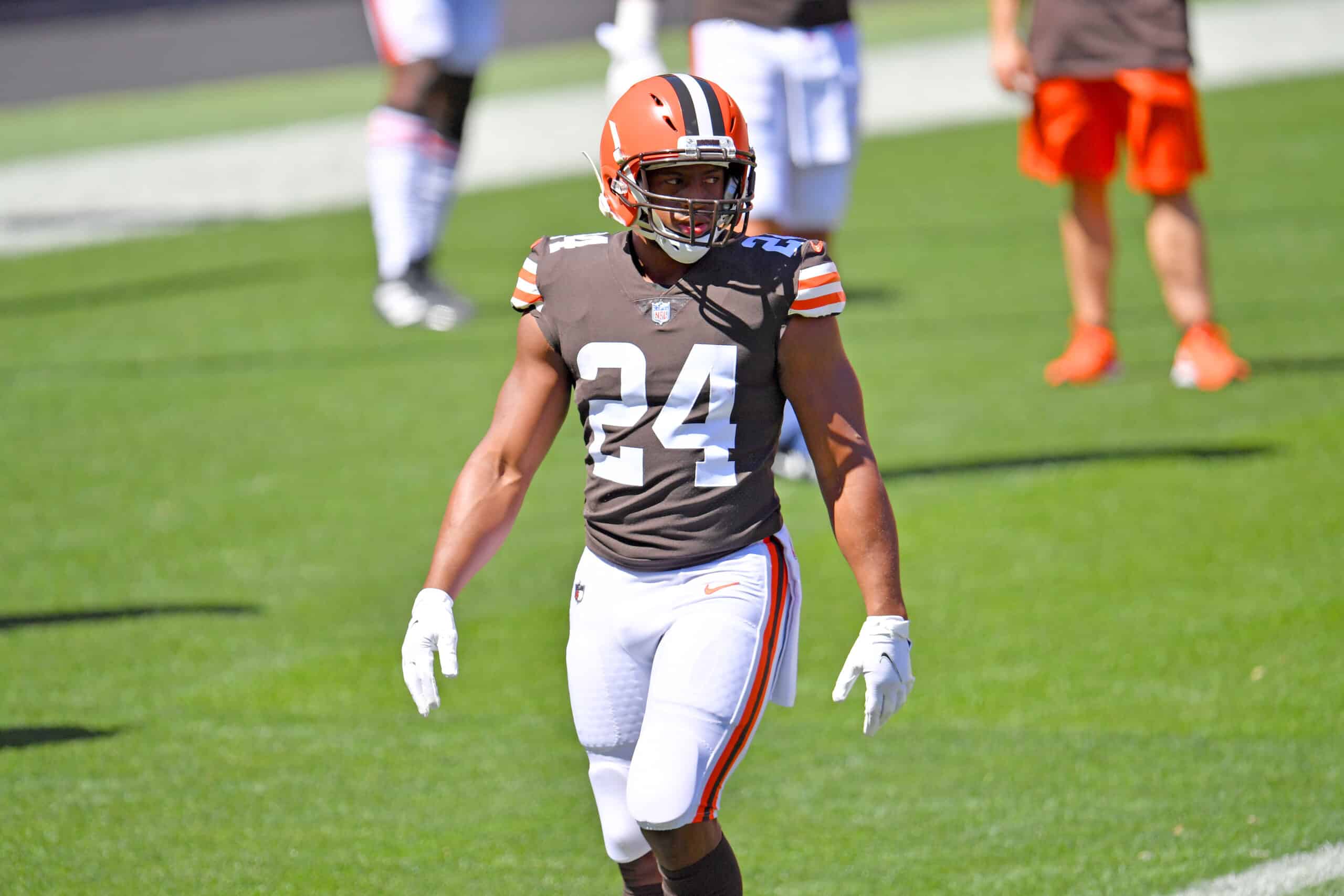 Since being drafted in 2018, Cleveland Browns running back Nick Chubb has done nothing, but succeed.
He's surpassed basically 1,000 yards every season and continues to keep getting better.
One NFL executive even went as far as to say Chubb is better than Tennessee Titans running back Derrick Henry.
"Best pure runner in football," the NFC exec told ESPN's Jeremy Fowler about Chubb in a story published Tuesday. "I'd take him over Henry because he's a little more explosive."
Both backs have been near the top of the list in rushing numbers over the last few years.
In fact, Henry is the two-time defending rushing champion, but Chubb has not been far behind him.
Chubb vs Henry
The voters surveyed by Fowler, which included over 50 executives, coaches, players and scouts, ranked Henry as the No. 1 running back, with Chubb coming in at No. 4.
The Georgia product has been injured at times, but Chubb does play excellent whenever he's on the field.
Chubb has rushed for 3,557 yards on 680 carries (5.2 YPC) with 28 rushing touchdowns in 44 games.
It's also worth noting he's recorded 72 catches for 577 yards and two scores through the air.
Last season, Henry rushed for 2,027 yards compared to Chubb's 1,067, but Chubb had a better per-attempt average (5.6) compared to his Titans counterpart's (5.4) in 2020.
"If you're comfortable staying patient with two- and three-yard gains in the first half, knowing those same runs will turn into eight-yard runs in the second half, then he's by far the best player at this position," an NFC offensive coach told ESPN about Henry.
There's not a bad option between the two, but Chubb's numbers have been hindered with Kareem Hunt on the Browns roster as well.
Hunt was listed as an honorable mention just outside the top 10 in the positional ranking.
His presence makes it difficult for Chubb to obtain the same amount of running yards as Henry who is basically the only back in Tennessee.
In 2019, Henry won the rushing title with 1,540 yards, while Chubb finished with 1,494 yards and they only had a five rushing attempt difference between the two of them.
That was also with Hunt on the Browns roster as well, so it appears Henry does have a slight edge, but Chubb isn't far behind him.
Staying In Cleveland
It's difficult to believe, but it's uncertain if Chubb is in the Browns' long-term plans.
He can become an unrestricted free agent after the 2021 campaign.
The hope is that Cleveland signs him to a massive contract extension and it sounds like the two sides have discussed a possible deal.
#Browns Nick Chubb and Denzel Ward both said their agents have been in talks with the team about contract extensions.

— Camryn Justice (@camijustice) June 15, 2021
Last summer, Henry received a four-year $50 million extension from Tennessee.
It's fair to say that Chubb should get a deal in that same ballpark.
However, the presence of Hunt and analytics might make the front office think otherwise.
Chubb has expressed his interest in staying in Cleveland long-term.
"I don't like uncertainty, and I know here in Cleveland what I have with the players and coaches and just the city of Cleveland," Chubb told reporters in June. "I don't know how things would be anywhere else. Cleveland is where I want to be and that's my main focus, just being here in Cleveland."
The 25-year-old doesn't sound ready to leave, but sadly it's not completely up to him.
On paper, Henry might be slightly better than Chubb, but Cleveland still needs their top dog to stay on the roster long-term.