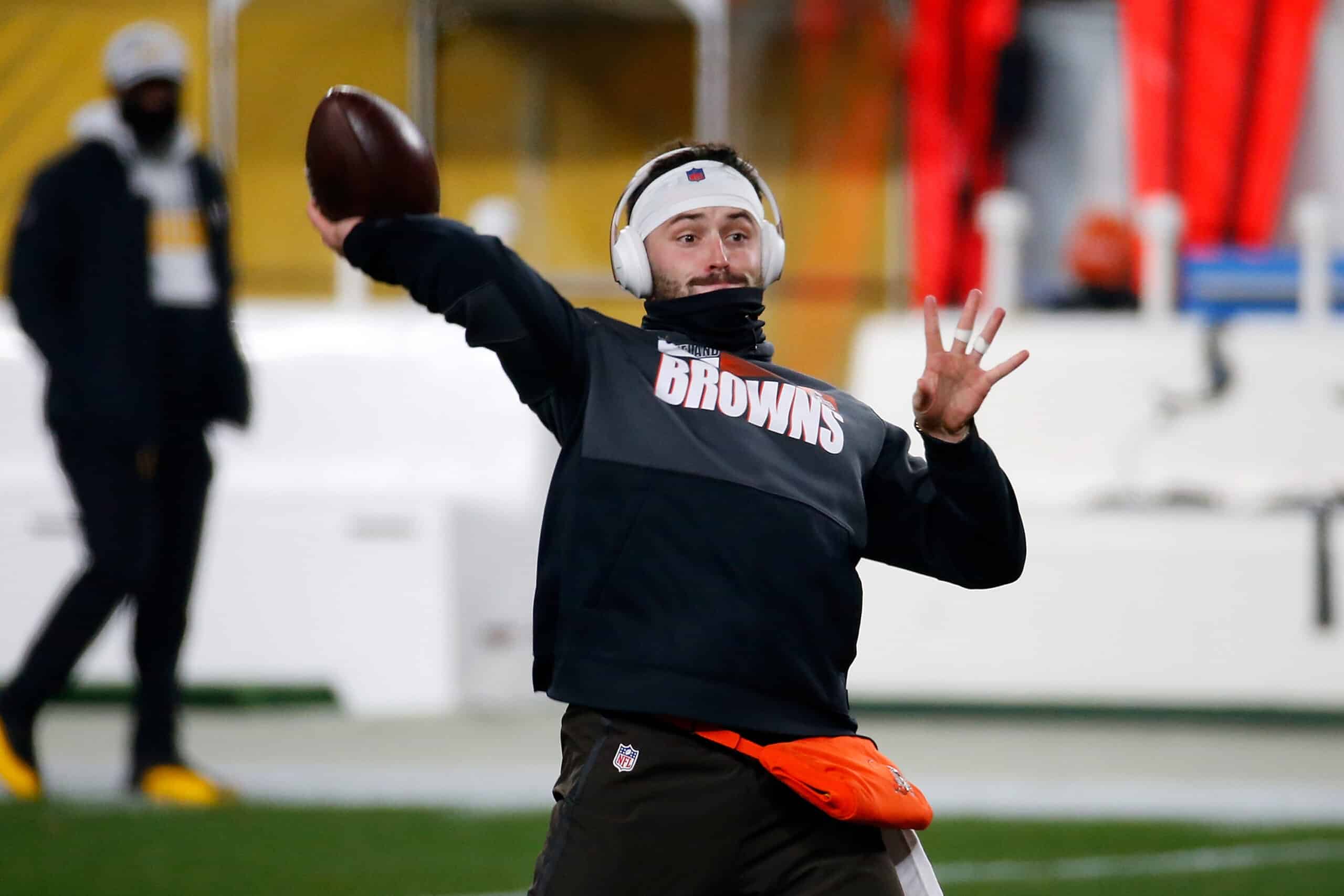 The opening of NFL training camps are only weeks away.
With the league on the cusp of the 2021 season, media and fans have shifted into overdrive in their speculation and predictions of how well teams and players will perform.
For the Browns, that includes intense scrutiny for a franchise ready to take the next step toward a championship.
Even with a stellar offseason that saw the addition of several new arrivals, the focus of numerous media pundits is squarely on Baker Mayfield.
After a solid rookie season, Mayfield regressed in 2019.
It has been argued that much of the blame for not only Baker's shortcomings but the team as a whole was attributable to former coach Freddie Kitchens.
Once Kitchens was fired and replaced by Kevin Stefanski, Mayfield and the team reached new heights in 2020.
Glorified trace Mcsorley?
According to these former pittsburghers that is who Baker Mayfield is.

Not sure where the disrespect comes from for Baker
1. Broke the rookie TD record in 13 games
2. 2nd behind Barkley for rookie of the year
3. One of the strongest arms in the NFL https://t.co/AEEhCigbkW pic.twitter.com/W6z2MiSN1T

— Cleveland fan in Pittsburgh (@216fanin412) July 13, 2021
The Browns showed faith in their young quarterback this past April when they picked up Mayfield's fifth-year option.
Now, the talk has been when the team will ink his new deal.
All eyes will be on Baker this year to judge whether or not he deserves money commensurate with the top signal-callers in the league.
Just a cursory reading of the headlines the past few weeks shows that the media talking heads are divided in their assessment of Mayfield.
Some believe he is the right man for the Browns while others think he is replaceable and no better than a middle-of-the-pack QB.
Viewing the league's quarterbacks as a whole, Touchdown Wire writer Mark Schofield wrote on Monday that he ranks Mayfield as the 11th best in the NFL.
Talking Points
In his article, Schofield points out that Stefanski brought in an offensive system that better suited Mayfield.
This system included concepts, "rooted in wide zone concepts with an emphasis on play-action and boot-action passing designs built off those plays."
That throw by @bakermayfield 💎 https://t.co/9852je5eg4

— Marc Sessler (@MarcSessler) July 5, 2021
Also mentioned is the Browns offensive line which is considered one of the league's best.
Nick Chubb and Kareem Hunt also contribute greatly to the offense, and Mayfield's, success by keeping defenses honest.
Schofield included in his story various plays run by Mayfield throughout the 2020 season that highlighted his strengths and improvements.
Among the notables are: Staying in the pocket and creating plays when protection breaks down; Mayfield using his field of vision better in the red zone; squaring his hips and shoulders when throwing the ball; deftly utilizing play action calls; and rolling to his left and throwing well on the run.
Who is Baker Ranked Ahead of?
Schofield's list of his top 15 best quarterbacks in the league puts Mayfield ahead of some notable names.
They include the Raiders Derek Carr (#15), Justin Herbert of the Chargers (#14), Matt Ryan of the Falcons (#13) and the Vikings Kirk Cousins (#12).
I don't know who needs to hear this but Baker Mayfield has more playoff wins than Justin Herbert, Joe Burrow and Carson Wentz combined. pic.twitter.com/DXl9hgvHtR

— Nick Karns (@karnsies817) July 9, 2021
While putting Baker ahead of Carr, Herbert and Cousins is understandable, it may surprise most readers that Schofield ranks Mayfield ahead of Ryan.
After all, Ryan has played in the NFL since 2008 and has a league MVP and Super Bowl appearance (2016).
QBs Ranked Ahead of Mayfield
The quarterbacks ranked ahead of Mayfield on Schofield's list are the following, listed in descending order.
Ryan Tannehill, Titans; Matthew Stafford, Rams; Lamar Jackson, Ravens; Josh Allen, Bills; Dak Prescott, Cowboys; Russell Wilson, Seahawks; Deshaun Watson, Texans; Tom Brady, Bucs; Aaron Rodgers, Packers and Patrick Mahomes, Chiefs.
It's not a mystery why the likes of Mahomes, Rodgers, Brady, Wilson and Stafford are ahead of Mayfield.
With the exception of Stafford, the rest have been to and won a Super Bowl.
Given his impressive skill set, Stafford makes sense despite his lack of playoff success.
Schofield's selections of Tannehill and Prescott are questionable given that both starters are good, but still need to prove themselves to their respective teams in 2021.
It can only be assumed that Jackson and Watson were ranked ahead of Mayfield on Schofield's list because of their dual-threat status.
When it all changed! I love my damn quarterback! @bakermayfield pic.twitter.com/swG5S0FFv0

— Jake Samulak (@JSamulakCLE) July 10, 2021
Allen has been a revelation for Buffalo and he is a rising star.
However, is he better than Mayfield?
If Schofield is basing this selection solely on both stars' 2020 numbers, sure.
But over the same three-year period, 2018-2020, I believe most people would side with Mayfield.
That's all part of the fun, though, as we count down the weeks until 2021 begins.
Everyone has their opinion on how their favorite player will do this year.
Only time will give us the true answer.