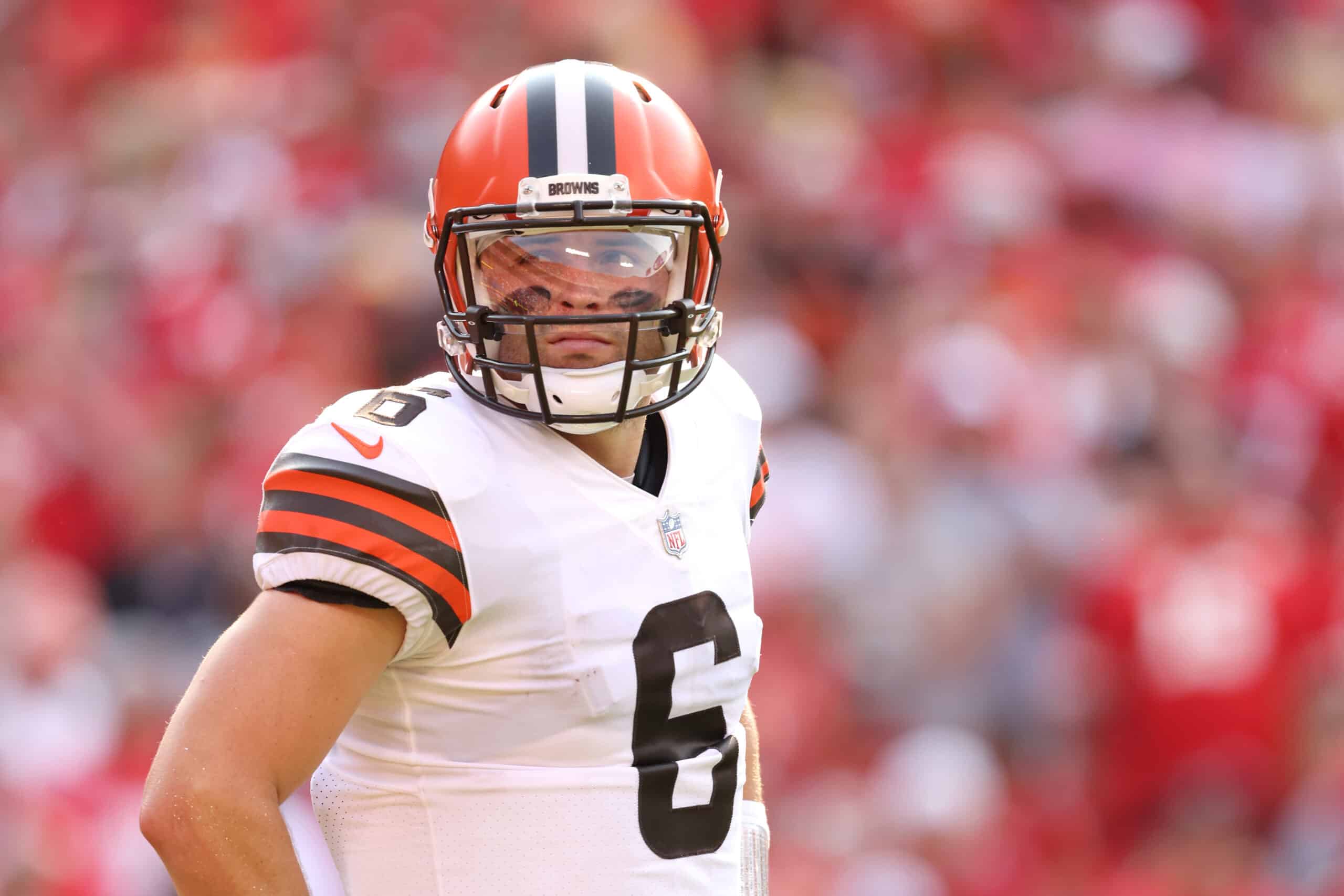 In Week 2, Cleveland Browns quarterback Baker Mayfield suffered a left shoulder injury in the Texans game.
He left the field briefly, headed to the locker room, and returned after popping the shoulder back in place.
Mayfield has joked and made light of the injury in the weeks since it happened.
Since it was his non throwing shoulder, there were varying opinions on how it might affect this throwing motion and level of play.
Now we are getting reporting from NFL Network's Ian Rapoport that the injury is a little more significant than anyone has shared previously.
Mayfield has a partially torn labrum but has not missed practice or any playing time since.
#Browns QB Baker Mayfield, who has been wearing a shoulder harness to play, suffered a partially torn labrum in his left shoulder on Sept 19 vs the #Texans, sources say. No surgery needed as of now. He was listed on the report after the injury and hasn't missed a practice snap.

— Ian Rapoport (@RapSheet) October 7, 2021
Partially Torn Labrum
What does a partially torn labrum feel like?
Common symptoms include shoulder pain, instability, and in some occurrences a grinding or locking feeling when moving the shoulder.
That sounds like it could definitely pose problems for an NFL quarterback.
The good news is that it is not severe enough to require surgery.
He Has Not Been Sharp The Last Two Games
Somehow Mayfield got through the Texans game and played well.
Whether that was adrenaline or the pain had not really kicked in yet is hard to know.
His level of play in the past two weeks has not been nearly as good.
It does not help that he is missing one of his wide receiving security blankets, Jarvis Landry.
And left tackle, his main blindside protector, Jedrick Wills has not played as well since he suffered an ankle injury.
Like Mayfield, he continues to play through it, but his performance is not what it was.
The offensive line is not as solid as it was last year so Mayfield has been hurried and sacked more than he should be especially with a shoulder injury that requires a harness.
Decision Point For Stefanski
If the injury is significant enough, the Browns should consider doing one of two things.
First, change the playbook to account for issues he may be having.
Second, put Case Keenum in.
Mayfield is clearly preparing to play the Chargers so the second option is likely not happening this week.
Baker Mayfield will continue to play through the ailment. Asked yesterday by reporters if the shoulder harness affects his play, he said: "It shouldn't, no." https://t.co/aw8L4Jz1GL

— Ian Rapoport (@RapSheet) October 7, 2021
In a long 17 game season, the Browns need a healthy Mayfield down the stretch.
We will see how and when that healing happens.