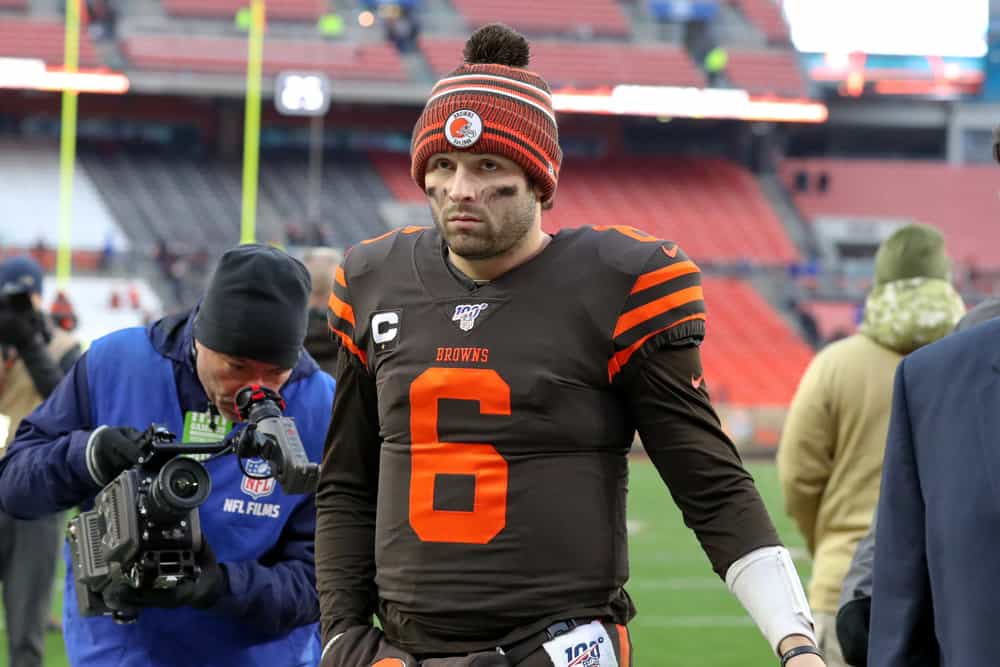 Baker Mayfield had a rough 2019 season after a stellar 2018 campaign.
He recently took ownership of his struggles and mentioned that he intends to do less talking and more performing in the upcoming season.
However, that hasn't stopped the media from continuing to pile on Mayfield for his struggles in 2019.
Some are even suggesting that the Browns need to move on from Mayfield because they do not consider him a "franchise quarterback."
Former NFL player Akbar Gbaja-Biamila joined "NFL: Total Access" Wednesday night and he did not shy away from his personal opinion about the Browns quarterback.
"Baker Mayfield is a bum, as far as I'm concerned, and if anybody's got a problem with it, they can call me," Gbaja-Biamila said.
🔥 HOT TAKE SEASON HAS ARRIVED 🔥

@Akbar_Gbaja believes the #Browns need a change at signal-caller 👀

If you have a problem with this, feel free to give Akbar a call (323) 405-9945 pic.twitter.com/cmNfFvE7D4

— NFL Total Access (@NFLTotalAccess) February 6, 2020
"If you look at Baker Mayfield, it all started with me last year during the offseason when he tried to manufacture this fake leadership, calling out Duke Johnson, talking about 'Oh, Duke Johnson, if you're not here, you're not…'" Gbaja-Biamila said. "Hold on, man. You just got there. Don't try to sell me this leadership thing.

"The thing about leadership is it's organic. It's all natural. It's not GMO. It's not this modified organism that all of a sudden, it pops up out of nowhere. That's what I saw in him. It showed up, especially under duress. His body language? Poor. His leadership? Poor. His production? Poor. I didn't like anything about him.

"This big production like all of the commercials, you know those sponsors, they're upset because they're not getting the rate of return that they thought they were going to get out of Baker Mayfield. They know it. That general manager knows it, and absolutely, the head coach knows it."
Akbar Gbaja-Biamila not only suggested the Browns move on from Mayfield, but that they should consider bringing in a veteran such as Case Keenum.
"There are great quarterbacks out there, one in particular I'm looking at that's a free agent, Case Keenum," Gbaja-Biamila said. "Yeah, you heard me correctly. I said Case Keenum. Why? You look at his numbers from 2019, far better than that of (Mayfield). You can get Case Keenum at a bargain deal."

"I put my number out there for a reason…because I know and I believe in Case Keenum," Gbaja-Biamila said. "You look at the production. Wherever he's gone, he's been productive. The numbers don't lie."
As quarterback's coach with the Minnesota Vikings, Kevin Stefanski led Case Keenum to career-best 98.3 quarterback rating.
Keenum had 22 touchdowns and only 7 interceptions as well.
It's no secret that Mayfield saw a significant drop in production.
However, with a new coaching staff, the Browns are hoping that they can get Mayfield back to the success that he had in his rookie season in 2018.