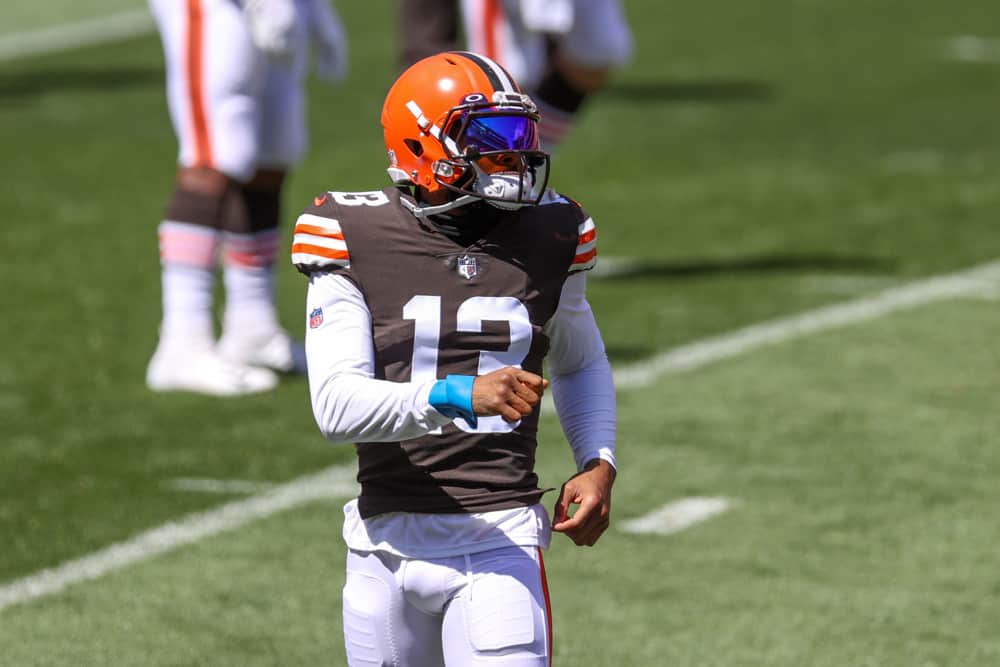 The NFL is a marketing machine that does not miss a beat.
Between the NFL Draft and the schedule release, it has done a great job generating excitement for the upcoming 2021 season.
Its latest efforts to stir enthusiasm involves the Cleveland Browns wide receiver Odell Beckham Jr.
Yesterday on the NFL Twitter account, they released a hype video of OBJ highlights teasing his return.
Who else is ready to see @obj back in 2021? 🙌 pic.twitter.com/ND0oPYQ4je

— NFL (@NFL) May 24, 2021
Uncharted Territory For The Browns
It has been decades since the Browns were part of any NFL-related hype so the fact that the NFL is using the Browns to hype the season speaks volumes.
The Browns are a young team loaded with stars and potential.
Like it or not, this team will be in the limelight in 2021.
The question remains how the young players will respond to the new and unfounded pressure.
OBJ Is Used To The Scrutiny
Odell Beckham Jr. is used to being under intense scrutiny.
He appears to have found his own method of dealing with it this offseason.
Since his main priority is to get healthy and back on the field, he has turned off a lot of his social media presence.
Occasionally, we get a glimpse of his workout or rehab process, but otherwise, he has been much quieter than in past off seasons.
OBJ already back to doing one-handed catches as he rehabs from ACL surgery (via his IG) #browns pic.twitter.com/6ZAYVzvVrU

— Jake Trotter (@Jake_Trotter) December 4, 2020
.@obj and @saquon on the ACL comeback trail together 🙏 pic.twitter.com/H9FKvpV97Z

— B/R Gridiron (@brgridiron) March 2, 2021
This is also good news for Browns fans.
A healthy and focused OBJ is an asset in 2021.
Hampered by significant injuries in recent years, a competitor like OBJ likely did not enjoy sitting at home watching his team in the playoffs.
He wants to be part of the action, excitement, and hopefully the winning.
Coach Stefanski Is An Asset
Obviously, having the NFL Coach of the Year on the sidelines is an asset to the Browns.
In addition to the knowledge of the game, the X's and O's part, Stefanski is meticulously organized and extremely focused.
Work and team are words he speaks about often.
If anyone can keep these young players focused on the task at hand and away from all of the potential distractions in 2021, it is Stefanski.