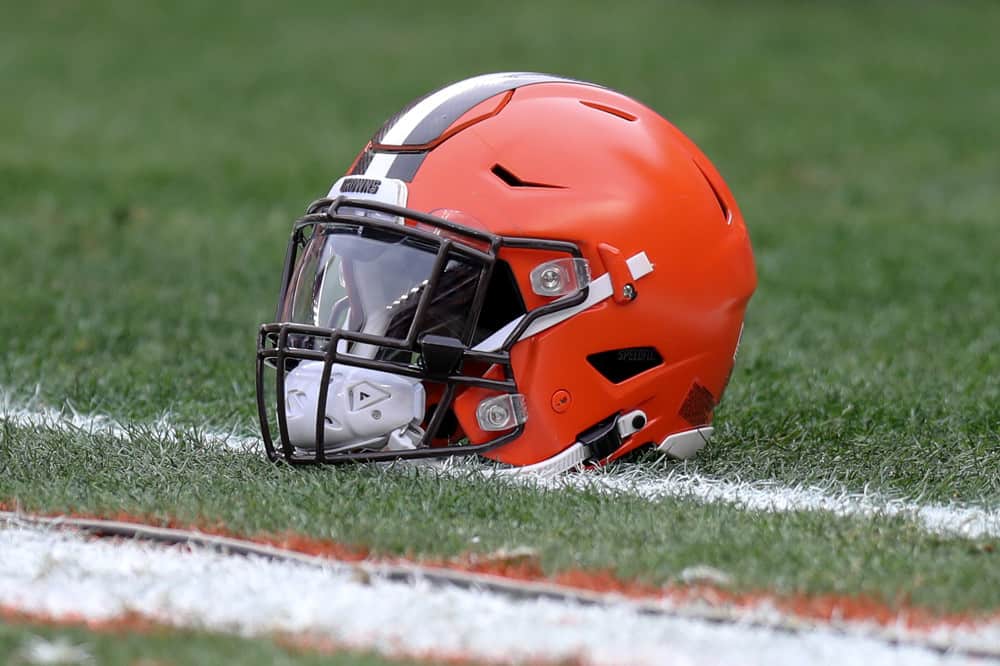 Cleveland Browns fans know by now that their team has an identity crisis.
Are they an offense focused on running or passing?
Could they be a playoff team or not?
It turns out there is another deep philosophical question they asked themselves during last night's television coverage of the Packers game.
The topic was the team logo which aired on the bottom left corner of the television screen.
What exactly did it look like?
Say What?
Perhaps there was too much eggnog on Christmas day, but people began visualizing something decidedly different with the orange helmet logo.
They saw a rabbit.
Some thought the rabbit was pushing a shopping cart, and others thought the rabbit was pushing a walker.
Either way, this is not what the networks had in mind.
Fans Took To Social Media To Discuss It
One person's parents saw the rabbit pushing a shopping cart.
My parents thought the #browns logo was a rabbit pushing a grocery cart and now I can't unsee it. pic.twitter.com/afUmn8z8X6

— Alex Klingelhoeffer (@okccfacfp) December 25, 2021
Here are people calling it an elderly bunny with a walker.
Why does the logo look like elderly bunny rabbit using a walker? LOL Might want to define the helmet better from the background. @FOXSports @NFL @Browns #NFL #Browns pic.twitter.com/Z7CvPTBHXk

— Shawn Kirkland 🇺🇸🌊🇺🇸🌊🇺🇸🌊🇺🇸🌊 (@ShawnKirkland48) December 25, 2021
There was a moment where I thought they had changed the @Browns logo to an elderly rabbit using a walker. #Browns #Packers pic.twitter.com/NRfL8dvzez

— Scoop John B (@stoicjohn) December 25, 2021
Some wondered if it was a Christmas thing though rabbits are more closely associated with Easter.
So, I'm watchin' the football game trying to figure out why the Browns suddenly have a logo that is a bunny pushing a shopping cart. Is that just a Christmas thing? pic.twitter.com/d9WmhZLdwF

— Mr. Cheyenne Dhraga (@CheyenneDhraga) December 26, 2021
My wife said if you look at the Browns logo it looks like a rabbit in a walker and now I can't unsee it#Browns #Packers #GBvsCLE pic.twitter.com/dSw36tE02H

— Chris H (@kiingspadee) December 25, 2021
The @Browns logo definitely looked like a rabbit pushing a shopping cart. pic.twitter.com/xNZnomvNnx

— Daniel Glauser (@GlauserDan13) December 26, 2021
A Light Moment In An Intense Game
At least the discussion provided a distraction from a very intense and winnable game for the Browns.
Someone thought there was bad Cleveland mojo citing the change to the Cleveland Guardians logo and then this.
I thought changing the @CleGuardians logo would dispel the bad #Browns juju. Not sure what I did in a past life to warrant such consistent torture. That's a wrap on this season.

— Dr. Pho Sho 🍜 (@sgtmeowenstein) December 26, 2021
Nude Bunny?
To be clear, I don't know the difference between a nude bunny and a regular bunny so this one is truly baffling and hilarious.
This person says it is a bunny posing for a nude photo.
I can't even focus on the game anymore bc I just noticed if you focus on the brown part of the #Browns logo and squint a little, it looks like a bunny rabbit posing for a nude photo. 🤷🏼‍♂️

— Baker Mayfield Is Booty (@BoltUp323) December 25, 2021
Perhaps There Should Have Been An Outline Of The Helmet
The orange helmet blended into the background a little too well.
Only the front part of the helmet became visible which was the shopping cart or walker.
If it was a shopping cart, there should have been an animation with four footballs in the shopping cart being dumped onto the Packers logo.
That would symbolize the four interceptions that essentially gave the Packers the game.