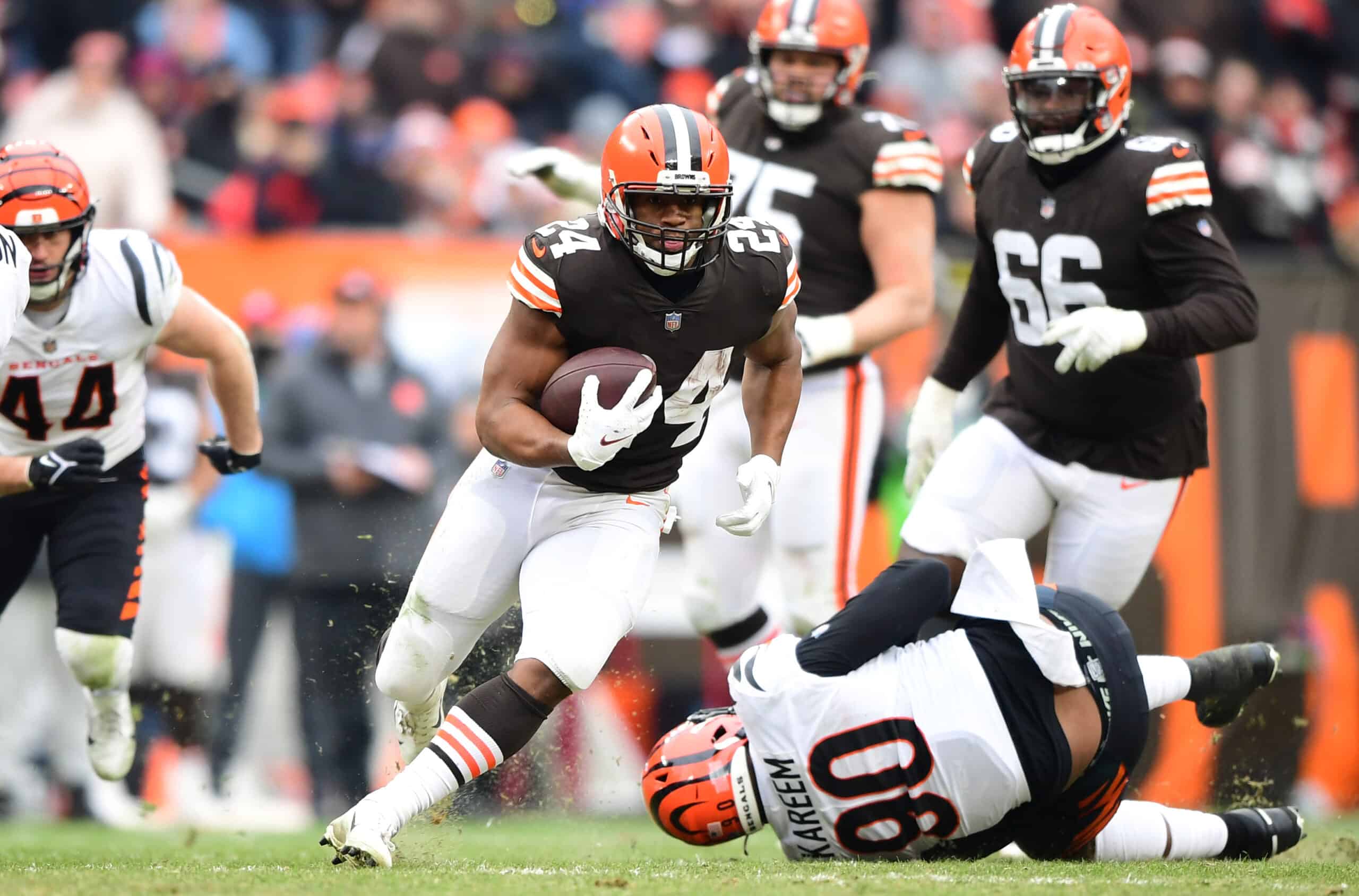 The Cleveland Browns defeated the Cincinnati Bengals in the Week 18 edition of the Battle of Ohio that is also the 2021 regular season finale.
The final score was 21-16, but the mood was still about as dreary as the weather because everyone knew the Bengals were playing next week, but the Browns are not.
Here is how the NFL world reacted to the Browns' win.
1. A Bittersweet Win
The mood was not as exuberant as a normal FirstEnergy Stadium game.
The great expectations of the 2021 season were not met so it was hard to get overly excited about a Week 18 game that had no significance in the playoff scheme of things.
Today was bittersweet for #Browns fans. It was great to get a W and sweep the division leader. But it sucks that it didn't mean anything and we are bottom of our division once again. Here's to next year (#TheresAlwaysNextYear) and finally getting it together.

— Rob Zaleski (@robzie_) January 9, 2022
Count on the #Browns to win a meaningless, draft pick position game.

— OilerBuck (@OilerBuck) January 9, 2022
Without question this is the worst #Browns season of my 51 yrs on this earth considering the talent and lost opportunities- completely sick @KenCarman @SportsBoyTony

— #SportsDad (@kevdavies22) January 9, 2022
2. Fans Share Their Appreciation For Browns Legend Doug Dieken
One of the highlights of today was the fact that longtime Browns player and broadcaster Doug Dieken retired on a winning note.
He was honored with a plaque that shows the FirstEnergy broadcast booth is being renamed in his honor.
We have renamed our home radio booth at @FEStadium "The Doug Dieken Radio Booth"

📰 » https://t.co/3W8AKiO7Gn pic.twitter.com/i4IxYEWyYr

— Cleveland Browns (@Browns) January 9, 2022
Fans extended well wishes and gratitude to Dieken.
Happy Retirement #DougDieken You'll be missed! #Browns pic.twitter.com/y8D08J65o9

— ⚓ Jim😎 ⚓ (@OhioSportsGuy64) January 9, 2022
In the words of @3JimDonovan we were all lucky to have you #DougDieken thank you for some amazing commentary. We'll miss you next season!#GoBrowns

— J-Bird (@jqwhite8) January 9, 2022
Thanks, Doug!!! We love ya!!! #DougDieken #Browns pic.twitter.com/WEMK9edeeQ

— G. Chiggins II, Prospector ✊🏻❤️ (@Ohh_Peaches) January 9, 2022
@923TheFan #BrownsvsBengals Thank you for the memories #DougDieken Wishing you every good thing to a good guy!!! We will miss you!!! Always listen to you both!! 🙆‍♀️👏👏👏👏👏👏👏👏👏👏👏🍾🥂🥇 pic.twitter.com/UXxQnB4Pb8

— ChristsTiger (@ChristsTiger) January 9, 2022
3. Case Keenum Admiration
Another prevalent theme was the admiration and respect for Case Keenum.
The Browns are lucky to have such a steady and capable backup quarterback.
Fans appreciated his winning effort today.
This new Case Keenum breakdancing movie looks sweet #Browns pic.twitter.com/5z0EVWHMDe

— DollarDog Nick (@DollarDogNick) January 9, 2022
Watching the Browns game an am I the only one that still loves Case Keenum? The dude is just resilient

— Rich (@louisiana_tuff) January 9, 2022
Look at the respect for Case Keenum. pic.twitter.com/8skU5uH1VS

— CamFrom🇨🇦 (@camfromcanada3) January 9, 2022
4. Is It The End Of The Road For Jarvis Landry?
Landry did not speak to the media after the game.
He let his play do the talking by scoring the first touchdown of the game.
Will Landry be with the Browns next season?
No one knows for sure.
Jarvis Landry leaves the field after the #Browns win. pic.twitter.com/5diwPs1ED3

— Camryn Justice (@camijustice) January 9, 2022
Fans sent their appreciation to Landry just in case this might be it.
Jarvis Landry touchdowns are the stuff joy is made of.

— Nick Karns (@karnsies817) January 9, 2022
If this is it for Jarvis Landry in Cleveland, thank you for it all.@God_Son80 🧡 pic.twitter.com/HtSI5gwJJk

— bryce👼🏿❄️ (@theyhatebryce) January 9, 2022
If this is it for Jarvis Landry being on the Cleveland Browns – it was a fun 4 years.

— John Himbery (@JohnHillbery) January 9, 2022
I really hope this isn't the end of Jarvis Landry. #Browns

— Nick Pedone (@NickPedone12) January 9, 2022
5. Looking Ahead To The Offseason
Unfortunately, the most exciting time to be a Browns fan is once again the offseason. Buckle up, folks. #Browns

— Bryan Fraley Jr (@bryan_fraley) January 9, 2022
The offseason has officially begun.
The to-do list for the offseason has already been formulated by some ambitious fans.
My #Browns offseason checklist is all about the pass offense:
1. Evolve the offense like GB/LA, have a component that can attack downfield with 3 or 4 WRs, use 6's downfield arm, tailor to your personnel.
2. Get your R1 WR1, trade up if necessary.
3. Get a legit RT, just in case.

— JSS (@JScottShep) January 9, 2022
The offseason wants vary, but the one thing fans want is a team that competes better and wins more in 2022.
It is up to Andrew Berry to figure out what the roster should look like to make that happen.