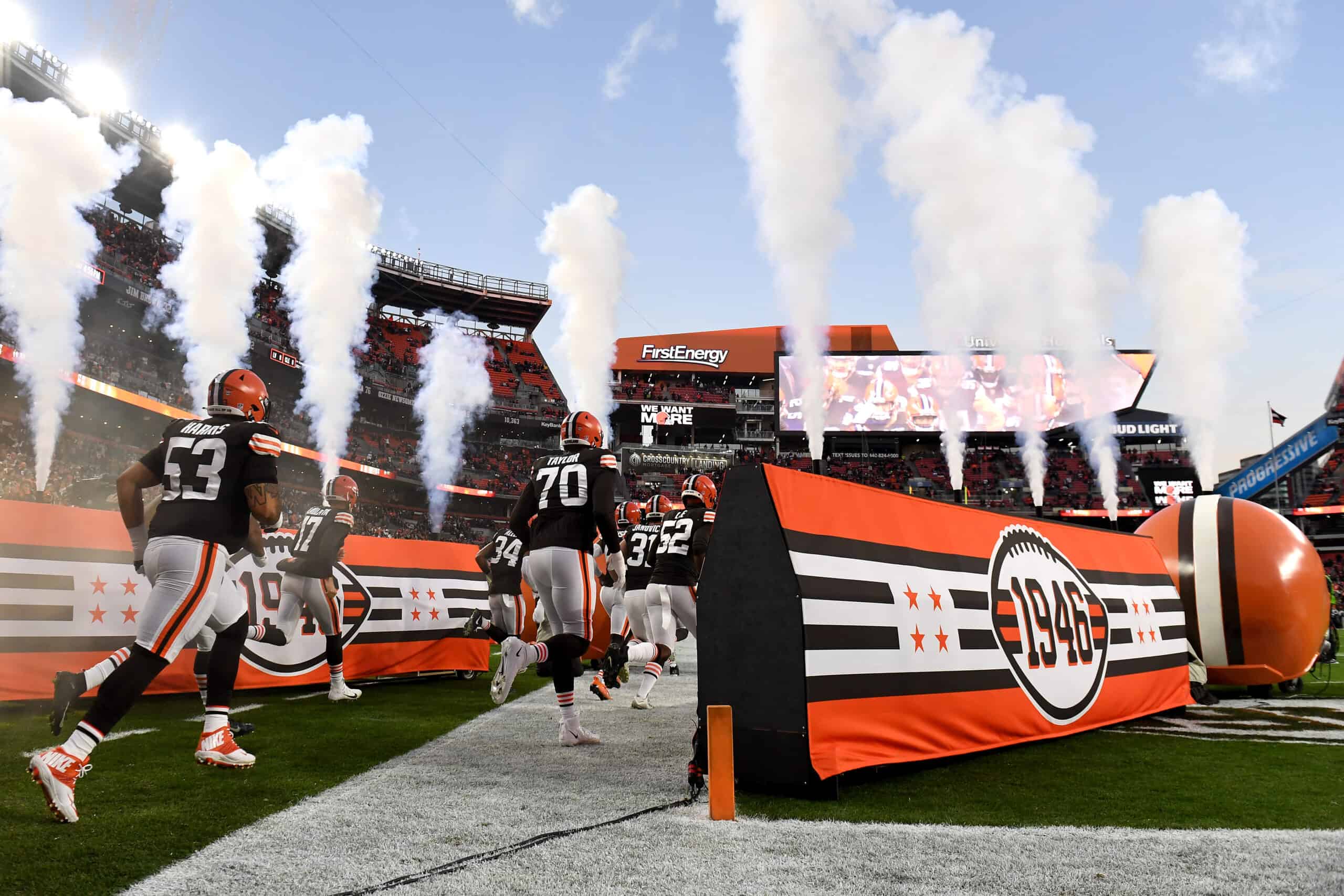 The Cleveland Browns were officially eliminated from the 2021 NFL playoffs on Sunday, January 2, 2022.
As expected, there were plenty of reactions and emotions shared on social media.
Here are some of the more noteworthy reactions by the NFL world to the Sunday Browns news.
1. CBS's Twitter Announcement Sparked Outrage
Even the casual Browns fan had to be taken aback by the official announcement from CBS about the Browns' elimination from the playoffs.
Check it out.
Wow some real class there! 😡#Browns #NFL https://t.co/8k9KiIY9D6

— Steve Dzanko #D4L (@DzankoSteve) January 3, 2022
Several of these images are not even from the current season or represent current players on the Browns team.
Fans took notice and shared their reaction.
@NFLonCBS Twitter to us #Browns fans with this tweet. pic.twitter.com/6qq77W4eU8

— Rich Possert Jr. (@RichPossertJr) January 3, 2022
One fan asks a valid question.
Are you doing this kind of embarrassing collage for every team that's getting eliminated today?

— Adam (@ATunes84) January 3, 2022
In comparison, the SportsCenter announcement was much tamer and included the Browns with the Broncos and Dolphins.
Misery loves company.
The Browns, Dolphins and Broncos have all been eliminated from playoff contention. pic.twitter.com/0jiTxfH7Wa

— SportsCenter (@SportsCenter) January 3, 2022
FOX's announcement was also a lot more gracious than the CBS one.
With the Chargers win today, the Browns have been eliminated from playoff contention. pic.twitter.com/LaYqKoMG29

— FOX Sports: NFL (@NFLonFOX) January 2, 2022
2. Fans Are Used To It
We officially have been kicked out the playoffs #dawgpound #browns pic.twitter.com/5zlC3Yxkrq

— evil cleve (@just__shino) January 3, 2022
After fans got done grilling CBS about the graphic and announcement, they moved on to a common theme.
Disappointment is pretty normal for Browns fans.
It's painful being a #browns fan

— CC (@CCampbell514) January 3, 2022
You and me both Bonnetta #browns https://t.co/u3QGsm3zIW

— Thrilla 🇨🇦 (@Leafs4Life8989) January 3, 2022
Lots of people throwing around blame already. I'm just going to say that little went right this year and it's tough to be a #Browns fan.

— Joe Kikta (@JoeKikta) January 3, 2022
#Browns pic.twitter.com/5Yv8obQ1Ki

— Depressed Cleveland Browns fan (@JohnHillbery) January 3, 2022
The words painful and tough were used often to express the feelings.
One fan even said this season is more disappointing than the 0-16 season because of the great expectations for the 2021 team.
Being honest…this season feels worse than 0-16. So many expectations squelched by so many failures. Not one person is responsible, but IMO the #browns need a shake up. Shut down 6 for surgery, draft him a top WR. It's perform or adios for him next season.

— Critically Honest #D4L (@JohnMatye) January 3, 2022
3. Who Is To Blame?
Browns Twitter is moving through the stages of grief quickly and going directly to the heart of the issue.
Who is to blame?
There are several theories.
As expected, quarterback Baker Mayfield is at the top of the list.
When baker is outta Cleveland tell him take that 6 and keep it for life!!! Cancel that number #browns

— Juggernaut_Jackson (@CheckThaFeed) January 3, 2022
Ok let's talk about it now that it's over. The Browns need to move on from Baker this offseason. The Odell thing was embarrassing as an organization. A complete disappointment from start to finish.

— Football Chopz (@Pchopz_) January 2, 2022
As a #browns fan, I don't think I have ever been so disappointed. I felt like I had realistic expectations at the beginning of the year. AFC North champs wasn't out of the question, but a playoff berth seemed almost impossible not to achieve. Can't help but think about QB1.

— Archer (@Rackassasin1) January 3, 2022
Baker Mayfield, who's a total FRAUD, cost the Browns the season. Look at guys like Burrow, big time performers. Baker had chance after chance, couldn't come up big one single time this season. Lots of questions to be answered this off-season. TOTAL FRAUD!

— Vern Thompson (@VernThompson) January 2, 2022
4. Thank Goodness For The Cavs
Many Browns fans are seeking another outlet now that the Browns will not be in the playoffs.
Thankfully the Cavs seem to be a great distraction these days.
#Browns aint makin the playoffs, but the #Cavs are 😉

— Evyn Georgia🍑 (@_Ev_G) January 3, 2022
#Browns door closes, #Cavs door gets propped open. Cavs done #LetEmKnow AGAIN!

— MyKey (@ADM7070) January 3, 2022
Let's use that same energy that got Peton Hillis on the cover of @EAMaddenNFL to get the young #Cavs in the #NBAAllStar game #BeTheFight @egoldie80 @ESPNCleveland #Browns #BrownsTwitter

— A B Luv #D4L (@ABelieveland) January 3, 2022
Conclusion
It is going to be a long offseason.
None of us is privy to what Andrew Berry is thinking.
One thing is for certain; he is going to earn his money if he can get this team turned around for 2022.