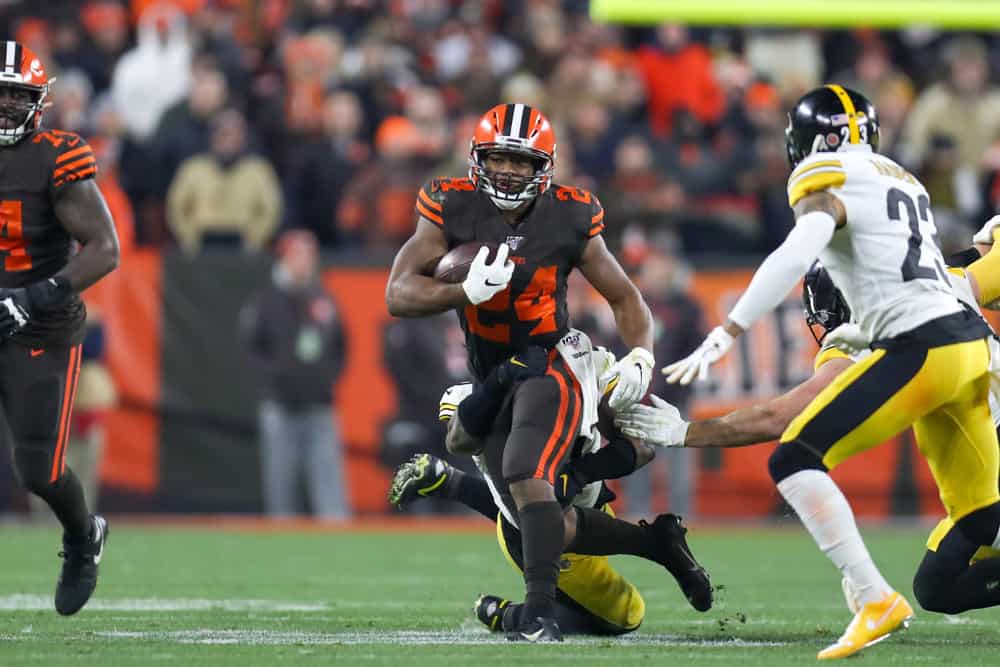 Nick Chubb had a sensational 2019 for the Cleveland Browns.
After finishing second in the league with 1,494 rushing yards, Chubb joins three other great running backs for FedEx Ground Player of the Year.
🚂 @NickChubb21 is a finalist for FedEx Ground Player of the Year!

VOTE‼️ » https://t.co/KbnJHItQ8I pic.twitter.com/gqx9Ufby92

— Cleveland Browns (@Browns) January 17, 2020
— Cleveland Browns (@Browns) January 17, 2020
Chubb joins Carolina Panthers Christian McCaffery and Tennessee Titans Derrick Henry as the finalists.
FedEx has recognized NFL quarterbacks and running backs for their best performances for 17 years.
Fans can vote up to 10 times a day for who they believe should win.
According to NFL.com, when the winners are announced, FedEx will donate $20,000 to the USO Pathfinder in each of their names through FedEx Cares.
Here's a quick look at the finalists.
Nick Chubb
Besides being one of the best ground gainers, he was one of the best when he got hit.
Chubb led the league in rushing yards after contact, which included gaining 86 more yards than Henry.
Per SIS, Chris Carson produced 907 of his 1230 rushing yards after contact in 2019. That was 3rd in the NFL behind Nick Chubb (1053) and Derrick Henry (967).

Carson led the NFL in broken tackles with 67, on fewer carries than both Chubb and Henry

— Alistair Corp (@byAlistairCorp) December 31, 2019
Chubb had to gain extra yards because he was running behind one of the worst offensive lines in the league.
How good was Nick Chubb at getting everything possible out of each run this year? Despite a team run-blocking grade of 51.7 (27th), the #Browns earned the highest team rushing grade (88.8).

— PFF CLE Browns (@PFF_Browns) December 31, 2019
Feel like we all love broken tackles for RBs, but they don't really matter for fantasy.

Broken tackles vs. ppg rank (in parenthesis):

1. Nick Chubb: 32 broken tackles (#10)
2. Chris Carson: 28 (#13)
3. Alvin Kamara: 26 (#8)
4. Aaron Jones: 26 (#3)
5. Josh Jacobs: 26 (#16)

— Ryan (@FF_RyanB) December 28, 2019

His 1,494 yards were the second-most in a season in franchise history.
Chubb won the weekly award on Week 4.
Derrick Henry
Derrick Henry rushed for a season-high 211 yards to steal the rushing title from Chubb.
He finished the season with 1,540 yards rushing.
Reason No. 1,001 to fire Freddie Kitchens: Nick Chubb entered the day 124 yards ahead of Derrick Henry for the rushing title. Chubb ends up 17 yards behind him. Chubb got 13 carries today, Henry 32. Bengals run defense was 32nd against the run AKA LAST…

— Evan Dennison (@EvanDennison1) December 30, 2019

Despite this being a regular-season award, Henry could get a lot of votes for his recent work.
The Titans are playing the Kansas City Chiefs on Sunday in the AFC Championship Game.
A lot of that has come from the production from Henry.
Henry rushed for 182 yards in the Titans' win over the New England Patriots and 195 yards against the NFL's best-run defense in the Baltimore Ravens.
Henry won the weekly award five times in 2019, which included Week 10, 12, 13, 14, and 17.
Christian McCaffery
Christian McCaffery is a candidate for MVP after the 2019 season he had.
He became the third player ever to join the 1000-1000 club, which are players that record at least 1,000 rushing and receiving yards in a season.
Plus, he did it on a bad 5-11 team.
CMC

1,387 rush yards, 1005 rec yards, 2,392 yards total and 19 total TDs

NFL 1000/1000 club:

Roger Craig (1985) – team went 10-6
Marshall Faulk (1999) – team went 13-3
Christian McCaffery (2019) – team went 5-11

💪🏼💪🏼💪🏼💪🏼💪🏼 pic.twitter.com/XSHTfL9MLd

— BJStarr (@starrcore79) December 30, 2019
McCaffery won the weekly award on Week 3 and Week 9.