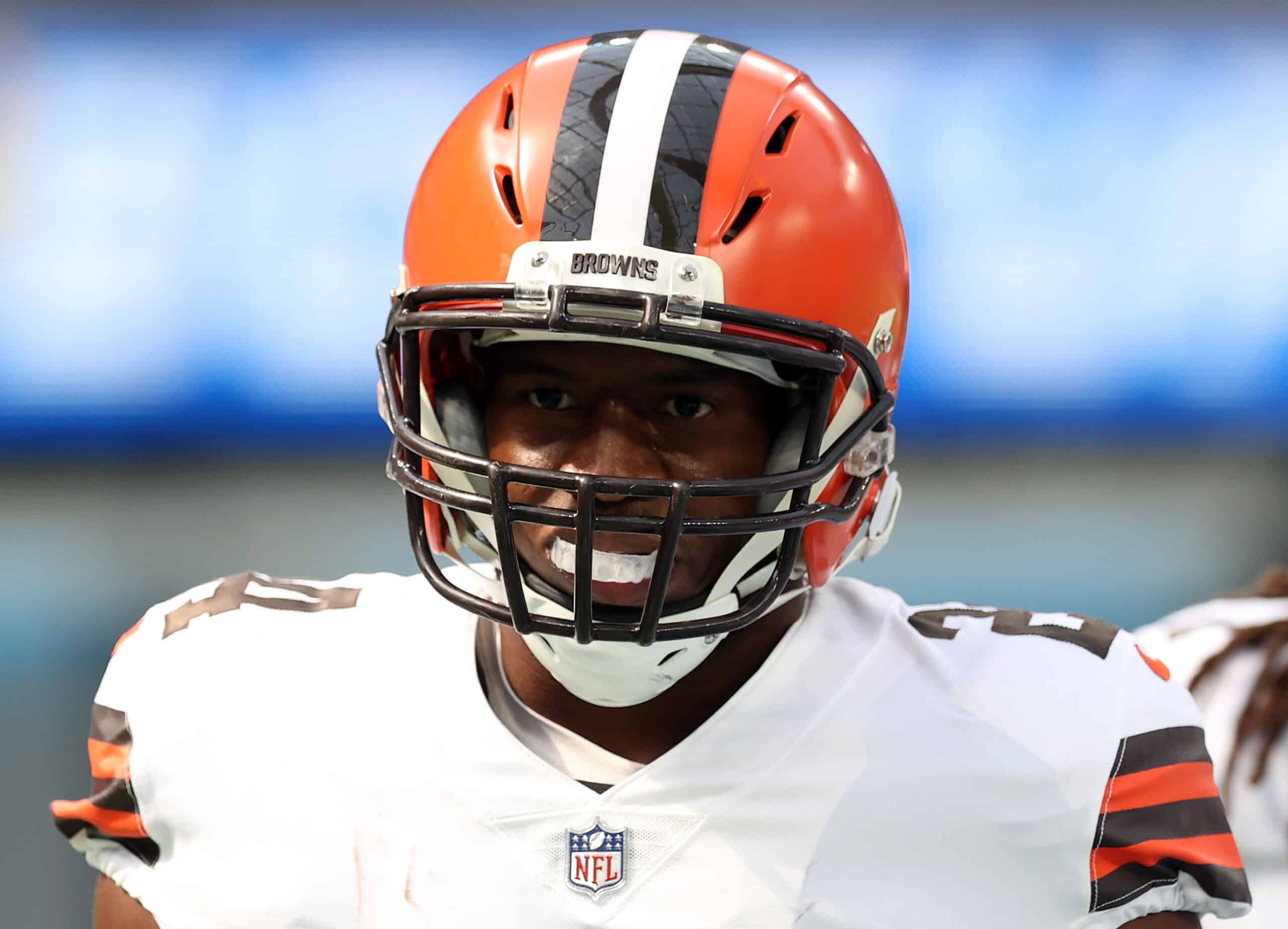 The Cleveland Browns were hoping this ten-day mini-bye between the Week 7 victory over the Denver Broncos on October 21 and the Week 8 game with the Pittsburgh Steelers on October 31 would provide needed time to get back injured players.
It looks like that strategy paid dividends in the case of Nick Chubb who was back at practice today after missing Week 6 against the Cardinals and Week 7's games.
#Browns Nick Chubb returned to practice today. pic.twitter.com/sJ3i2BrBub

— Camryn Justice (@camijustice) October 25, 2021
Chubb had a calf injury; however, it was never perceived to be as serious as Kareem Hunt's calf injury that sent him to injured reserve.
The plan is to see how practice goes for Chubb this week.
If all goes well, he will play against the Steelers.
#Browns Nick Chubb is expected to turn to action this week. #NFL pic.twitter.com/mB1JRMAIbt

— NFL Rumors (@nflrums) October 25, 2021
Chubb has been a sideline presence in both games he missed.
He is seen sitting with Week 7 hero D'Ernest Johnson and Browns running backs coach Stump Mitchell after Johnson's touchdown.
Learning from one of the best 🙌@NickChubb21 🤝 @DernestJohnson2 pic.twitter.com/cYJJvwmSv8

— FOX Sports: NFL (@NFLonFOX) October 22, 2021
Jack Conklin Also Back At Practice On Monday
In other good news, right tackle Jack Conklin is back at practice also.
He is recovering from a knee injury.
#Browns Jack Conklin practicing today. Has been sidelined with a knee injury. pic.twitter.com/ukuV3ZYLQJ

— Camryn Justice (@camijustice) October 25, 2021
Chubb And Johnson Vs. Pittsburgh
With Kareem Hunt out and D'Ernest Johnson earning more playing time in his absence, it looks like things are set up for a Chubb and Johnson tandem on Sunday.
Johnson, also known by his nickname "Slow Grind", did an outstanding job against the Broncos.
With the offensive line getting healthier and Chubb also in the backfield, this could be a winning combination for the Browns on Sunday.
Steelers Week
The Steelers games are always big games on the Browns' schedule.
The first meeting of the two teams, on October 31, is more critical because of how tight the AFC North is.
With the Bengals and Ravens in a tie for first place with 5-2 records, the Browns sit in second place at 4-3, and the Steelers who had a bye week in Week 7 are 3-3.
Last year, three playoff teams came out of the AFC North, and if the teams continue to play like this and win games, the same could happen again.