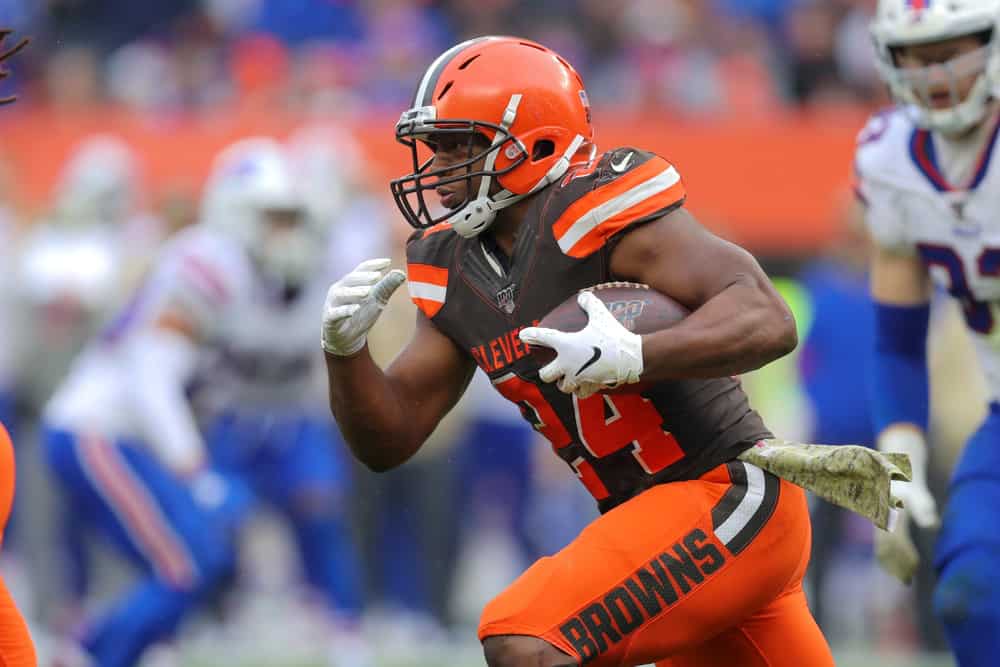 Nick Chubb will be a member of the Cleveland Browns for the next four years.
Everyone was elated to hear the Saturday night news that Chubb and the Browns agreed to a three-year extension.
Browns, RB Nick Chubb agree to three-year, $36.6 million extension. (via @RapSheet) pic.twitter.com/Hka8aYkq8f

— NFL (@NFL) July 31, 2021
Much has been written about Chubb as the person, player, and teammate.
Yet some were actually surprised when this Chubb 2020 stat was revealed.
This Nick Chubb stat is crazy. pic.twitter.com/tUtwM3HzVu

— Field Yates (@FieldYates) August 2, 2021
What Does It Mean
This stat is very telling for multiple reasons.
To begin with, it is measured over a minimum of 30 rushes.
Chubb averaged over 10 yards in over 30 4th quarter rushes in 2020.
This measures Chubb's work ethic and steadiness late in games.
He is tough to tackle and is not afraid to impose the Derrick Henry stiff arm to stay upright.
This Nick Chubb stiff arm 😤😤

(🎥: @GeorgiaHeroes) pic.twitter.com/EYIqlXObBP

— Field Yates (@FieldYates) November 22, 2020
It also means that the Browns offense's run first mentality was working.
The run was established, and it opened up the pass game.
But in the end, Chubb, running behind that imposing offensive line, was the key to victory in 2020.
Can He Repeat This Stat In 2021
He might be able to.
What we don't know is how the offensive playbook will evolve for 2021.
I doubt we know all of the Browns' offensive tricks planned for 2021; at least, I hope we don't.
OBJ is back, and there has been the exciting talk of having more designed plays with both Chubb and Kareem Hunt on the field at the same time.
The bottom line is that the Browns have many talented players on offense as well as the best offensive line in football so whatever it takes to win is what matters.
No one has to ask Chubb about how he feels about this stat because we know what he will say.
He would credit the offensive line and his teammates while saying he will do whatever he is asked to do to help the team win.