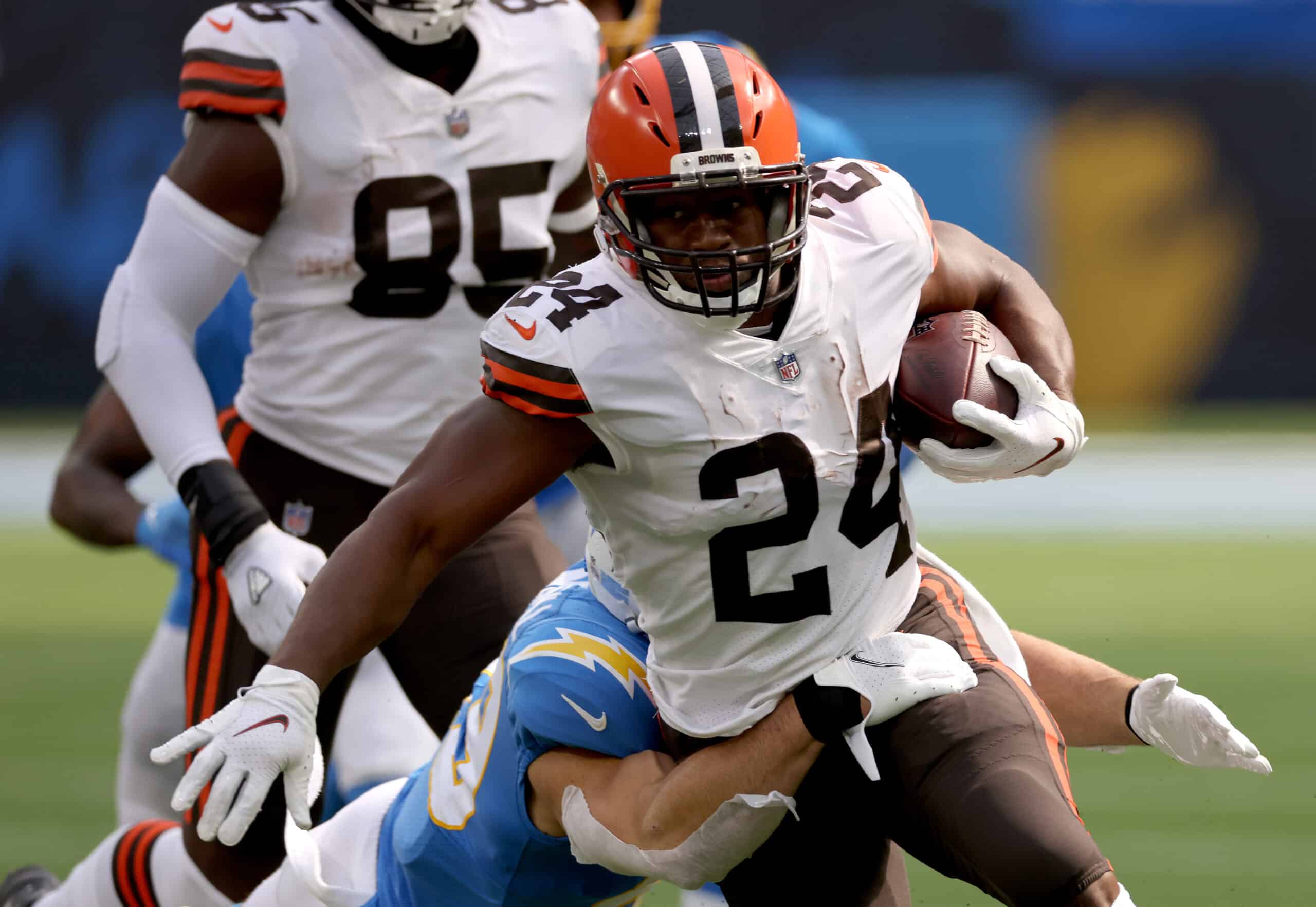 Some NFL running backs use speed to run away from defenders and rack up yardage.
Others use a variety of jukes and jigs to dance around would-be tacklers.
And there are those who just run over and through arm tackles and ill-advised attempts at slowing their progress.
Nick Chubb gives the Cleveland Browns a combination of all three.
At his size, he does not look like one of the fastest players on the field.
But nobody made up ground on him once Chubb got past the defense en route to a 52-yard touchdown last week.
Nick Chubb dials up a 52-yard house call ☎️

(via @NFL)
pic.twitter.com/8EaUTyt4EL

— Bleacher Report (@BleacherReport) October 10, 2021
There is no way to judge how speed adds yards to a run.
But analysts like Pro Football Focus can count how many times a rusher makes a defender miss.
And, according to PFF, no player has forced more missed tackles than Nick Chubb.
Most missed tackles forced this season

🥇 Nick Chubb – 28 (90 attempts)
🥈 Derrick Henry – 20 (142 attempts) pic.twitter.com/usbTeX64on

— PFF Bet (@PFF_Bet) October 12, 2021
Chubb's Missed Tackle Rate Is Even More Impressive 
Tennessee's Derrick Henry has the second most forced missed tackles with just 20.
Totalling 40-percent more missed tackles than his nearest competitor is impressive enough.
But consider that Henry has 40-percent more rushing attempts than Chubb, and his results are incredible.
PFF's count gives Chubb a missed tackle rate of 1 in every 3.21 carries (or a 31% rate).
Most rushing yards in Week 5

💥 Nick Chubb – 161
💥 James Robinson – 149
💥 Nick Chubb after contact – 134 pic.twitter.com/OpwqUONvy7

— PFF Fantasy Football (@PFF_Fantasy) October 11, 2021
Henry earns a rate of 1 in every 7.1 carries (or 14%).
How much does that help the Browns offense?
According to the NFL's NextGen stats, Chubb gained 126 more yards than expected so far.
Chubb's 1.4 extra yards-per-carry is third behind Dallas Tony Pollard and… Cleveland's Kareem Hunt.
How Kareem Hunt Measures Up 
Leading into the Chargers' game, there was some social media debate about who the best rusher in Cleveland is.
That might be put to rest for a week, or it might not be.
Chubb boosted his yards-per-carry rate to 5.8, compared to Hunt's consistent 5.4.
Hunt scored more touchdowns through 5 games (5-4), but only has 2 runs of 20+ yards, compared to Chubb's 5.
Nick Chubb is second in the league with 362 yards. Kareem Hunt is PFFs 3rd highest graded RB (82.8). Both running backs are averaging over 5 yards per carry. Hands down the best RB duo in the NFL #Browns pic.twitter.com/XK80qfMqvm

— Jacob Roach (@roachizm13) October 8, 2021
According to NextGen stats, Hunt faces 8-men fronts more often than Chubb.
This might explain why the Browns #2 runner takes about 0.28 seconds longer to cross the line of scrimmage.
Both runners can be patient, but it's harder to find your hole with more defenders up close.
But once they get going, Hunt is the more efficient runner, moving forward more than sideways a higher percentage of the time.
Is There a Better Running Back Duo? 
Through 5 games, Cleveland can lay claim to having the top running back duo in the AFC.
But Dallas, the best of the NFC, is challenging for the overall NFL title.
Ezekiel Elliott, like Chubb, has fans debating who the top back is on his own team.
Tony Pollard is off to a quick start, leading all running backs in yards-per-carry (6.1) and extra yards-per-carry (1.51).
Nick Chubb delivered his best performance of the season thus far.

— Cleveland Browns (@Browns) October 11, 2021
Chubb and Hunt account for 818 yards, compared to the Dallas pair's 777.
But that gives Elliott and Pollard a 0.1 yards-per-carry advantage.
No other team comes close to the 1-2 punch of the Browns and Cowboys.
And we will see who keeps up with whom as the season goes on.