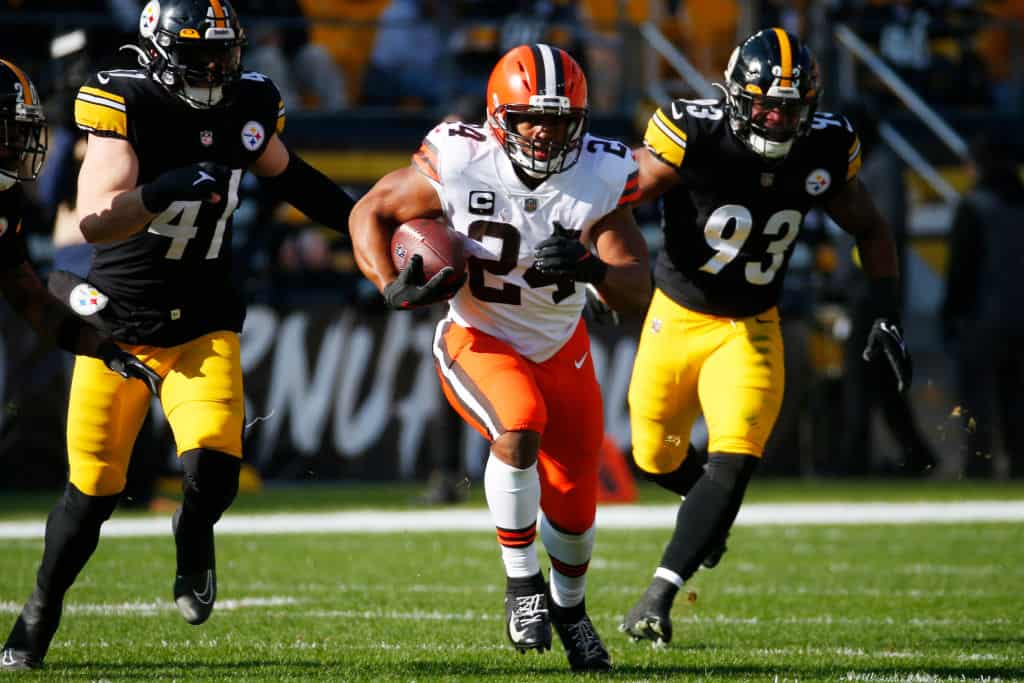 Cleveland Browns running back Nick Chubb had a great 2022 season.
And the individual honors are rolling in to commemorate it.
The latest is the announcement that Chubb is a finalist for the 2022 FedEx Ground Player of the Year.
Nick is a finalist for the FedEx Ground Player of the Year

Vote to help @NickChubb bring home another accolade
➡️ https://t.co/w37ItGxpFH pic.twitter.com/5bqbS9WvFL

— Cleveland Browns (@Browns) January 13, 2023
Chubb rushed for 1,525 yards and 12 touchdowns.
#Raiders RB Josh Jacobs joins #Titans RB Derrick Henry and #Browns RB Nick Chubb as finalists for the FedEx Ground #NFL Player of the Year.

— WillieGRamireZ (@WillieGRamirez) January 13, 2023
Las Vegas running back Josh Jacobs and Tennessee Titans running back Derrick Henry are the other finalists.
Jacobs won the FedEx Ground Player of the Week honors in back-to-back weeks, 12 and 13.
Vote For Chubb On NFL.com!
Online voting is open on the NFL website.
Click the link and select Chubb.
The ballot also includes the FedEx Air Player of the Year candidates (Josh Allen, Joe Burrow, and Patrick Mahomes).
The winners (ground and air) are announced at the NFL Honors broadcast on February 9, 2023.
Second Award Of The Day For Chubb
Chubb was named a second-team All-Pro for the 2022 season.
That is new territory for Chubb who surprisingly has never been named an All-Pro in his five NFL seasons.
#Browns G Joel Bitonio voted first team All-Pro for second straight year. RB Nick Chubb and DE Myles Garrett are second team.

— Fred Greetham (@FredGreetham9) January 13, 2023
Chubb's Prolific Season Was Overshadowed By Disappointment
The 2022 Browns team was a disappointment.
It is that simple.
Chubb's career-first efforts of rushing for over 1,500 yards (and joining Jim Brown as the only Brown to do so) were certainly eclipsed by a team that was very inconsistent.
Nick Chubb says it's "bittersweet" to join Jim Brown as the only two RBs to rush for 1,500 yards and not making the playoffs. #Browns  @fox8news pic.twitter.com/6LjiQHcBTf

— John Sabol (@John_Sabol) January 9, 2023
He is 27 years old so the time is now for the Browns to put together the players and coaches to allow Chubb and the Browns to both succeed.
Give me 53 Nick Chubbs!! https://t.co/LhUKMchI3f pic.twitter.com/w4RbT9SxSC

— Jay in Raleigh (@carolinajjp172) September 10, 2022
In reality, the Browns need 53 Nick Chubbs, but unfortunately, that is not possible.