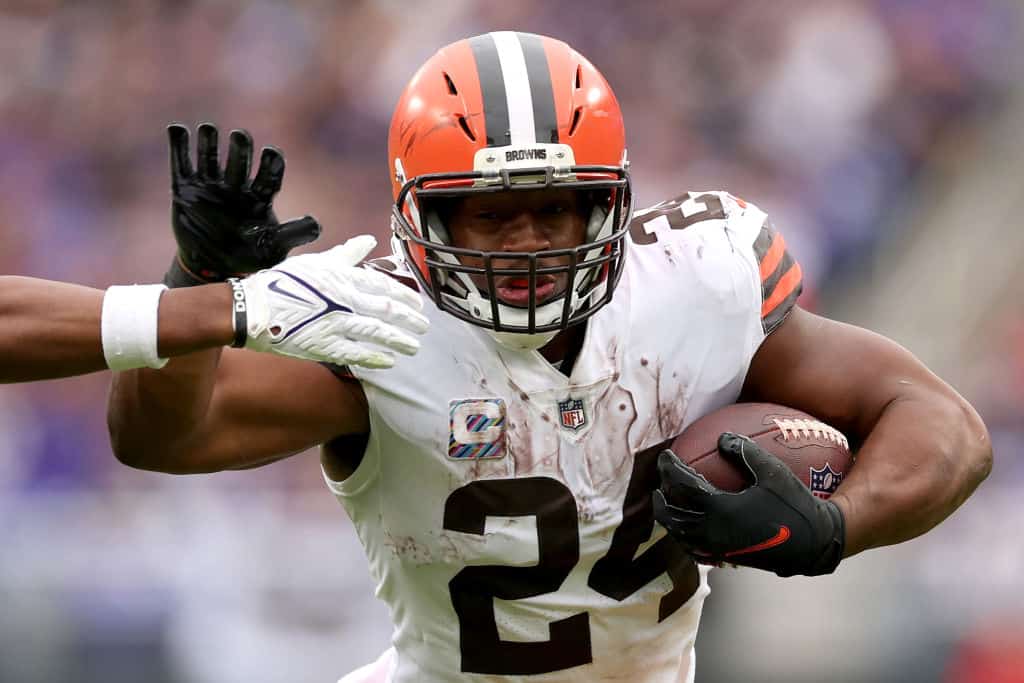 Long before he became a superstar with the Cleveland Browns, some people questioned whether Nick Chubb would be able to play football again.
Chubb had already shown plenty of promise in his rookie season and early in his sophomore campaign with the Georgia Bulldogs, and he looked poised to be a star at the collegiate level.
Then, after just a handful of games, he suffered one of the most gruesome knee injuries in the history of the game, and even he doubted if he would ever be the same player again.
In a recent sit-down with former NFL player Ryan Clark, Chubb admitted that he actually tore everything in his knee except his MCL and his ACL.
In October of 2015 Nick Chubb suffered one of the most gruesome knee injuries I've seen. He was in the middle of an excellent sophomore campaign for the Dawgs down at @UGAAthletics. He broke a tackle & as he was brought down tore everything in his knee other than his ACL & MCL.… pic.twitter.com/9HncznV5DX

— Ryan Clark (@Realrclark25) August 14, 2023
Notably, Chubb was able to come back even better, logging remarkable back-to-back seasons of 200+ carries and proving to be worthy of a chance in the pros.
Even despite that injury and all the concerns that came with that, the Browns still took him with the No. 35 pick, and the rest, as you know by now, is history.
Being resilient enough to stay focused and locked in throughout the process after that kind of injury, not knowing if you'll be as good as you were before, and having even fewer certainties regarding your potential future in the NFL is not for everybody.
Props to Chubb for continuing to believe in himself and put in that much hard work to become the dominant tackle-breaking machine he is nowadays.