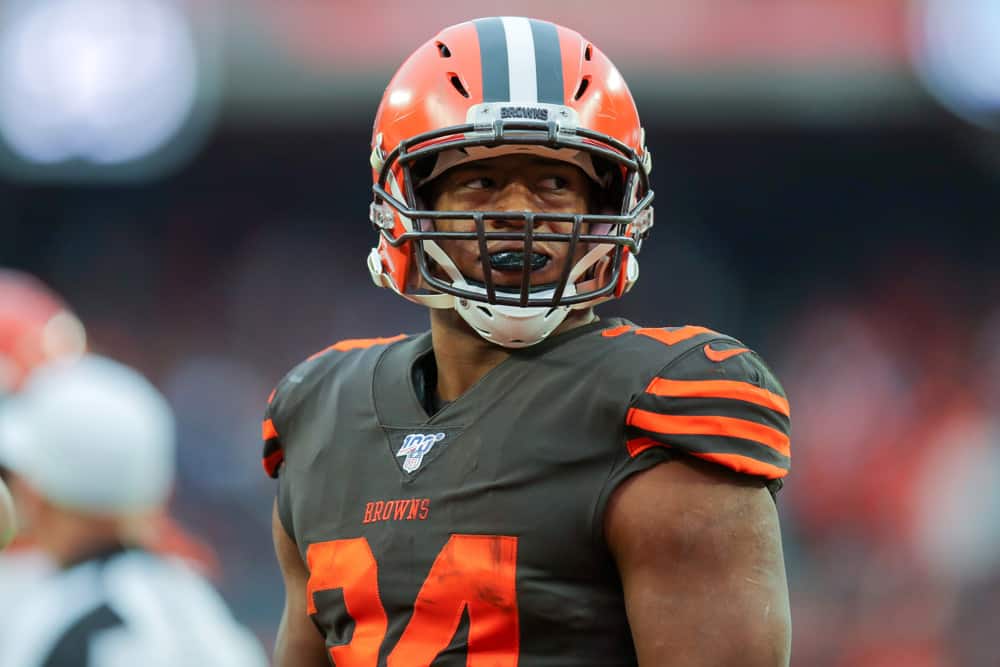 At this point, everyone knows that running back Nick Chubb is a superstar in the NFL.
He has quickly become one of the best running backs in the league.
The Cleveland Browns have a stud on their hands and workhorse back for many seasons to come.
That is why Pro Football Focus ranked Chubb as the No. 37 best player coming into the 2021 season.
This is quite an accomplishment for a player entering his fourth year in professional football.
Did PFF Get It Right?
At first glance, many might believe Chubb should be higher than 37 on this list.
However, it's worth noting that this list includes all current players, which is both on offense and defense.
That means, Chubb is the 37th best player in the league, which is probably about right.
Pro Football Focus compared Chubb to Derrick Henry, when giving their reasoning for the ranking.
"There is no better pure ball carrier in the NFL than Nick Chubb. Since entering the league, the Browns back has earned a PFF rushing grade of 92.6, just behind Derrick Henry (92.7), though Chubb has a better broken tackle rate, having made 168 would-be tacklers miss on 680 carries."
They aren't wrong, Chubb has been an unstoppable force on the ground since entering the league.
He has missed some time with injuries, but that hasn't stopped him from producing Pro Bowl caliber numbers.
In fact, Chubb has landed himself two Pro Bowl selections over his first three seasons in the NFL.
PFF continued by saying Chubb is one of the toughest backs to slow down, which is true.
"The former Georgia standout has been phenomenal as a rushing threat, too,  breaking off 101 runs of 10 or more yards in his NFL career, just 19 fewer than Henry on 216 fewer rushing attempts. He would be ranked even higher on this list if he were more of a factor in the passing game."
Since entering the league, it seems Henry and Chubb are battling for the rushing title every season.
The two superstar running backs are going to be a force in the NFL for quite a long time.
Expectations For Chubb In 2021
The 25-year-old back has done nothing, but produce since being drafted by the Browns in 2018.
He has recorded over 3,550 yards with 28 touchdowns on the ground through 44 games.
That being said, the extension talk is beginning to heat up with Chubb running out of time on his rookie deal.
The good news is, Chubb has mentioned that he wants to stay in Cleveland.
#Browns RB Nick Chubb, on signing a potential extension this summer: "Cleveland is where I want to be…" pic.twitter.com/2wwntIKZn8

— Jake Trotter (@Jake_Trotter) June 15, 2021
Another Pro Bowl level season by Chubb is likely going to make him one of the highest-paid backs in the league.
He is coming off a career-high 12 touchdown season in 2020, so he's only getting better.
It's worth noting that Chubb missed four games last season and still scored that many times.
Chubb is an unbelievable player that needs to be in the Browns' future plans after his rookie deal is over.
A full healthy Chubb should be able to surpass 1,500 yards on the ground in a full 17-game season.
Lately, Henry has been slightly beating Chubb in a handful of categories, so it's time for Chubb to show everyone he's better than his No. 37 ranking.