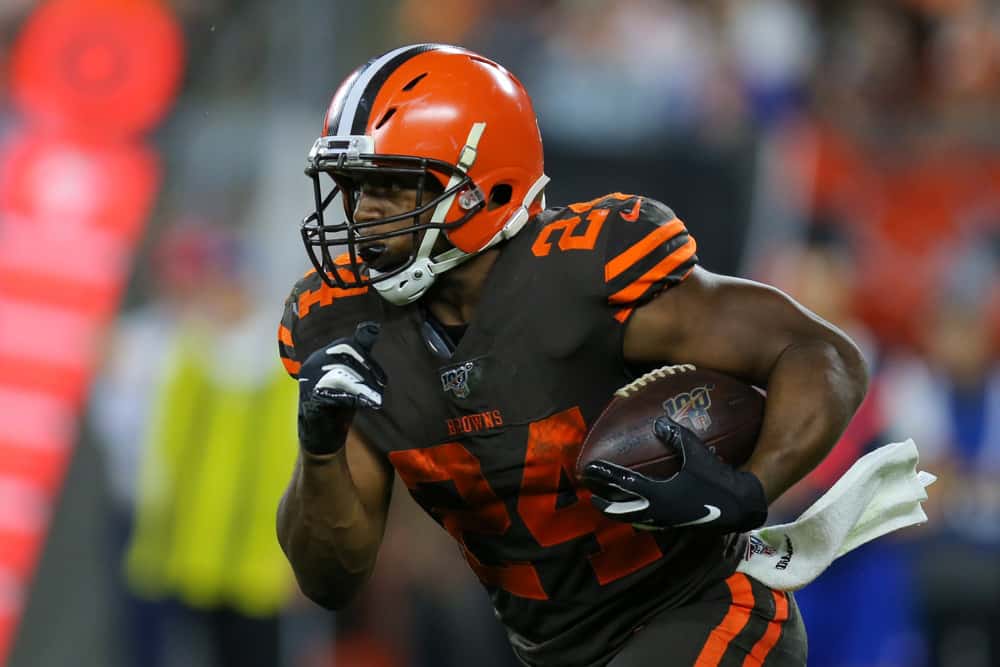 The Cleveland Browns running attack was admired around the NFL in 2020.
The fact is that Nick Chubb has been a workhorse and steady force since arriving in Cleveland in 2018.
Combine his on-the-field performance with his lack of ego and team-first mentality, and it is no wonder Chubb is beloved in Cleveland.
PFF Rankings For Running Backs
Looking up how Pro Football Focus (PFF) evaluates running backs, the first thing you find is a video explaining their ratings.
PFF explains the running back rating system as follows:
"Credit is given for each move the running back makes to add value on the play, whether forcing a missed tackle, using speed to gain the edge or creating yards through contact."
The running back can compound the value of a play by doing more than one scoreable technique per play.
Nick Chubb – PFF Statistics Through The Years
In his rookie season, Chubb was the highest rated RB with an overall grade of 87.5.
Nick Chubb finished as the highest-graded running back this season pic.twitter.com/oswy7tCB4u

— PFF (@PFF) January 23, 2019
Adrian Peterson (90.8, 2007) and Alfred Morris (90.4, 2012) are the only running backs to have higher ratings in their rookie seasons.
In his second season, Chubb was the highest ranked running back according to PFF with an overall rating of 88.7.
Chubb finished ahead of Panthers RB Christian McCaffrey in PFF's rankings.
PFF tallied Chubb's total yards after contact at 1,122 for the 2019 season.
Chubb continued his consistency and domination and has the highest grade among all running backs since 2018.
Nick Chubb: 92.9 PFF Grade since 2018

1st among all RBs 💪 pic.twitter.com/V2yy5F0epN

— PFF Fantasy Football (@PFF_Fantasy) January 30, 2021
What's Next For Chubb
Though Chubb has shrugged it off during and after the season, a contract extension has to be a top consideration for the Browns with Chubb.
He was a second round pick in 2018 so he is entering the fourth and final year of his rookie contract with the 2021 season.
Whereas Mayfield is a first rounder whom the Browns can exercise a fifth year option with, Chubb's contract status is more urgent.
When asked about his contract situation a day after the Chiefs' loss, Chubb answered in typical Nick Chubb fashion.
"I am just still thinking about yesterday and not really looking forward to that stuff right now. Just continuing to work. It will pay off for me eventually and we will see."
Sportrac estimates Chubb's market value as $12 million per season making an almost $50 million four year contract a definite possibility between the Browns and Chubb.
This number is an evaluation of the market value of comparable players to Chubb like Derrick Henry, Dalvin Cook, and Joe Mixon.
For comparison purposes, the Browns signed fellow RB Kareem Hunt through the 2022 season in a two year $12 million deal.
That extension was finalized in September 2020.
Browns GM Andrew Berry has been poker-faced about the many decisions he has to make in the offseason.
Pertaining to Chubb and Denzel Ward's pending contract deals, he said:
"I'd like to keep as many of our good players as long as possible."
As is always the case with the Cleveland Browns, there is never a dull moment, and this offseason will be no exception.