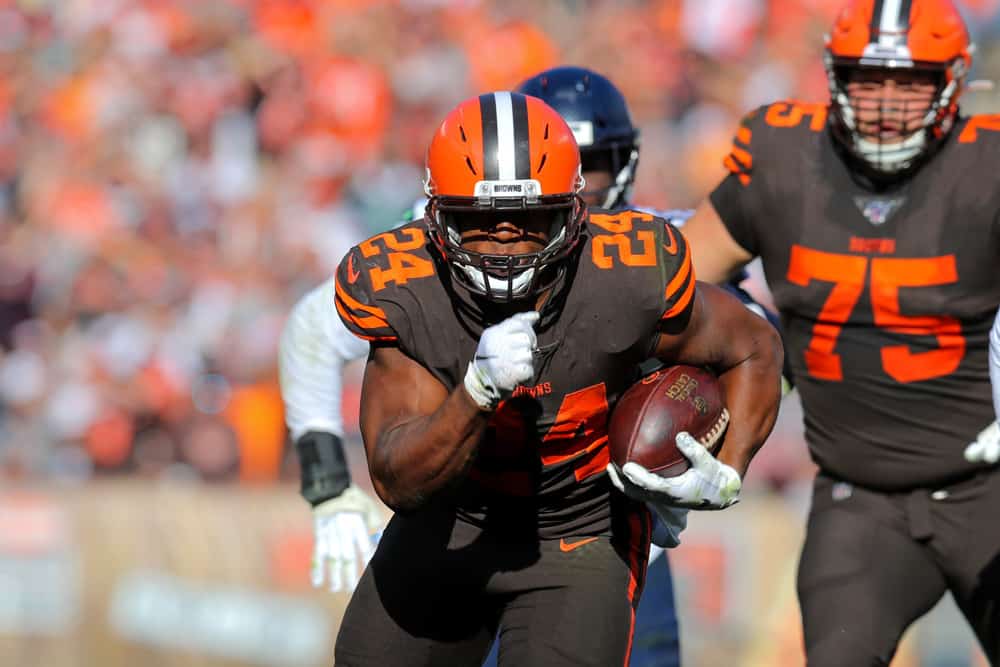 With the 2022 NFL Combine underway, we are watching how the prospective draft picks measure up.
Cleveland Browns running back Nick Chubb sets the bar high in the weight room, and we are again reminded how strong he is.
Chubb showed us what he can do with an Instagram video he released earlier in the week.
5'11 & 230lbs…
And he's making 495 look like childs-play.#football #offseason
Time of year when hard work separates the good from the great the following season.#nfl #chubb #NickChubb https://t.co/xTkBe4OlFD

— Ryan Miller – BLAST FUNDRAISING (@blastmidwest) March 1, 2022
What Chubb Is Up To
We last saw him at Super Bowl festivities, but we see that he is back at it.
In the gym, he is squatting over two times his weight and doing it with relative ease.
It was humorously noted that the bar holding the weights is "struggling more than Chubb."
Nick Chubb treating these weights like a toy 😳

(via @NickChubb21 /IG, @mikefreemanNFL) pic.twitter.com/oyOasOjBA6

— NFL On Prime Video (@NFLonPrime) March 2, 2022
Chubb is getting bigger, stronger, and better, and that should delight Browns fans.
Chubb In 2022
If there is a relaxed state for the workhorse Chubb, it is in this offseason.
He signed his extension and is firmly entrenched with the Browns for years to come.
Winning and staying healthy are certainly at the forefront of his mind; Chubb missed three games in 2021.
He also needs a healthy offensive line to help his cause.
Injuries to Jedrick Wills and Jack Conklin in 2021 also made establishing the run game more challenging for Chubb and the Browns.
Browns All-Time Rushing Leaders
Though Chubb is not one to chase individual records, he is on a record pace.
In four seasons and 58 games played, he is ranked sixth among the Browns' all-time rushing leaders with 4,816 yards.
He is less than 700 yards away from jumping up to the fourth spot overtaking Greg Pruitt's 5,496 yards earned in 118 games.
Jim Brown is the top rusher in Browns' history with 12,312 yards in 118 games so Chubb has a ways to go to try and catch Brown.
Given that Chubb has split time running with Kareem Hunt, his high ranking on this list is even more impressive.
Speaking of Hunt, he is ranked 22nd all-time on the Browns rushing leaderboard with 1,406 yards in 32 games.
In the meantime, we hope to see more videos of Chubb in the weight room this offseason.