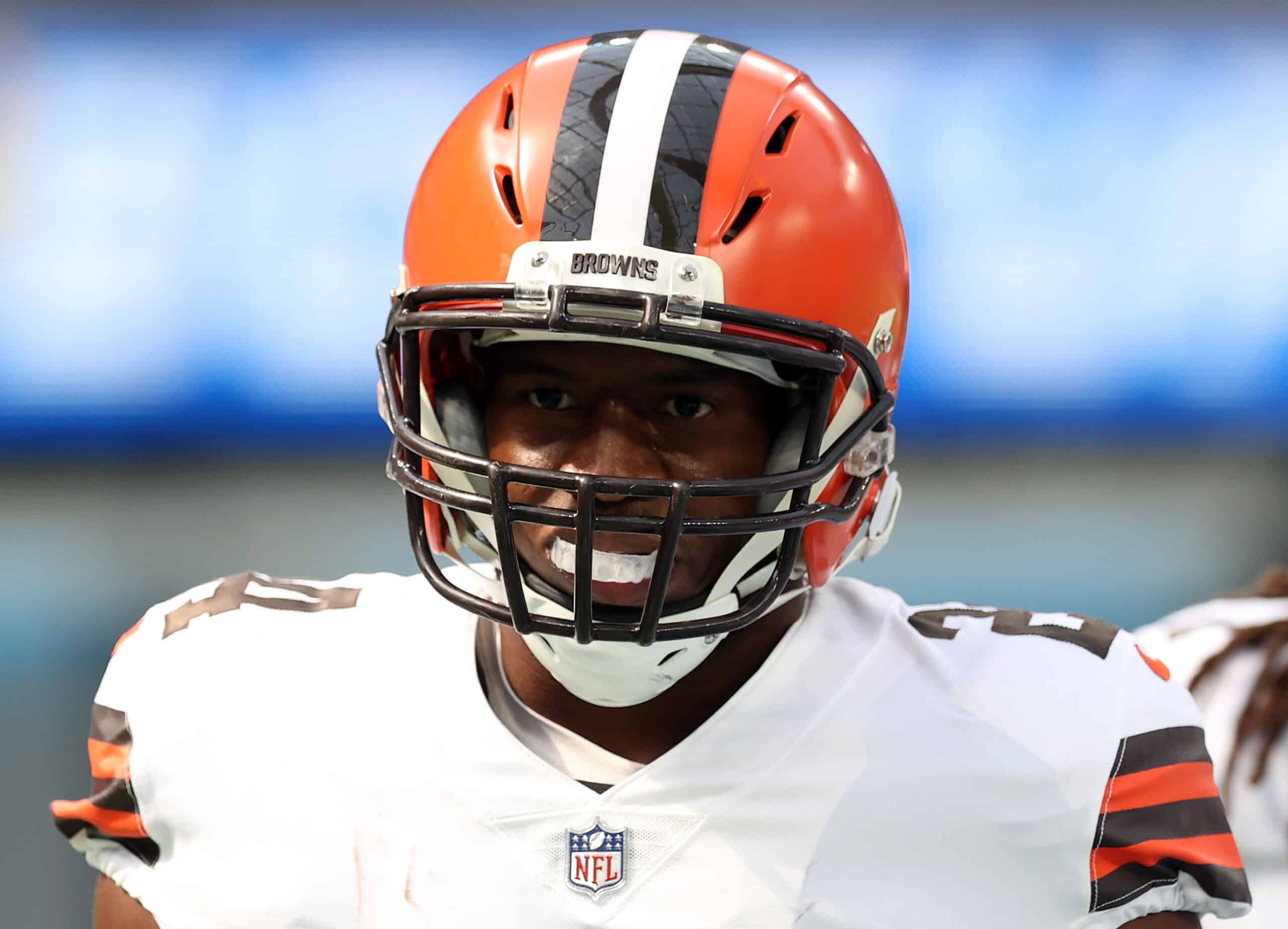 Every Cleveland Browns fan knows who is the best running back in the NFL.
But validation from league analysts and pundits is always appreciated.
And fans can now point to PFF's annual position rankings to back up their argument for Nick Chubb.
PFF's Trevor Sikkema did the honors of writing up their preseason running back assessment.
#Browns Nick Chubb's 2022-23 season:

– 302 carries (career high)
– 1525 yards (career high)
– 5.1 yards per carry
– 13 total TDs (career high)
– 239 receiving yards
– 69 first down carries (career high)
– 90.7 rushing grade (career high)
– started all 17 games pic.twitter.com/ddgNKwtt1L

— MoreForYouCleveland (@MoreForYou_CLE) January 11, 2023
Using a combination of statistics and what they call "efficiency numbers," Sikkema put Chubb atop the list.
Cleveland's star running back comes off a career-best 90.7 rushing grade from PFF.
Sikkema cited Chubb's consistency, noting specifically his yards-per-carry and missed tackles forced.
He went on to call Chubb one of the NFL's most physically-gifted running backs.
Chubb Comes Off A Banner Season 
Nick Chubb set a career-high with 1524 rushing yards in 2022 and tied his career-best with 12 rushing touchdowns.
In what is becoming a habit, he finished just behind Derrick Henry (1538) for the rushing title.
But the pair finished second and third behind Oakland's Josh Jacobs's 1653 yards.
It should be noted that Chubb had about 40 fewer carries than either of the other top-3 runners.
Last year Nick Chubb achieved 68.9% of his 1,525 rushing yds after contact, forcing 83 missed tackles (2nd in the NFL)

This was while facing defenses w/ "stacked" (8+ man) boxes more than 30% of the time

His efficiency will only improve in this new spread offense#DawgPound pic.twitter.com/nAcetX8UTV

— Mac🦬 (@tha_buffalo) May 18, 2023
His 5.5 yards-per-touch over 5 seasons ranks 13th overall among all active players- including receivers.
PFF's fantasy analysts rate Chubb as the NFL's most elusive runner, based on missed tackles and YAC.
The NFL's most elusive RBs, per @PFF_Macri pic.twitter.com/ejXQG4ZcEZ

— PFF Fantasy Football (@PFF_Fantasy) May 22, 2023
And once he gets past defenders, Chubb has a tremendous extra gear to speed toward the end zone.
Jacobs got more votes, but Chubb still made his 4th consecutive Pro Bowl off his 2022 effort.
Chubb Set For Bigger Year in 2023 
There is some consternation over head coach Kevin Stefanski's new passing offense.
But any concern that Nick Chubb will not remain a major component in Cleveland's attack is unwarranted.
In fact, Deshaun Watson's return to form could set up Chubb for his first rushing title.
All five starters from Cleveland's top-5 run-blocking unit return for another go.
Nick Chubb is ready to eat 😤 pic.twitter.com/BbkAws7kqT

— ESPN Fantasy Sports (@ESPNFantasy) May 25, 2023
And neither they nor Nick Chubb should expect to see many 8-man fronts or Chubb-focused twists.
Watson, with no rust and a slate of fast receivers, is the biggest quarterback threat the Browns fielded in decades.
Stefanski's vertical attack likely uses a lot of shotgun formations, from which Chubb averages 0.5 yards more per carry.
And with no big-name backup replacing Kareem Hunt, Chubb still figures to average 16-18 carries per game.
Cream Of The AFC North 
Much is being made of the competitive quarterback situation in the AFC North.
Joe Burrow and Lamar Jackson have to look over their shoulder at the Browns' new leader.
And we'll see if Steelers fans are justified in their excitement about Kenny Pickett.
Burrow, Jackson, and Watson could cancel each other's passing game out.
NICK CHUBB WITH THREE TOUCHDOWNS 🔥 (via @NFL) pic.twitter.com/Sn7hweqojk

— Overtime (@overtime) September 18, 2022
But Nick Chubb puts the Browns' running game far ahead of their divisional rivals.
PFF, while acknowledging injuries cost him some standing, ranks Baltimore's JK Dobbins #18 on their RB list.
Pittsburgh's Najee Harris is right behind him at #19 and the disgruntled Joe Mixon comes in at 22.
And it all adds up to another season to look forward to in the NFL's most competitive division.