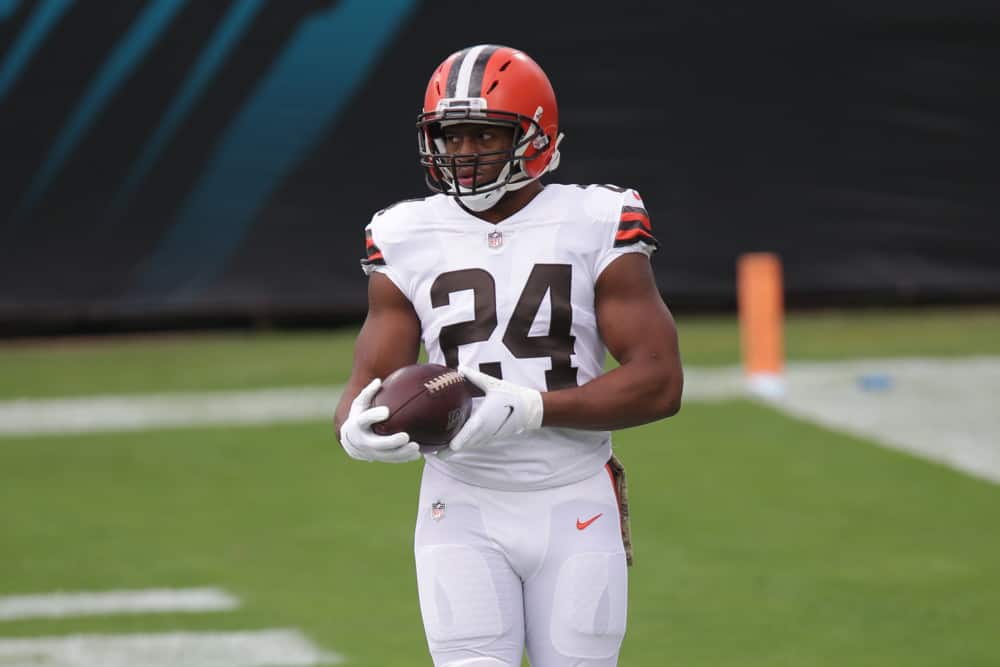 For the last ten years or so, the NFL has been trending in one direction: offense.
Less reliance on the running game, spreading the field with 4-5 wideouts, and deep shots down the field.
After reading countless articles that the spread offense would never reach the NFL, I think it's a safe bet that those spread tendencies are here to stay.
With all that said, we've also seen a resurgence in running back play, with Nick Chubb and Derrick Henry leading the way.
These men face off on Sunday at Nissan Stadium in Nashville (kickoff at 1 p.m.), so this begs the question: how do their careers compare?
Derrick Henry
Standing at 6'3″ and 247 lbs., Henry was drafted out of Alabama in the 2nd round (45th overall) of the 2016 draft.
He won the Heisman in 2015, and ran for 2,219 yards leading the Crimson Tide to a National title.
Henry wrapped up his time at Alabama with 3,591 yards rushing, 285 yards receiving, and 45 total TDs.
Scouts loved how hard he ran, but had concerns about him coming out of college.
Here's what a scouting report said about him:
• Not much of a threat in the passing game; just 15 receptions over the last two years, with two drops.

• Despite size, he's a below-average pass-blocker that needs considerable improvement.

• Size can be a detriment to his ability to quickly change directions in small spaces.

• Lacks the consistent ability to string together moves downfield to extend runs if he cannot just outrun defenders.

• A significant amount of his forced missed tackles came by beating up on cornerbacks and safeties who either over-pursued or were reluctant, if not unwilling, to take him on.

• Production in 2015 somewhat inflated compared to other players due to being given nearly 400 rush attempts. Henry is at or near the top of the nation in total yards, yards after contact, missed tackles, etc., but there are many players ahead of him in per-rush averages.
These concerns simply haven't been the case at all with him in the NFL.
Derrick Henry's best runs vs. the Colts 👑

📺: More Week 12 coverage on @nflnetwork pic.twitter.com/Rekc7wgApe

— Tennessee Titans (@Titans) November 30, 2020
This was against a Colts team that had only allowed three 100 yard rushing games over the past three seasons.
He's a perfect fit for what Tennessee wants to do on offense, which is run to control the clock and take pressure off their quarterback.
This gameplan sounds strangely familiar, right?
Henry doesn't just control clock with his powerful running.
He does things like this:
Derrick Henry, a 99-yard GROWN MAN run

(via @Titans) pic.twitter.com/NHf023N7fo

— Bleacher Report (@BleacherReport) December 7, 2018
Henry is more than capable of breaking off big runs, including the 99 yard run in the video.
Since coming into the league in 2016, he's had 27 runs of 20 yards or more (with 8 during the 2020 season).
A man his size has absolutely no business moving the way he does, and Henry uses that to his advantage.
While he split carries with Demarco Murray his rookie season, he's done nothing but thrive since taking over the starting spot full time.
He's currently leading the NFL with 1,257 yards rushing and is a single TD behind league rushing leader Dalvin Cook, with 12.
Overall, Henry has logged 5,090 yards rushing, 671 receiving yards, and 53 TDs.
He's already 4th on the franchise rushing list, behind all-time greats Eddie George (10,009 yards) and Earl Campbell (8,574 yards), and Chris Johnson (7,965 yards).
And then there is this stat, provided by NFL on CBS.
Only two players in Titans franchise history have rushed for 10+ TD in three straight seasons.

Earl Campbell… and Derrick Henry. pic.twitter.com/OhYuUa7EuF

— NFLonCBS (@NFLonCBS) November 29, 2020
He's already in rarified company, and only getting better.
Nick Chubb
Nick Chubb has the same position in the Browns offense as Henry does on the Titans.
And Chubb is equally impressive.
While not as big (and who is the same size as Derrick Henry outside of DK Metcalf?), he is still an imposing figure on the field, standing 5'11" and weighing in at 227 lbs.
Chubb was an SEC back as well, playing at the University of Georgia, and excelling much in the same way Henry excelled at Alabama.
Chubb split carries with Todd Gurley and Sony Michel (both of whom are in the NFL now), and still managed to finish as the runner-up behind Herschel Walker in rushing yards at UGA, as well as finishing second overall in total yardage in SEC history.
In four seasons, he racked up 4,769 yards rushing, 361 yards receiving, and 48 total TDs.
He and Henry also share a second round distinction, taken 35th overall in 2018.
Chubb saw spot duty during his rookie year until that October, when veteran Carlos Hyde was traded and Chubb became the full-time starter.
He took off running, and hasn't slowed down since.
Chubb runs with almost perfect balance, with both power and speed.
20 carries, 114 yards.@NickChubb21 put in a strong game on the ground in Week 11. 💪@Browns | #Browns pic.twitter.com/2Pvm3PeK50

— NFL (@NFL) November 25, 2020
Chubb missed four games this year, but STILL is seventh in the league in rushing yards with 719 yards, as well as having 6 TDs.
Even more than Henry, Chubb is a home run waiting to happen.
He currently has 10 rushes of 20+ yards, which is tops in the NFL.
And did I mention he missed four games due to injury?
In his short career, Chubb has run for 3,209 yards, racked up 476 yards receiving, and 24 total TDs.
He currently sits 8th on the all-time Browns rushing list, and will pass Earnest Byner this season.
Without his injury, he would surely be registering more on everyone's MVP radar, and should still garner some attention for the award based on this split alone.
Is it crazy to think Nick Chubb should get some MVP votes this season?

Browns With/Without Chubb in 2020

With Without
6-1 W-L 2-2
199.0 Rush YPG 95.5
5.5 Yds/Rush 3.9
11 Rush TD 0 pic.twitter.com/ucIuZiaOHC

— CBS Sports HQ (@CBSSportsHQ) November 30, 2020
He's only in his third season, and is making dents in the Browns record books.
The sky is the limit for Chubb.
So Who's Better?
Honestly? This is a push. Too close to call. A tie.
Chubb and Henry have demonstrated that there is STILL a need to have a "go to" running back after having been told for years that RB is a position of diminishing value.
These two men are at the forefront of a running back renaissance, which also includes Christian McCaffrey, Dalvin Cook, and Alvin Kamara, to name a few.
While the game has changed, both of these men bring a dynamism to their teams that would be missing if they weren't there.
Even with that dynamism, they still remind me of those power running backs of yesteryear, running around and through opposing players.
While I couldn't pick who is better, fans of the teams have their favorite.
All I can say for certain is that there will be a ton of rushing yards gained on Sunday.