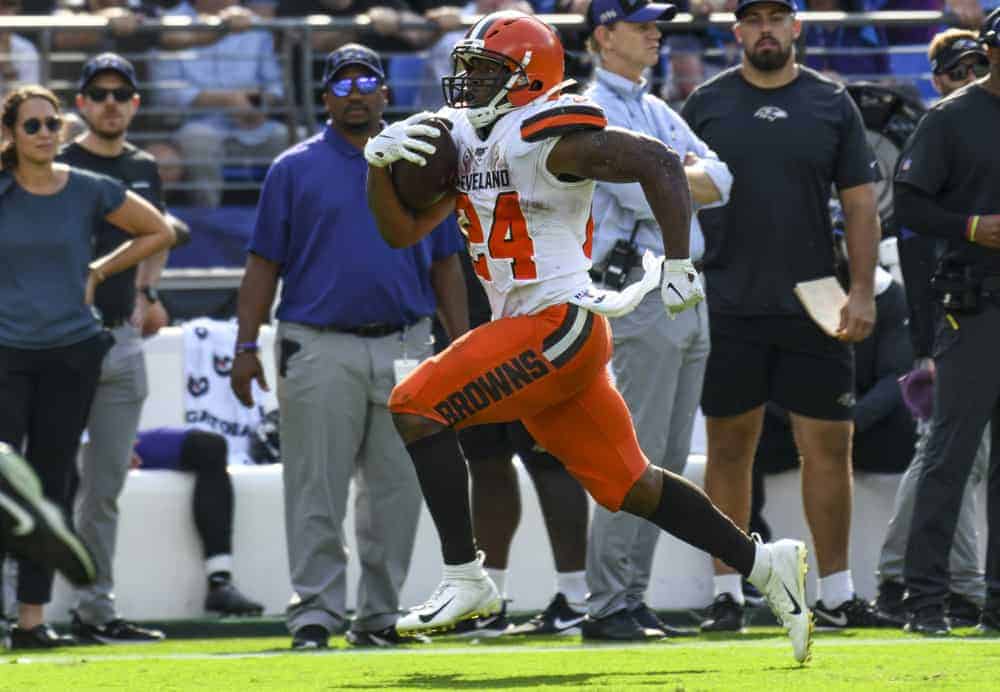 The NFL has announced that Browns RB Nick Chubb has won the AFC Offensive Player of the Week after running for 165 yards and 3 touchdowns Sunday against the Ravens.
Chubb is the first Browns player to win the award since Week 16 of last season when Baker Mayfield was chosen for it.
The last Browns RB to win the award was Peyton Hillis in 2010.
To.
The.
House.@NickChubb21, everybody. pic.twitter.com/RCeJGdSsaX

— Cleveland Browns (@Browns) September 29, 2019
The run also captioned one of the best photos of the season.
Put this photo in Canton, @nfl pic.twitter.com/sAgszs1O2g

— Chopz (@Pchopz_) September 30, 2019
Cleveland Browns head coach Freddie Kitchens got an early impression last year when he was the running backs coach of something special with Nick Chubb.
Kitchens said he saw a player that had a tireless work eithic and "is always going to have that pursuit of being great."
A few days after Chubb's dominating performance against the Baltimore Ravens, Kitchens reflected again on Chubb.
"Nick came in during rookie minicamp, and he was ready to go. He has been that way," Kitchens said. "He has been that way ever since he left high school. Nick Chubb is not changing. He is always going to have that pursuit of being great. You saw it. You saw it initially. You saw it how he worked. You saw it how he finished runs during a practice, and we are only talking about a rookie minicamp. He has always been that way."
Currently, Chubb is 4th in the NFL in total rushing yards.  He also has the first and 3rd longest runs in Browns franchise history.
He is also on pace for a Pro Bowl season that would see him netting 1592 yards and 16 touchdowns.
This would be the 2nd most yards in a single season to Jim Brown who has owns the record at 1863 and 17 touchdowns.