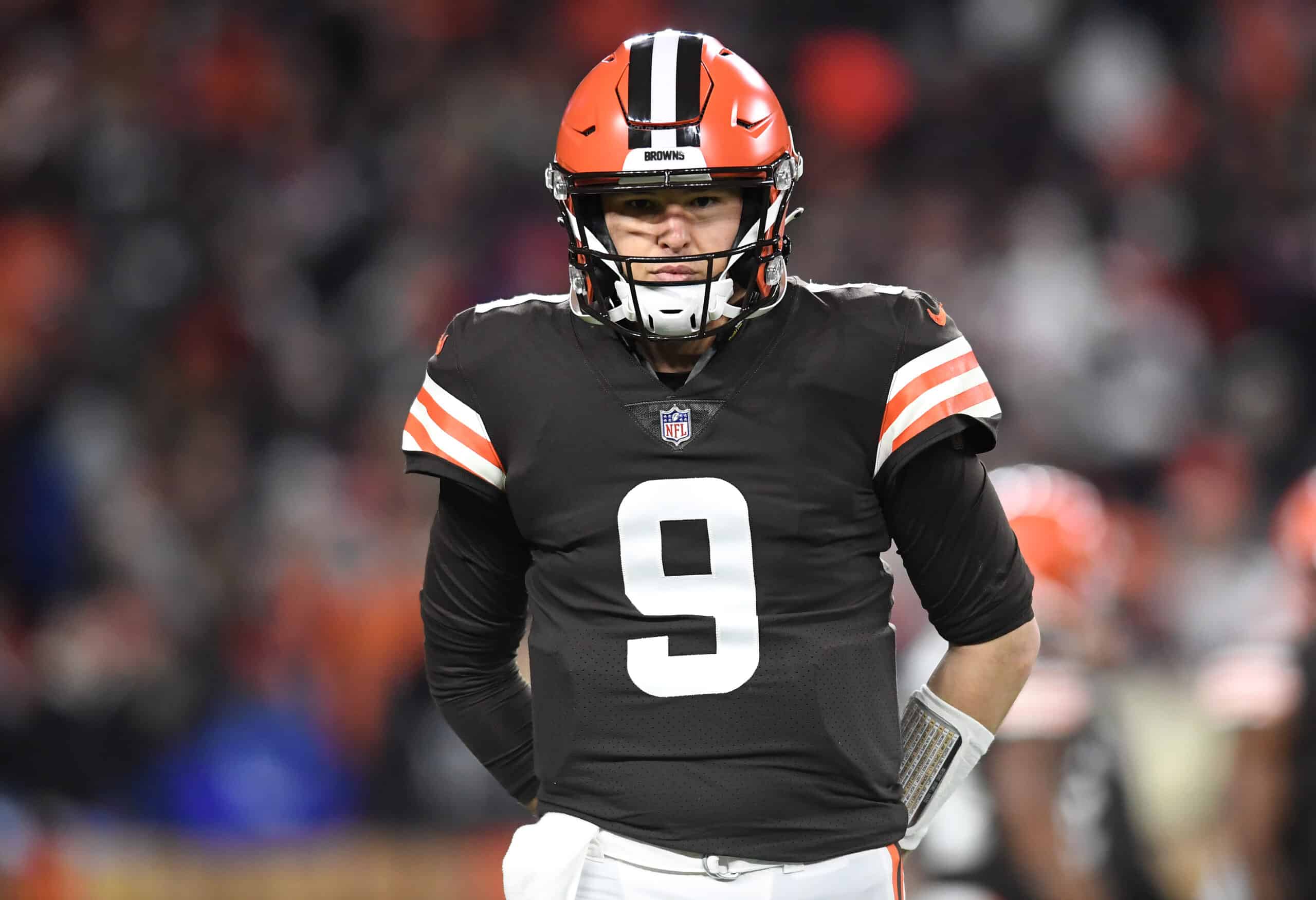 On Monday night, the Cleveland Browns were forced to use third-string quarterback Nick Mullens.
The 26-year-old was asked to make the start against the Las Vegas Raiders.
Both starting quarterback Baker Mayfield and backup Case Keenum were sidelined due to COVID protocols.
Sadly, the Browns weren't able to come away with the victory on Monday.
However, Mullens might've done enough to earn himself the backup job in Cleveland.
Magic Mullens
This Week 15 contest was Mullens' first game of the season.
He surprisingly played well given the circumstances and the shorthanded cast around him.
Mullens completed 20-of-30 passing attempts for 147 yards and one touchdown with an interception in the loss.
His lone score came in the fourth quarter to give the Browns the lead in the game.
NICK MULLENS ➡️ HARRISON BRYANT

Browns take the lead‼️

(via @NFL)pic.twitter.com/Di2qA52Rrk

— SportsCenter (@SportsCenter) December 21, 2021
Sadly, Cleveland wasn't able to hold onto the lead, but it was a hard fought contest.
Now, the Browns must decide if Keenum or Mullens should remain the backup.
The Browns gave Keenum a significant payday to be the original backup to Mayfield.
However, things might've changed after the performance Mullens put together on Monday.
He gave the Browns a chance to win in basically an unwinnable situation.
That might be enough to earn himself the backup job in Cleveland.
Mullens or Keenum?
As already mentioned, the Browns paid Keenum to be the backup for this team.
The 33-year-old has made one start this season in a game where Mayfield couldn't play due to a shoulder injury.
Keenum started and completed 21-of-33 passing attempts for 199 yards with one touchdown and no interceptions in the win over the Denver Broncos.
At the time, it was a big win for Cleveland, but the victory wasn't really because of Keenum's performance.
Third-year back D'Ernest Johnson put together a career game to help get the Browns that win over Denver.
D'Ernest Johnson had a career-high 146 rush yds in the Browns' 17-14 win over the Broncos Thursday.

Johnson had just 11 rush yds this season and 198 career rush yds overall prior to this game. pic.twitter.com/OjT3peCpru

— ESPN Stats & Info (@ESPNStatsInfo) October 22, 2021
Keenum does still deserve some credit, but Mullens nearly won with a bunch of backup players.
It's difficult to pick either one for the backup job, but Mullens might have a slight edge.
He is younger and has more long-term potential for Cleveland, but is also able to move out of the pocket with ease.
His touchdown to Harrison Bryant during Monday's game was while he was running to his left.
Mullens has the potential to be a starter in the NFL and Keenum's best days are behind him.
Trust In Mullens
The Browns are certainly going back to Mayfield, assuming he's cleared in time for Saturday's game against the Green Bay Packers.
Although, hopefully the Browns have Mullens as his backup for that contest.
Mullens has shown he is capable of being a quarterback at the professional level.
Coming into Monday, Mullens had the second-most yards by any quarterback through their first 16 games.
Likely Browns starter Nick Mullens has 16 career starts to his name.

In those 16 games, he's thrown for a total of 4,405 yards, the second most by any QB in his first 16 career starts in NFL History behind only Patrick Mahomes.

— Field Yates (@FieldYates) December 16, 2021
He was able to almost pull off the impossible against the Raiders.
No one is saying that Mullens is going to be a superstar, but he could be a capable starter.
It's always smart to have a backup plan and Mullens is deserving a backup job.
He could very well be in the Browns' long-term plans, but for now, he'll be a capable No. 2 behind Mayfield.