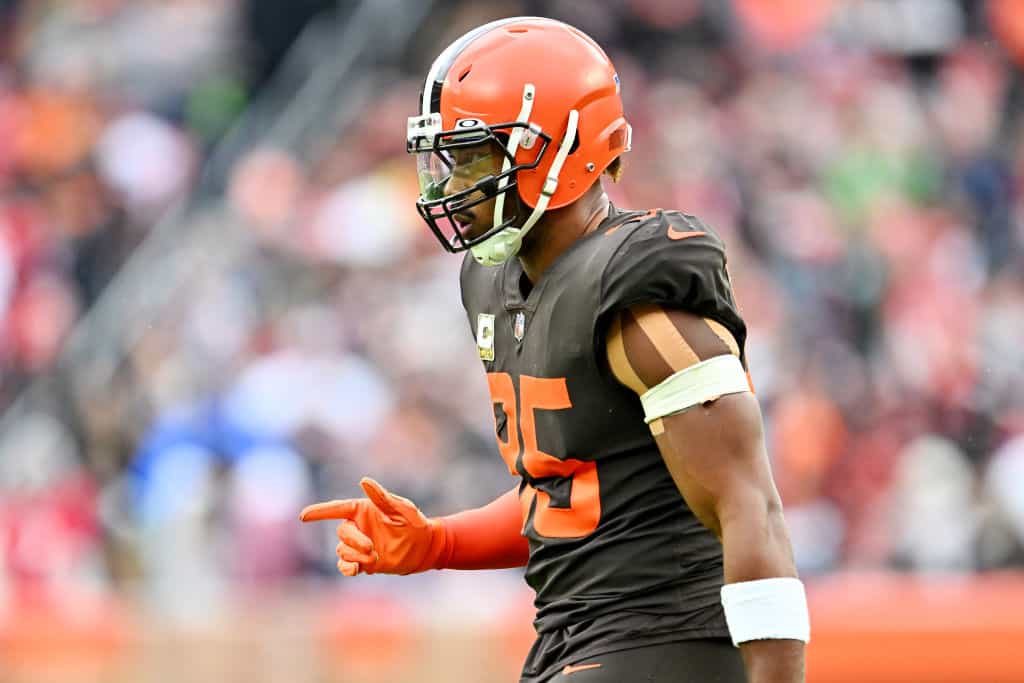 Andrew Berry worked hard to address the Cleveland Browns' weakest link from last season.
With seven first-time Browns in the room, the defensive line is almost unrecognizable.
Myles Garrett, Jordan Elliott, and second-year end Alex Wright are the only holdovers.
And at least one Browns social media pundit noticed a big difference in the offing.
Excluding Myles Garrett, the Browns starting defensive line combined for 7 sacks last season.

Excluding Myles Garrett, the new Browns defensive line combined for 14 sacks last season.

Happy hunting. 🍿 pic.twitter.com/QV7Mg6GqFP

— Nick Karns (@karnsies817) August 31, 2023
Nick Karns did the math and found that Garrett's new supporting cast is more adept at rushing the passer.
Last year's starters not named Myles contributed just seven sacks to the defense.
But Za'Darius Smith, Dalvin Tomlinson, and Shelby Harris had 14.5 as a group in 2022.
And that was despite missing a total of seven games between them.
Karns didn't even consider Ogbo Okoronkwo and his five sacks for the 2022 Houston Texans.
Defensive coordinator Jim Schwartz has big plans for "Obo" this year.
And it is expected that Okoronkwo will easily beat his career-high while lining up all around the front.
But the career-high Browns really want to see is from Myles Garrett.
Za'Darius Smith is going to be a NIGHTMARE for offenses across from Myles Garrett 😳

— NFL Notifications (@NFLNotify) August 28, 2023
Cleveland's single-season sack record-holder is primed to raise the bar again.
Rushing from an outside position offers more one-on-one rushes, even without the tackles tying up blockers.
Elliott and Wright, along with rookies Siaki Ika and Isaiah McGuire, can't help but get caught up in the frenzy.
And it's only a matter of time before they break out under the tutelage of their veteran teammates.