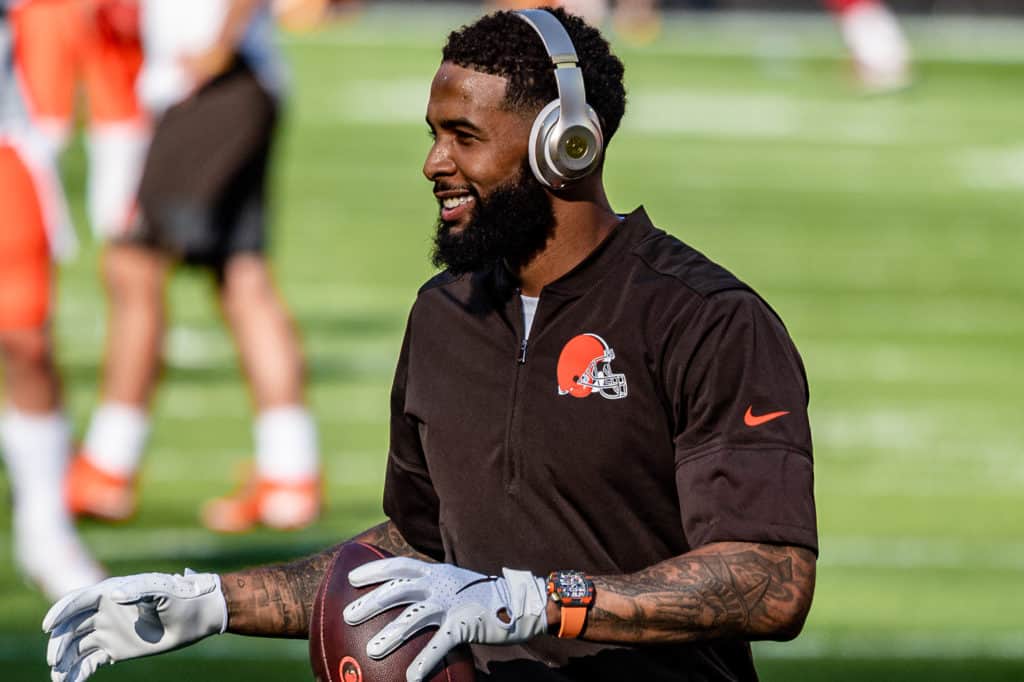 The Cleveland Browns just completed their first official week of training camp.
And the competitive juices among teammates are coming out.
CB Denzel Ward posted what appears to be a pick on social media.
WR OBJ playfully clapped back.
"Mannnn helll naaaaa!!
That was a scooooop n score after the whistle."
this exchange between Ward and OBJ 😂 pic.twitter.com/PsBItq2wve

— Jordan Zirm (@clevezirm) August 21, 2020

Given Week 1's injury news, this competitive talk is a welcome distraction.
Mutual Respect
Denzel Ward has openly stated that competing against OBJ in practice will improve his game.
Ward said:
"I love going against Odell, someone who's going to compete, and he's going to get me ready for the games. We have a lot of conversations. I told him he's going to be one of the reasons my game goes to the next level. I definitely enjoy (competing), and looking forward to going against him more and Jarvis (Landry) and a lot of those receivers."
OBJ agreed:
"I personally think that he's going to be a top, top corner. From what I've seen, we're going to go at it every single day, and we're going to get better. That's what me and him talk about when we [have conversations]."
Denzel Ward
CB Denzel Ward is having a great start at training camp.
He recorded a pick 6 off QB Case Keenum and a pick off of QB Baker Mayfield.
Ward is an Ohio native, opted out of his last year of eligibility from Ohio State, and entered the 2018 NFL Draft.
Like Mayfield, he was picked in the 1st round by the Browns (4th overall).
He has been a steady performer in his first two seasons and recorded his first pick 6 last season off of Andy Dalton in Week 14.
To.
The.
House.@denzelward | #CINvsCLE pic.twitter.com/tm6pyf0o9d

— Cleveland Browns (@Browns) December 8, 2019
Ward made the Pro Bowl in his rookie season (2018) and was selected to the All-Rookie Team also in 2018 by the Pro Football Writers Association.
At 23 years of age, his best years are yet to come.
OBJ
The good news on OBJ is he appears to be in top form, injury-free for the first time in quite a while.
His recovery from January core muscle surgery is complete, and like Ward, he is producing his own training camp highlight reel.
OBJ one-handed catches are back 🔥 @brgridiron

(via @Browns)pic.twitter.com/XTvtUfMlMo

— Bleacher Report (@BleacherReport) August 16, 2020
Other Browns Training Camp Tidbits
Injury Updates
Good news was reported on Saturday regarding the statuses of Kevin Johnson and Nick Chubb.
Johnson, who suffered a lacerated liver earlier in the week, was released from the hospital.
The timetable for his return to practice is still unknown because of his overall recovery and COVID-19 protocols that must be completed before Johnson can return to the team.
Nick Chubb cleared concussion protocol and returned to practice.
And Myles Garrett who has been nursing a tweaked hamstring participated in team drills for the first time on Saturday.
As for the notable Browns players with knee injuries, their statuses remain uncertain.
JC Tretter continues to recover from minor knee surgery.
And it is yet to be determined how Mack Wilson's hyperextended knee will be treated and how much playing time he could miss.