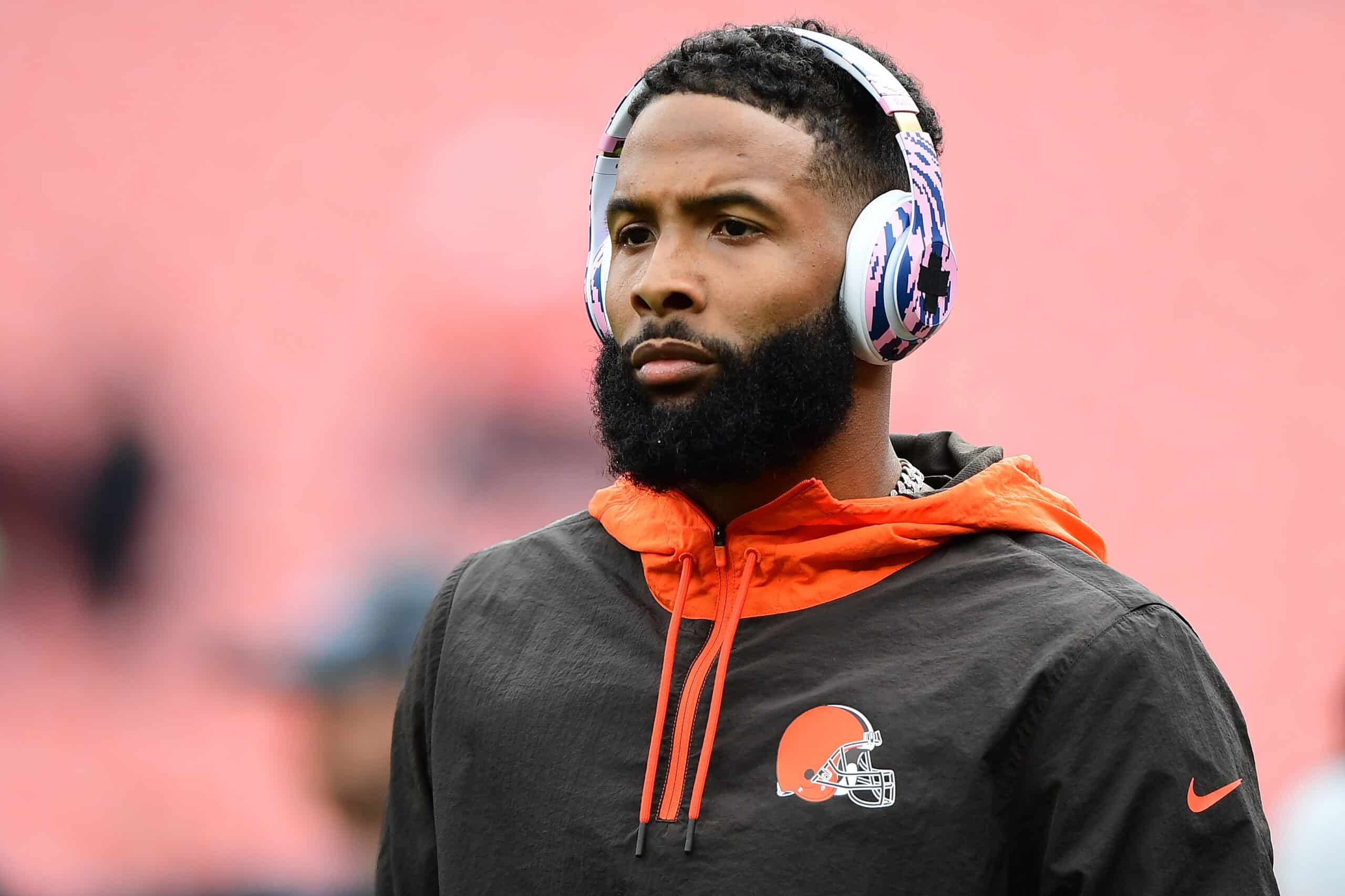 On Monday night wide receiver Odell Beckham Jr. made his team debut with the Los Angeles Rams.
This was his first game action since being released by the Cleveland Browns.
The star wideout finished with two receptions on three targets for 18 yards in the loss to the San Francisco 49ers.
It wasn't the best performance from OBJ, but the Rams didn't play well as a whole unit.
The eighth-year player also shared that he never had a desire to leave Cleveland.
OBJ Wanted To Stay?
It's certainly tough to buy that OBJ wanted to stay with the Browns organization.
He never lived up to the high expectations during his two-plus seasons in Cleveland.
Then, everything got out of hand after Beckham's father posted a video of quarterback Baker Mayfield failing to throw to his son.
Beckham was later excused from practice and released by the organization.
Now, OBJ claims he never had any plans of leaving the Browns and this falling out was never intended.
"He told me he didn't really want to talk about what happened in Cleveland and what led to his release there, but he did say every detail of it was crazy to him," Lisa Salters said. "He said, 'I don't have words for it, it stinks, it was never intended,' and he said he never could've envisioned any of it."
Here's what OBJ told ESPN's Lisa Salters about his release from Cleveland. Said it was "crazy" and never his intention and that it "stinks" pic.twitter.com/oUrnj1tQ1g

— Ben Axelrod (@BenAxelrod) November 16, 2021
After his departure, Beckham wrote a handwritten goodbye letter to the city of Cleveland.
In the letter, he mentions that he doesn't blame anyone and he enjoyed his time with the Browns.
It's certainly odd that Beckham is trying to avoid being the bad guy when he forced himself off the team.
A New Start 
After a long saga, OBJ was cut from the Browns and had his final two years of the deal terminated.
He went unclaimed on waivers and signed a one-year deal worth $4.25 million with the Rams.
The #Rams gave WR Odell Beckham Jr a 1-year deal worth up to $4.25M, source said.
Details:
— $500K signing bonus
— $750K for the rest of the season
— Another $3M available in team-based incentives for how they finish the regular season and the postseason.

— Ian Rapoport (@RapSheet) November 12, 2021
He signed a contract that is heavily incentive based, which was a smart decision by the Rams.
It will give OBJ more reason to play well, but things certainly didn't go well during his team debut.
Honestly, it felt like Beckham was playing more defense than offense during his first game with the Rams.
Odell Beckham Jr. with a catch and a tackle on his first drive as a Ram 😬pic.twitter.com/GFOpjE6YbA

— The Volume (@TheVolumeSports) November 16, 2021
To be fair, the Browns didn't look any better without OBJ on the field against the New England Patriots.
It seems fair to say that neither side is benefiting from this situation yet.
Although, now it sounds like Beckham is where he truly wants to be.
It was reported that OBJ has been wanting to play for the Rams for quite some time.
"Odell had been wanting to play for the Rams since Sean McVay got there," Fox Sports' Jay Glazer reported Thursday. "Even after he got traded to Cleveland, he was still going, 'Can I still get traded to the Rams?' Like, 'No, dude, it doesn't work like that."
It was a busy news day in the NFL with Cam Newton returning to the Panthers and OBJ joining the Rams.@JayGlazer breaks down how those moves came to be: pic.twitter.com/5vW55VoA9W

— FOX Sports: NFL (@NFLonFOX) November 12, 2021
He finally got his wish and the Browns got off the hook for the rest of Beckham's contract.
This long and frustrating situation is finally over and hopefully both sides can find success away from each other.