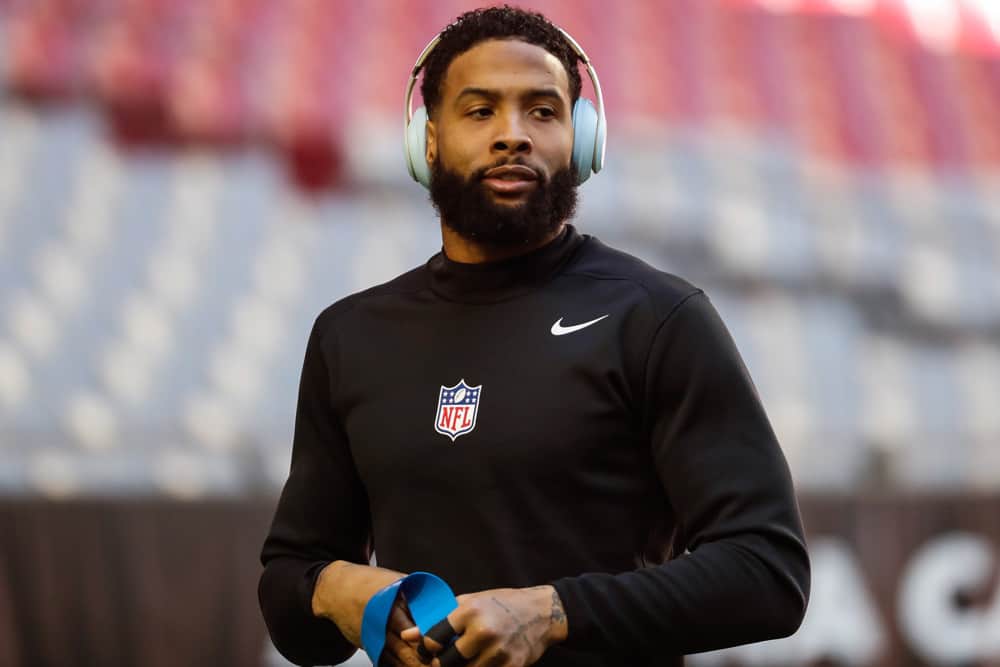 In the middle of the free-agent frenzy occurring this week, Cleveland Browns fans noticed a Tweet from Odell Beckham Jr. that raised concern.
2nd act.

— Odell Beckham Jr (@obj) March 16, 2021
What People Thought It Could Mean
Of course with the daily rumors that OBJ is being dealt or traded, many assumed it meant those rumors were true.
OBJ's self-proclaimed second act would be with a new team and away from the Browns.
For his part, OBJ has been relatively quiet on social media beyond giving us sneak peaks of his rehabilitation process.
We saw him run faster on a treadmill than most people, and he is still recuperating from the ACL surgery.
Odell Beckham Jr.'s comeback loading 🔥 @ESPNNFL

(via @obj) pic.twitter.com/OtB8mWQANZ

— SportsCenter (@SportsCenter) March 11, 2021
He has worked out with former New York Giants teammate and fellow ACL sufferer Saquon Barkley.
Many believed Vonn Miller of the Denver Broncos was in the background of the treadmill video.
What OBJ Said It Means
Kim Jones of NFL Network corresponded with OBJ directly about the Tweet.
Here's what we learned, courtesy of social media.
.@KimJonesSports said on NFL Network that she texted Odell about his tweets and he's just talking about coming back strong from the ACL https://t.co/CnBOjkNgdx

— Mary Kay Cabot (@MaryKayCabot) March 16, 2021
Admittedly, it is a bizarre message in the middle of a lot of NFL transactions.
Of course, it would raise eyebrows.
Now that Kim Jones has gotten clarification for all of us, let's remember that the Cleveland Browns' front office has been steadfast about OBJ.
Stefanski And Berry Say OBJ Will Be Back
Since the playoffs ended it feels like this is one of the top three questions that Coach Stefanski and GM Berry have answered.
They have remained consistent and on message.
Both are eager to welcome back a healthy OBJ for the 2021 season.
Their actions have also indicated this to be a fact.
Coach Stefanski said he texted OBJ after the Browns loss to the Chiefs about being back next season.
"I texted with him this morning. I know he's working really hard to get better in his rehab. I'm excited to get him back here. I know it was not easy for him being away from his teammates, especially as these games got bigger and into the playoffs. I know he definitely wanted to be a part of it."
In addition, the Browns are not in the market for any free agent wide receivers.
The Rumors Will Continue
If we believed every rumor about OBJ, he would have left Cleveland and joined practically every other NFL franchise.
The rumors will not stop until he shows up at training camp this summer.
Well, they actually could continue until he plays in a regular season game.
OBJ Has A Lot To Prove
Odell Beckham: 92.2 PFF Grade from 2014-2018 w/ the New York Giants

T-5th among WRs 🔥 pic.twitter.com/dJ9qyoymUa

— PFF (@PFF) March 16, 2021
This may be hard to fathom, but OBJ does have something to prove to the Browns.
Like it or not, he has not matched the accomplishments he had with the New York Giants.
Because the Browns marched into the playoffs without him, he wants to show that they are a better team with him.
Everyone has debated that point since he got hurt in October.
However, the best way for us to find out is for a healthy OBJ to hit the field with the Browns this fall.