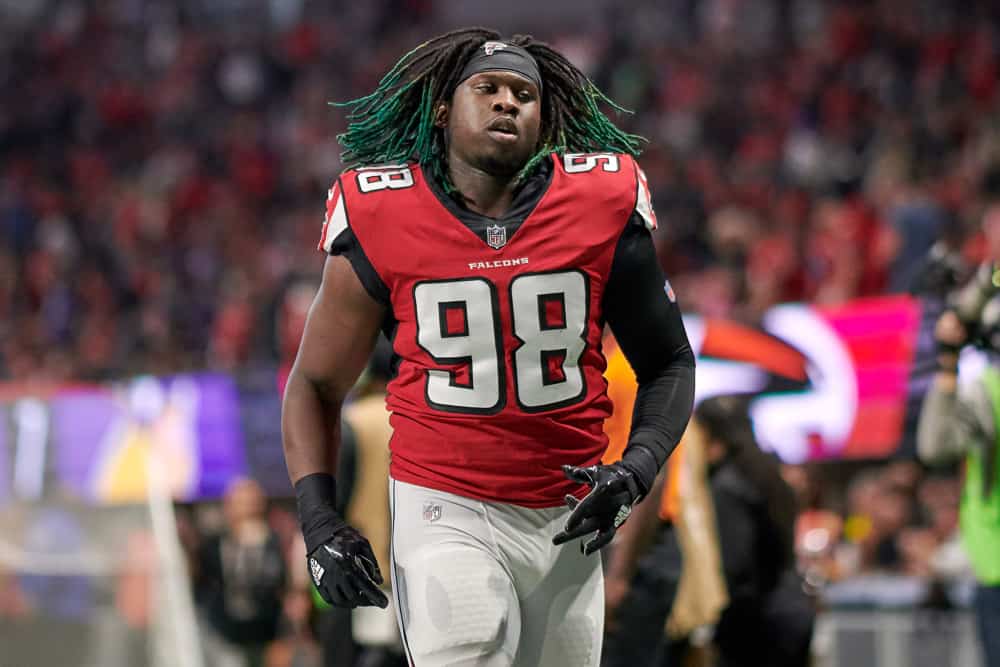 The beginning of free agency has been quite slow for the Cleveland Browns.
Last offseason, they made a big splash by signing Jack Conklin and Austin Hooper.
This time around they've taken a much more cautious approach in free agency.
It's no secret that the Browns were seeking defensive end help this offseason.
They didn't land a "big name" player, but Takkarist McKinley should be able to help Cleveland in 2021.
Here are 3 things to know about him.
3. A Former First-Round Pick
In 2017, the Atlanta Falcons selected McKinley with the No. 26 overall pick in the draft.
That first-round selection was followed by high expectations, but McKinley appeared open to the challenge.
It's not shocking that McKinley was selected in the first round after what he put together during his college career.
During his senior year at UCLA, McKinley recorded 61 tackles, 18 tackles for loss, and 10 sacks in 11 games.
UCLA edge defender Takkarist McKinley goes to the Falcons at pick 26. #NFLDraft

Profile: https://t.co/JnkhqXrliw pic.twitter.com/h3WjqdbYem

— PFF (@PFF) April 28, 2017
There was plenty to love about his game, but sadly it didn't transition too well at the professional level.
McKinley recorded 16 sacks through three seasons in college, but has only sacked the quarterback 17.5 times in the NFL through four seasons.
Obviously, the professional level is more difficult, but it shows that his game hasn't translated perfectly in the NFL.
Despite that, McKinley has shown flashes of being an impactful player during his time in Atlanta.
There was a reason he was taken in the first round, so maybe a change of scenery can help spark him.
2. Versatile Player
Before free agency began, the Browns cut veteran defensive end Adrian Clayborn.
The reason for releasing Clayborn wasn't because of poor performance, but the Browns wanted to save some cap space.
They also have starting defensive end Olivier Vernon and tackle Larry Ogunjobi heading onto the open market.
Signing McKinley won't fix all their problems, but one important thing to know about him is that he is a versatile player.
Through four seasons with Atlanta, McKinley has played both right and left end.
He played both positions for basically a full season, so the Browns can move him around and feel comfortable doing it.
Possibly, McKinley isn't going to be a full-time starter, but the fact he can play multiple positions effectively is a huge plus for the Browns.
1. Cleveland Tried To Claim McKinley Last Season
The Falcons decided to cut McKinley after four games with the team last season.
He was then claimed by the Bengals, 49ers, and Raiders in the matter of a few weeks.
However, those weren't the only teams interested in McKinley.
The Browns made multiple waiver claims on McKinley, but other teams were higher on the priority list.
Takk McKinley was claimed for the third time today, this time by the #Raiders. They put in claims two previous times… and so did the #Browns. Cleveland tried to claim Takk again today, but lost to LV. Who knows, maybe it'll be just them if there is a fourth time.

— Ian Rapoport (@RapSheet) November 23, 2020
Despite McKinley being cut multiple times, the Browns were never able to land him.
Finally, they get him on a one-year deal for $4 million, which is fairly reasonable.
He has been productive at times during his career, but would be a shaky option as a full-time starter.
It remains to be seen what the Browns plans are for McKinley heading into the season.