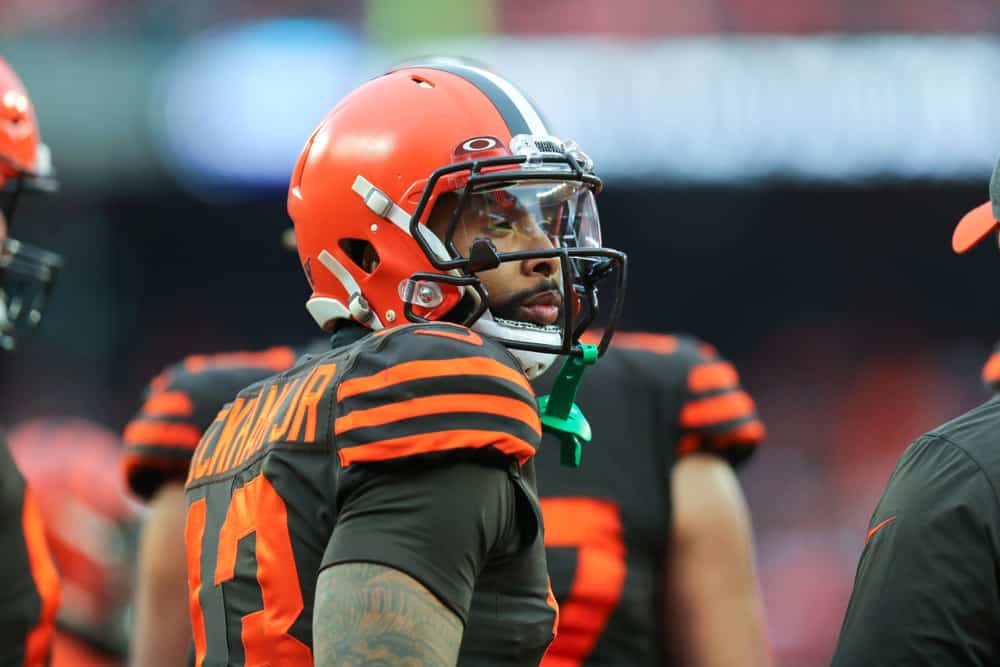 Maintaining a great relationship between the players and the head coach is a huge key to success for any NFL franchise.
The stars of the team, however, are the ones you really hope can get along with the head coach.
Last season in Cleveland, that relationship was far from ideal.
In fact, the poor relationship led to the occasional sideline feud on Sunday's.
Odell and Freddie Kitchens discussing their dinner plans perhaps? pic.twitter.com/L7kBODWOnQ

— Barstool Sports (@barstoolsports) December 22, 2019
It's clear that many of the Cleveland Browns players and Freddie Kitchens did not see eye to eye.
There's a number of reasons why that may have been the case, but it doesn't matter anymore because Kitchens is no longer in charge.
That duty falls on new head coach Kevin Stefanski.
Fortunately, it seems that Odell Beckham Jr. is already excited to get things going under Stefanski.
Over the weekend, Beckham had an interview with Zach Frydenlund of Complex Sports and talked about his one-on-one meeting with Stefanski that he had.
"And with the new coach coming in, just seeing what he did with the Minnesota Vikings for a long time with Thielen and Diggs. These are people who I've watched closely on their film, and just seeing the things that he did and meeting him and seeing where his mind's at for Jarvis and myself of how this will all work out, I have a good feeling about it, you know?

And I'm always optimistic and looking on the brighter side of things. And I'm hoping that it's a tremendous season for us. We were so close last year, but yet so far away, and it shows you how being so close can land you from 10-6 to 6-10, you know? It's really a game of inches. So it's just little things we need to correct. I'm excited about the opportunity, excited to work on it."
Of course, the last thing that Browns fans want to here is how close the team was last year to being successful.
Just about every week seemed like a disappointment even if the team managed to win.
Now, fans just want to see the off-season talk come to an end and see results on the field during the season.
Still, Beckham acknowledged that the team was still far away despite being close.
To me, that means he knows the potential is there as far as talent on the roster is concerned.
Perhaps it was just a lot of little things that led to the demise of the Browns in 2019.
Between Kitchens piecing together a lackluster game plan throughout the week and some poor play-calling during games, it certainly seems that there was more than one issue with this team last year.
But, Beckham seems confident that those issues can be addressed under Stefanski this season.
One big problem with Kitchens was the inability to get Beckham consistent touches throughout the course of each game.
With Adam Thielen and Stefon Diggs in Minnesota, that never seemed to be an issue with Stefanski.
Diggs and Thielen duo '18.

215 catches
2,394 receiving yards
18 TDs#SKOL pic.twitter.com/OdSD34Ly7Y

— VikingNations (@VikingNations) December 31, 2018
In 2018, Thielen was top-ten in the league in receptions, receiving yards, and touchdowns.
Meanwhile, Diggs set career highs in all of those statistical categories.
If anyone can manage two top-tier wide receivers on a roster, it seems to be Kevin Stefanski.
The optimism, however, is just that as of now.
Hopefully, these "good feelings" that Odell has about the season can translate to positive results, and, more importantly, wins.