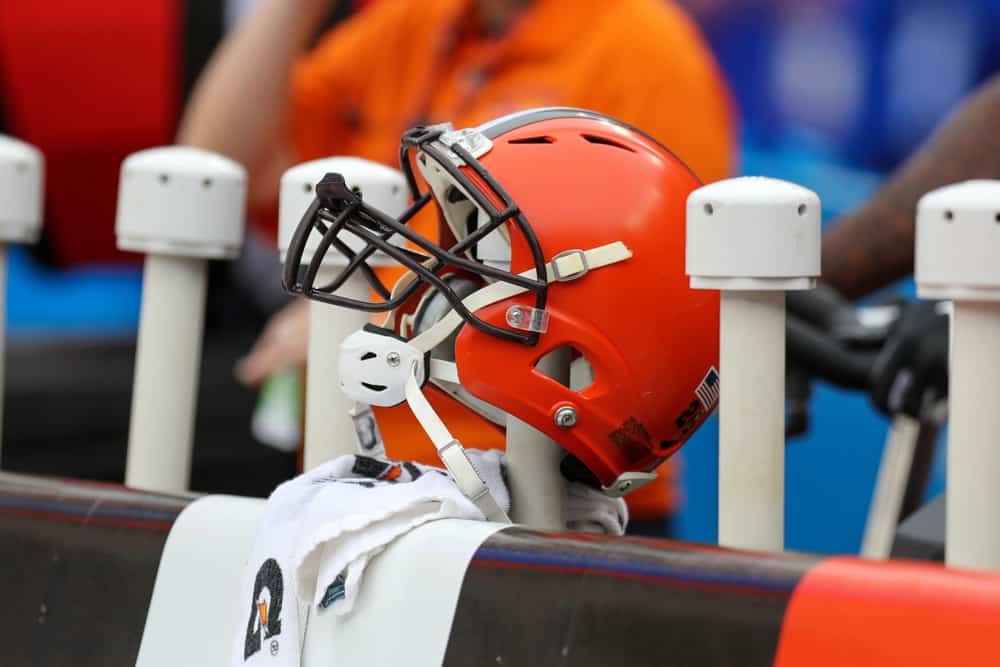 Andrew Berry patched a lot of the Cleveland Browns' defensive holes in free agency.
And Cleveland's offense returns intact with promises of a more explosive attack from Kevin Stefanski.
They even brought back their kicker and will give JoJo Natson a second chance as a returner.
But as complete as the roster might appear, Cleveland still has to make use of their 9 draft picks next week.
Cleveland Browns 2020 Draft Grade: A+ pic.twitter.com/ZaNNNjfSgq

— PFF (@PFF) May 1, 2020
Sure, they could trade them all for future selections, but that doesn't seem likely.
It is more likely the Browns will soon have a bunch of young new players, including some undrafted free agents.
And more than a couple could have impactful roles right away, maybe even pushing a veteran or two off the roster.
With the exception of the injured Grant Delpit, every player drafted last year made the roster and saw playing time.
And Delpit was supposed to contribute more than most of the others.
Here are 3 players who could be impacted by the Browns' 2021 draft picks.
Greedy Williams Could Be Pushed From a Starting Role 
After the latest moves involving Jadeveon Clowney and Sheldon Richardson, Berry's first-round pick is uncertain.
Cleveland might try to fill the hole in their interior line quickly from a shallow defensive tackle pool.
But it seems more likely they will take the best athlete available, which could land them another cornerback.
Many credible mock drafts see Greg Newsome II or Asante Samuel Jr. falling to the Browns.
Greedy Williams picks off Dwayne Haskins. pic.twitter.com/tlq03wu0vm

— NFL Update (@MySportsUpdate) August 9, 2019
Others see Berry trading up to snag one of the top 3 corners in the draft class.
This does not necessarily reflect a distrust in Greedy Williams' recovery from his shoulder injury.
It is more in keeping with the team's "you can't have enough good cornerbacks" philosophy.
Joe Woods wants to run a lot of nickel and dime packages, so adding an excellent corner won't knock Greedy completely off the field.
But it could knock him out of his starting role, especially with solid safeties on board to cover any rookie mistakes.
Mack Wilson's Roster Spot Could Be In Jeopardy
What if the best athlete available turns out to be Jeremiah Owusu-Koramoah?
We all know Joe Woods minimizes the impact of linebackers in his favorite schemes.
But we also know the Browns' defense needs more speed as much as anything else.
And the linebacker position is one where the lack of speed stood out last season.
Mack Wilson with his second interception of the game for the Browns 💪

(via @thecheckdown)pic.twitter.com/0fW7ad8QoT

— SportsCenter (@SportsCenter) August 9, 2019
Cleveland would do well to stick someone in the middle of their defense more likely to contain Lamar Jackson.
Or maybe even… Chad Henne?
There are a handful of fast and strong linebackers that would fit well in the middle of Cleveland's defense.
And that could spell trouble for the Browns' young trio of Mack Wilson, Sione Takitaki, and Jacob Phillips.
Wilson added some muscle and comes back healthier than he was last season.
But he could be the odd man out (or one of the odd men out) if Cleveland lands an impact linebacker.
Remember Rashard Higgins? 
One of the feel-good free agency signings this year was fan-favorite Rashard Higgins.
Higgins' pronounced and heartfelt love of the Cleveland team and fans enamors him to many.
But it is generally accepted that the Browns need to add a speedy wide receiver to their mix.
Odell Beckham Jr might come back fast enough to run past a defender, and he'll draw attention either way.
this pass from Baker to Rashard Higgins had a 16% chance of being completed, per Next Gen Stats. that's the lowest of Week 15 so far. this is becoming a weekly occurrence for the Browns QB pic.twitter.com/Qt7RPKvnD3

— Jordan Zirm (@JordanZirm) December 17, 2018
But the Kansas City game exemplified the need for a speed demon who can get behind the entire defense.
Baker Mayfield has the arm to throw the ball as far as he has to and Stefanski promises an explosive offense.
If Berry lands one of the fastest wideouts in the draft, where will he fit in Stefanski's attack?
Such a player will bump Donovan Peoples-Jones off the active roster each Sunday before Higgins.
But he could be the third wide receiver in 3-wide sets more often, or at least as often as Higgins.