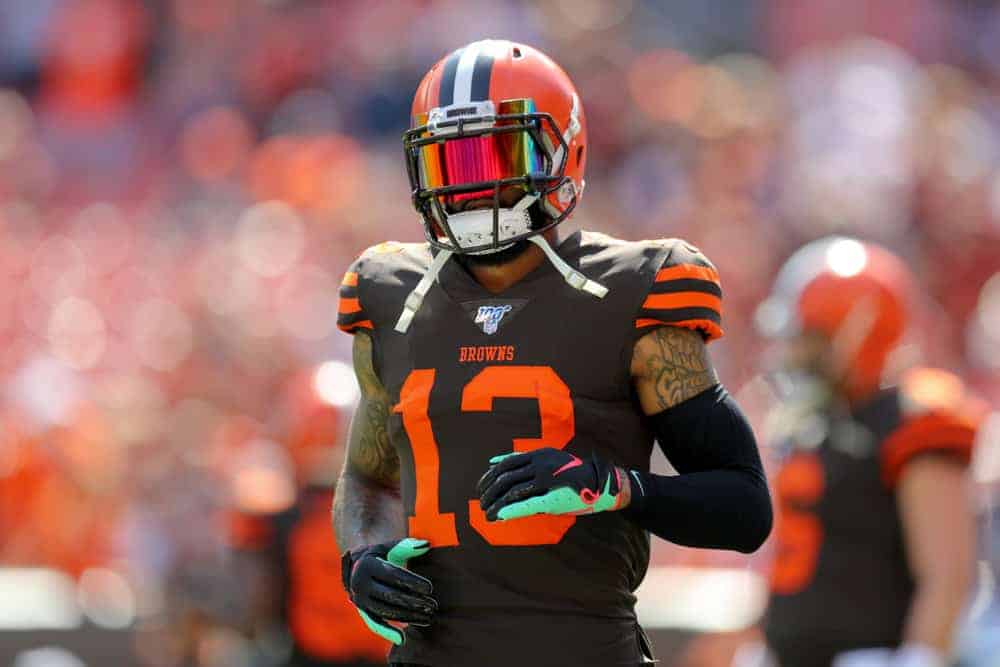 Odell Beckham Jr. will be back on a football field next season.
That's music to the ears of football fans everywhere, especially in Cleveland.
It was easy to sort of set him aside mentally this season after he went down with a torn ACL in week seven against the Bengals.
Perhaps some have forgotten how special he is once he puts the helmet and pads on.
The star receiver took to social media over the weekend to remind us of just how incredible he is when active.
As quick as we alll forgot… is as quick as I'll remind ya…. GodSpeeeed pic.twitter.com/NSF5KDzbyr

— Odell Beckham Jr (@obj) February 13, 2021
OBJ isn't exactly timid in the spotlight and has no issue trying to be his own biggest fan.
That mindset gets an eye-roll from some, but fans appreciate the confidence that emanates from his personality.
Soon enough, that confidence will quickly result in on-field results once again.

Still a Superstar?
The numbers that Beckham Jr. references in his post are truly something to behold.
When healthy and playing, he has been one of the toughest covers in the league.
His stats could be even more impressive had he not missed nearly all of 2017 with a broken ankle.
Now he has to return from another major injury, this time a torn ACL.
The question on most Browns fans' mind is whether he can continue to make the jaw-dropping plays that elevated him to superstar status in the first place.
Six years ago today, Odell Beckham Jr. had one of the best catches in NFL history.

He has signed a $95M extension and a potential $50M shoe deal since, but it's impossible to determine the true financial impact that catch had on his career.pic.twitter.com/anVx5iCqOk

— Joe Pompliano (@JoePompliano) November 23, 2020
Odell Beckham Jr. makes a RIDICULOUS catch for his 4th reception of the day

His reception total closed at 4.5#BarstoolSportsbook
pic.twitter.com/oE0fe7M311

— Bet The Pigskin (@betthepigskin) October 11, 2020
His offensive production did take a slight hit following that 2017 ankle injury.
OBJ was over 1300 receiving yards and 90 receptions in each of his first three seasons in the league.
He is yet to eclipse either of those marks in an individual season again since that injury.
Poor quarterback play in New York with a fading Eli Manning certainly may have something to do with that decline.
The more balanced offense in Cleveland that doesn't require heroics from Odell to win also comes into play.
Still, it wouldn't be wrong or spiteful to think his numbers won't be up to par.
At least not immediately. We all know the deal with torn ACL's by now.
They've almost become commonplace in professional sports.
It's typically a long, grueling recovery that takes even the best athletes around a year to get back to playing form.
Some guys come back just fine, such as Adrian Peterson, who rushed for over 2000 yards the season immediately following his torn ACL.
He's still playing today, an incredible feat.
Others are not so lucky in their return to action.
If nothing else, it's encouraging to see OBJ confident in thinking he will return as a record-breaking level talent.

Quietly Grinding
As mentioned towards the top, OBJ has been in the spotlight plenty in recent years.
Since his recovery has started, however, we've seen a more low-key version of Beckham Jr.
There's been no feuds with other stars or ill-advised comments from Odell.
Instead, his social media consists of the occasional workout photo/video, inspirational quotes, and a video game streaming schedule.
Going live NOWWWW with @FaZeDirty @Rated @Testyment https://t.co/vmAIOD8puy pic.twitter.com/COw9zKzZGD

— Odell Beckham Jr (@obj) January 22, 2021
Perhaps he has been getting his trash talk out on the virtual Fornite battlefield.
Whatever the case, Cleveland fans are content with the quieter, drama-less version of Beckham Jr.
A "loud", successful return to the gridiron may be imminent.