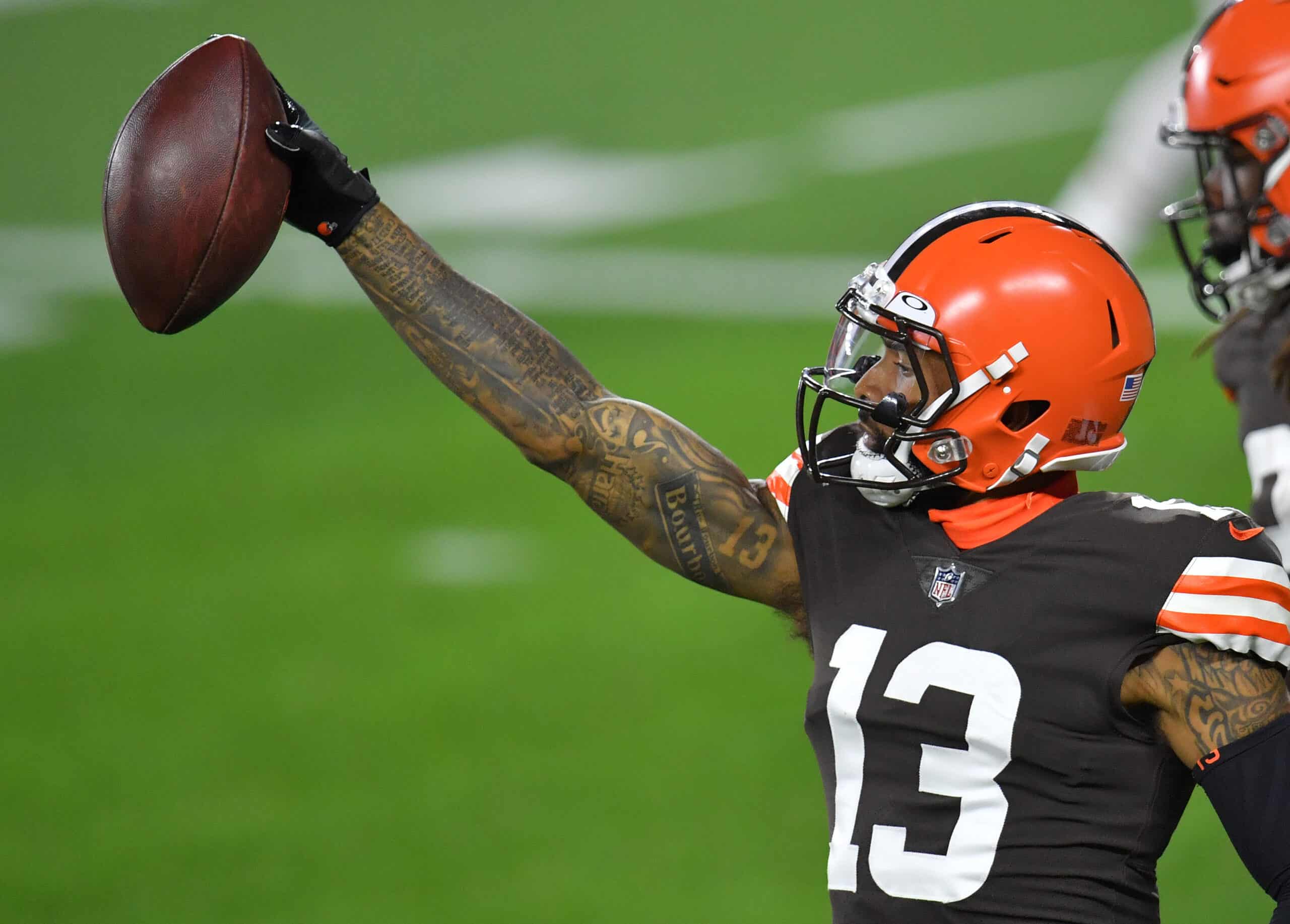 The Cleveland Browns are getting wide receiver Odell Beckham Jr. back on Sunday for their Week 3 game against the Bears.
This is one of the worst kept secrets as every indication in the past few days pointed to OBJ playing this week.
His coy answer after meeting with the media for the first time in months should have been good enough to tell us what was coming.
OBJ was all smiles when asked if he's going to play this week: "We'll see." pic.twitter.com/J7BKluSFXf

— cdotcombrowns (@cdotcombrowns) September 23, 2021
However, it is slightly more official now with the release of the Browns injury report.
OBJ is noticeably absent from it for the first time in nearly a year.
He tore his ACL on October 25, 2020.
#Browns WR Odell Beckham Jr, attempting to fully return from a torn ACL, is not listed on the injury report for the team's game on Sunday.

— Ian Rapoport (@RapSheet) September 24, 2021
Will He Be On A Limited Snap Count
Coach Stefanski confirmed that OBJ will be playing on Sunday.
OBJ is officially back. Odell Beckham Jr. will make his season debut Sunday vs. the Bears, coach Kevin Stefanski just announced #Browns

— Jake Trotter (@Jake_Trotter) September 24, 2021
The big question is how much will OBJ play.
Will he be on a limited snap count?
The Browns are not offering too many specifics so as to keep the Bears guessing.
OBJ In, Jarvis Out
The timing of Beckham's return is both fortunate and unfortunate.
It is fortunate because the Browns need a veteran experienced receiver to lead them.
That's where the unfortunate part comes in.
Beckham's friend and fellow LSU teammate Jarvis Landry is now on IR as a result of an injury in last week's game against the Texans.
We have to wait a little longer for the Beckham and Landry duo to be on the field together.
OBJ And The Browns Offense
Beckham tore his ACL just as the Browns were trying to assimilate this new offense from Coach Stefanski and OC Alex Van Pelt.
The talk post Beckham's injury was that Mayfield and the offense did not miss him.
The reality was bad timing in that he got injured just when the pieces were finally coming together.
We cannot wait to see what happens when OBJ gets back on the field.
#Browns Odell Beckham Jr. bringing the flair today. pic.twitter.com/HjS440ApsV

— Camryn Justice (@camijustice) September 24, 2021
The preseason teasers have been fun to watch and make us want to see more.