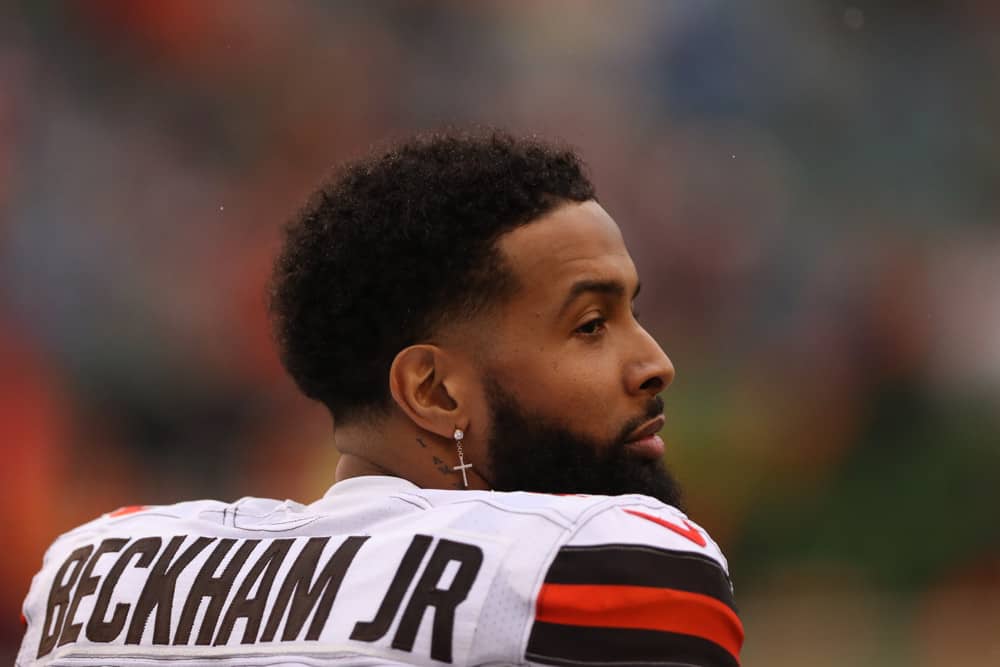 Cleveland Browns WR Odell Beckham Jr. never thought he'd leave New York.
He thought he would spend his entire career with the New York Giants.
But, he was wrong as Cleveland traded for the pro bowl wideout in 2019.
Odell Beckham Jr. Envisioned A Full Career With The Giants
Odell Beckham Jr. has been featured in many headlines over this season.
Unfortunately, the worse being his torn ACL injury that will keep him sidelined for the remainder of this season.
After his successful surgery, he is now undergoing rehab so that he can return to the field next year.
Earlier in the week, Odell was a guest on the All Things Covered podcast, hosted by Patrick Peterson and Bryant McFadden.
"I never thought I would play for another team besides the Giants."@obj on what went wrong during his time with the Giants.

(via @ATCoveredPod with @P2 & @BMac_SportsTalk) pic.twitter.com/5HJp3KxYwM

— CBS Sports HQ (@CBSSportsHQ) December 8, 2020
"I never thought I would play for another team besides the Giants" Odell says while on the podcast.
He touched upon how he was disappointed with how the Giants handled their roster construction.
"I'm a tell you where I ran into trouble. It was when I felt like we had the pieces, we knew Eli was a little older, I've been here now, I've given you two seasons, I'm capable of like, I could hoop. And I felt like they never put people around Eli."
Odell truly felt if the right pieces were put around Eli, specifically on the offensive line, then that team might have had something special.
Beckham Jr. goes on to state where he felt he ran into "trouble" within the organization.
"My problem, I ran into that problem when I felt they weren't growing and evolving as an organization. And I wasn't, like I wasn't winning… I hated losing that bad. Great, I was having great seasons. I hated losing. I hated it, I hated it and I feel like that was where I ran into the problem."
It obviously reached a point where the Giants organization felt they were better off without Odell and decided to move off him.
Odell is known to be an ultra competitor.
In fact, his frustration he discusses in the video can be correlated to his love hate relationship with the kicking net.
But, all jokes aside, Odell is now apart of a Cleveland franchise that is blossoming without him and he may find himself on a new team next season.
Cleveland May Move Off Odell In Offseason
The Cleveland Browns are currently sitting at 9-3 with a great shot of ending their playoff drought.
They just picked up a huge win over the Titans this weekend that featured Baker Mayfield's best passing game this season.
The underlying question that has gone through the minds of many fellow football gurus is whether or not Odell will have a real future in Cleveland.
After his season-ending injury, many felt Cleveland's offense would be better off without him, and it appears, they are right thus far.
The main problem being Baker tried force feeding Odell too often and that resulted in careless throws, leading to turnovers.
Source: Cleveland Browns have no plans to trade Odell Beckham Jr. And they were and are adamant about it.https://t.co/hf3rL3G1CU

— Adam Schefter (@AdamSchefter) September 20, 2020
If the Browns continue to play good football and end up winning a playoff game, they may change their minds on Odell.
It is no knock on Odell as he is a great player.
But, the fit just isn't there in Cleveland.