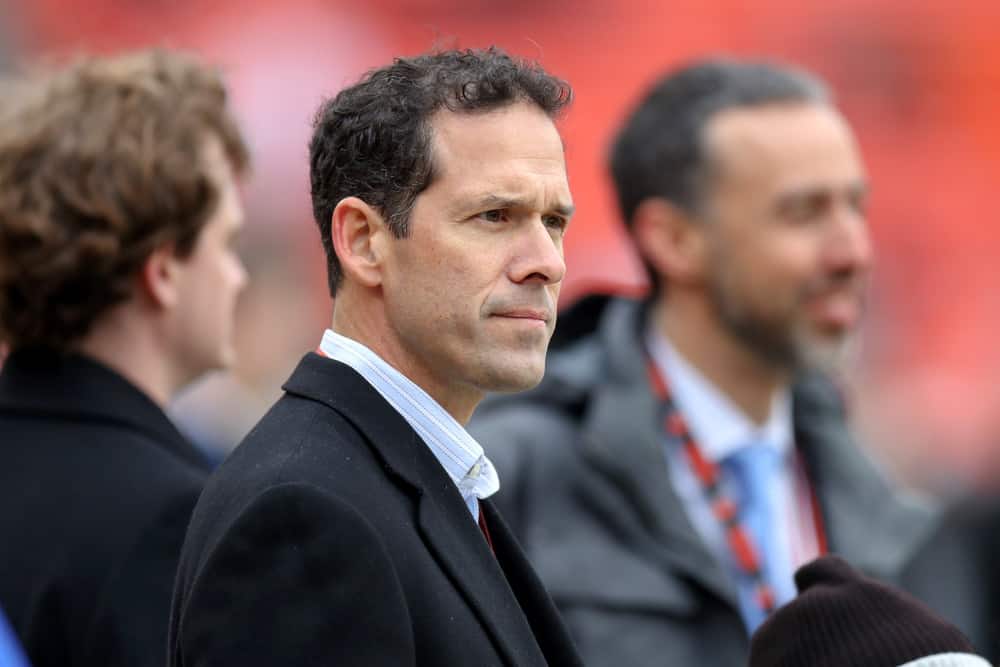 Jimmy Haslam asked Paul DePodesta to bring his MLB analytics game to the Cleveland Browns in 2016.
The team owner introduced his new employee as the Browns' "Chief Strategy Officer."
That innocuous title acknowledges what DePodesta said was his biggest initial challenge.
"I didn't know the NFL at all," he told reporters after Kevin Stefanski's introductory press conference back in 2020. "I shouldn't have had a voice in anything that was going on."
After Cleveland's advance to a divisional-round playoff game, it is safe to say DePodesta has a big voice now.
But his title remains unchanged, a reflection of Haslam's description of the Chief Strategy Officer's role.
"He is in charge of strategy. He reports to ownership. Nothing (has changed)," according to Haslam.
DePodesta explains that after defining the Browns' strategy, his job was to seek personnel suited to implement it.
👏 Congratulations to Coach Stefanski, who was named NFL Coach of the Year by @sportingnews and @PFWAwriters

📰 » https://t.co/rBvcHjChla pic.twitter.com/OrDqmyyrey

— Cleveland Browns (@Browns) January 21, 2021
Then, his staff provided the general manager and scouts with information to help find players who fit the system, too.
Cleveland's step backward in 2019 showed what can happen when someone deviates from the company plan.
But DePodesta knew Kevin Stefanski could follow the process and would turn the Browns into a winning franchise.
So, now that the Browns are a playoff team and a popular 2021 division title favorite, what's next?
Could DePodesta Leave Cleveland Soon? 
Paul DePodesta credits former presidential advisor George Pinkerton with developing his base business model.
Pinkerton worked for George H.W. Bush when DePodesta interned under him.
Sports might have been on DePodesta's mind, but Pinkerton's mentorship prepared him to run any organization.
DePodesta is a popular conference speaker, explaining his methods to audiences from a wide range of businesses.
Cleveland fans know his "find a strategy, implement the strategy" plan works in baseball and football.
Not every team he worked for gave him a fancy title and put him in charge.
It feels like the Browns really were super close to being in this Super Bowl tbh that's the most heartbreaking part. Still proud of everything they accomplished though. Things are different in Cleveland now

— 𝐉𝐚𝐦𝐞𝐬💫🐶👑 (@GiveMeMyW) January 25, 2021
But DePodesta is the only executive in MLB history to work for five different clubs when they won division titles.
He was in the scouting department of the Cleveland Indians when they took the 1998 American League Central title.
In almost every circumstance, DePodesta left for a new challenge after winning a title.
The only exception was the San Diego Padres, who blew a 6.5 game lead in September to finish second in 2010.
Will he hang around to see the Browns take the AFC North?
Or is Cleveland's return to playoff football enough to make DePodesta look for another challenge in 2021?
Where Would DePodesta Go? 
Now that NFL owners know DePodesta's magic carries over to football, opportunities can pop up anywhere.
Teams in playoff droughts or one suffering a run of bad management decisions presents his kind of challenge.
The McNair family in Houston is working to cement the Texans' status as a difficult group to work for.
But their reputation isn't any worse than the Haslam's was when DePodesta came to Berea.
NY Jets owner, Woody Johnson, returned from a 4-year stint as ambassador to England this year.
He can't be happy that his club is in worse shape than when he left.
That playoff atmosphere got me addicted. I can't wait till ball comes back next season.

— Chief David Njoku (@David_Njoku80) January 25, 2021
Both of those franchises can use a new culture and strategy as much as Cleveland did in 2016.
Despite his earlier success, DePodesta is not likely to return to Major League Baseball.
When he was hired by the Browns, he alluded that football was always his first love.
But when you have a genius mind like DePodesta, more foreboding challenges can seem irresistible.
DePodesta can just as easily take a position with a business, financial, or government entity.
But whether he goes or stays, one thing is certain.
Paul DePodesta will always have a home in the hearts of grateful Cleveland Browns fans.