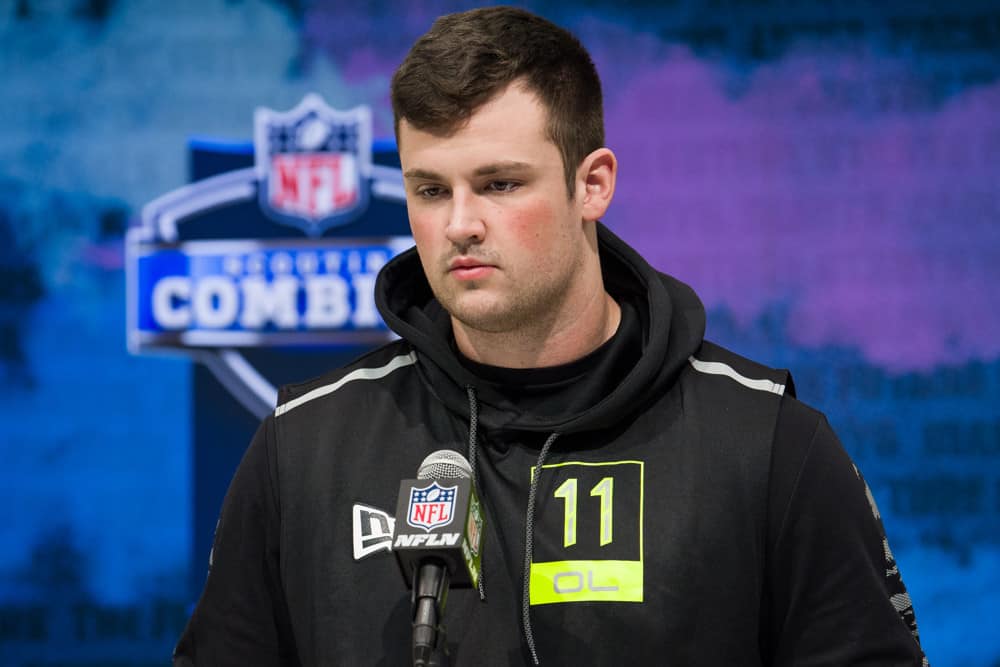 The Cleveland Browns' need for better offensive tackle play is far from a secret.
However, Cleveland could find one piece to that possible in… Cleveland.
No, there's no hidden tackle gem roaming the streets of downtown every day.
I'm talking about Ezra Cleveland, the 6'6", 310-pound machine out of Boise State that played some stellar left tackle last season.
Most mock drafts have him scattered across the second round, however, there are a few projections that sneak him into the tail end of the first round.
Regardless, it means nothing if Andrew Berry and friends don't have any interest.
Peter King from NBC Sports certainly thinks there is interest.
King wrote about Cleveland and the Browns in his most recent Football Morning in America column and believes the Browns have interest in the Boise State product.
"I mean, how does Berry not take one of the four hot-prospect tackles right here? "I agree," one Browns-watcher on another team said Saturday. "But they love that Boise tackle, and maybe they think they can get him in the second round." What an apt pick: With the 41st overall pick in the 2020 NFL Draft, the Browns select Ezra Cleveland, tackle, Boise State."
Mel Kiper's latest mock draft, his 4.0 edition, has Ezra Cleveland going 58th to the Minnesota Vikings in the second round.
As mentioned, the occasional mock puts him at the end of that first round, but in all likelihood, he is a day two prospect.
Even if the Browns go with a Tristan Wirfs or Mekhi Becton, there's still a feeling that the team will look to add more depth later on in the draft.
Whoever they take with the 10th pick will likely play alongside newly signed Jack Conklin to open the season.
Still, depth is important, and Cleveland could provide just that.
Mike Garafolo from NFL Network seems to think so as well.
#Browns @RossRugger This is what I was talking about this afternoon.
Ezra Cleveland is 100% in play for the Browns and it's not at 10 pic.twitter.com/GidTHY7Ygm

— ChadP71 @BrownsAccess (@chadp71) March 2, 2020
Strengths
Cleveland's biggest strength stems from his athleticism and his NFL.com draft profile reflects just that.
He was far and away the fastest offensive lineman on the 3 Cone Drill at the NFL Combine, setting a mark of 7.26 seconds, at least 0.2 seconds ahead of any other lineman.
He was also the fastest offensive lineman on the Twenty Yard Shuttle.
Speed and quickness aren't exactly the first things that come to mind when you think tackles, but having one that can move a little bit is a huge plus and allows you to do different things schematically, like this…
Ezra Cleveland with the almost score. Big man can move! #NFLDraft2020 pic.twitter.com/riyXasUk2D

— Alex Varallo (@NYJetsLife24) March 31, 2020
Jokes aside, Cleveland has plenty positives in his game to write home about.
Ezra Cleveland, OT, Boise State:

• Testing athleticism matches up
• Patient + Poised pass sets (++)
• Calculated second level climbs
• Efficient punch w/either hand
• Above average anchor strength (+)
• Excellent zone-scheme fit
• Trial and error early NFL starter pic.twitter.com/Ol8OZbXGeJ

— Jordan Reid (@JReidNFL) March 3, 2020
Weaknesses
Based on various draft profiles and after watching some tape, there's some fine-tuning that needs done with Cleveland's technique in the trenches.
#Marshall's EDGE #9 Fermin Silva beats #BSU LT #76 Ezra Cleveland with a club/rip combo, then strip sacks Bachmeier. pic.twitter.com/fpPdQiOHnq

— Fed Scivittaro (@MeshPointScout) September 7, 2019
A huge area of concern is his ability to engage with defenders consistently.
Better pass rushers will give him fits in the league until he sharpens up.
Frankly, he's very raw with much of his technique along with his football IQ.
There is almost guaranteed to be an acclamation period for Cleveland once he is drafted with a lot of aspects of his game needing addressed.
He's still a second-round grade, so it's not like he is terribly far from where he needs to be at the next level.
The quickness and athleticism is enough to get a conversation started, it's now on Andrew Berry to finish it.