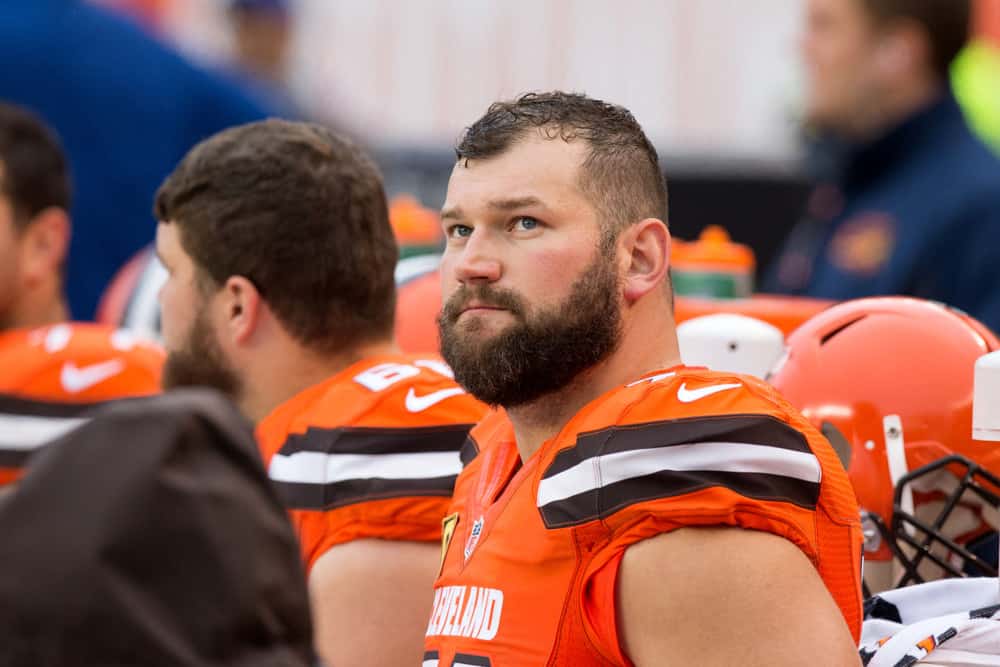 The Cleveland Browns did not have a single winning season during the past decade.
That means plenty of players passed through town as the organization sought out a winning formula.
The NFL released its 2010s All-Decade Team this month and the Browns actually had two former players make the list.
NFL 2010s All Decade Team

Who got snubbed? pic.twitter.com/0m2eqkzrcJ

— Master (@MasterTes) April 6, 2020
Such a list brought up the idea of trying to come up with a Browns-centric All-Decade Team.
Was it easy?
Absolutely not.
I'm old enough to remember:

1. Red Right 88
2. The Drive
3. The Fumble
4. "Diminishing Skills"
5. "Bill Must Go"
6. The Move
7. The Return
8. Run William Run
9. 10-6 in 2007
10. Peyton Hillis/Madden Cover
11. Josh Gordon
12. Shurmur getting quick snapped
13. Joe Banner
14. 1-31 pic.twitter.com/nycQY6zKBl

— Randy Lee Danger 🚀 (@randella22) September 8, 2019

But there is still a list of players who played well and deserve to be recognized for working hard under tough circumstances.
So let's take a look at the Cleveland Browns 2010s All-Decade Team.
Cleveland Browns All-Decade Offense
Quarterback:
Brian Hoyer and Baker Mayfield both end up on this list without much competition.
Josh McCown would be a fun choice if only he could have stayed healthy for more than one game at a time.
Hoyer actually had a winning record of 10-6 as a Browns starter, while Mayfield is at 12-17.
The local hero in Hoyer gave Browns fans some excitement in 2013 before injuring himself and missing the remainder of the season.
This was with…..

QB- Brian Hoyer
RB- Ben Tate, Isaiah Crowell, Terrance West
WR- Miles Austin, Andrew Hawkins, Travis Benjamin
TE- Jordan Cameron#Browns pic.twitter.com/u8XoguYzet

— Jackson McCurry (@JackMcCurry08) March 21, 2020

What followed was a magical 7-4 start to the 2014 season that had Browns fans ready for the playoffs.
Johnny Manziel and five straight losses ruined that dream.
Mayfield's 29 starts are the most of any quarterback from the past decade.
He was the first Browns signal-caller to start all 16 games since Tim Couch did so in 2001.
There was regression seen in 2019, but the whole team was a disaster under Freddie Kitchens.
Mayfield still has high expectations surrounding him and is nowhere near as bad as some of the other guys who lined up under center last decade.
Running Back:
Chubb already ranks No. 11 overall in franchise history with 2,490 rushing yards in 32 career games.
Running back Nick Chubb's 92-yard run against the Falcons!!! Longest run in Browns history!!! pic.twitter.com/fcL7H9kKwZ

— Cleveland Sports Talk (@CLEsportsTalk) March 29, 2020

Two spots ahead of him is Isaiah Crowell, who had 3,118 yards and 21 touchdowns in four years with the Browns.
Nick Chubb: highest-graded RB pic.twitter.com/fleYdryosU

— PFF (@PFF) April 8, 2020
Hillis is the name that should come to mind for most Browns fans.
He is a true one-hit wonder who burst onto the scene in 2010 with 1,177 yards and 11 touchdowns.
Hillis routinely destroyed defenders and could be seen leaping over them as well.
Peyton Hillis made the Madden cover in 2012. #NeverForget pic.twitter.com/LV29m1CM7w

— Faux NFL Network™ (@FauxNFLnetwork) May 14, 2017

What followed was a disappointing 2011 season where he was more focused on money and off-the-field activities, appearing in only 10 games.
The inclusion of Richardson on this list may shock some fans.
However, he did rush for 950 yards and 11 touchdowns in his rookie season.
Getting near 1,000 yards was rare for a Browns back until Chubb blew past that mark in 2019.
Wide Receiver:
Josh Gordon is one of the biggest "what ifs?" in the NFL from the past decade.
He finished 2013 with 1,646 yards in only 14 games.
The only play from the Browns in the last 10 yrs I felt like re watching on gamepass pic.twitter.com/46AQ0LufZx

— TA (@ClevTA) March 21, 2020

Yet, he was suspended for much of the 2014 season and was out entirely from 2015-2016 with substance abuse problems.
His first two seasons alone are enough to make him the top receiver from the 2010s.
Landry is a close second after making two Pro Bowls in two seasons with the Browns.
The veteran came over from Miami and has played in all 32 games, recording 2,150 yards and 10 touchdowns.
After Landry, comes the steep drop-off.
Benjamin and Hawkins earn spots for solid contributions in somewhat short tenures.
Greg Little was also under consideration for having 1,821 career yards.
Any list where Little is under consideration shows how thin the talent pool was.
Flex:
Duke Johnson Jr.
The man known simply as "Duuuuke" earns the lone flex spot.
He had 2,170 receiving yards and 1,286 rushing yards in four seasons with the team.
His receiving numbers could have been much bigger if he had played with more competent help at quarterback.
Houston Texans acquire Duke Johnson Jr. from the Cleveland Browns 🗞️📊See the @PFF data detailing this move: https://t.co/XEjGRtxrqk

— Connor Price (@PFF_ConnorPrice) August 8, 2019
Tight End:
Barnidge was a fan favorite after his 1,000-yard season in 2015.
That earned him a spot in the Pro Bowl that year.
#94: Gary Barnidge (TE, Browns) | Top 100 NFL Players of 2016 https://t.co/VuneKb86Wn #Patriots #Sportstar pic.twitter.com/4iSrzdL6Hl

— Homeland Defense (@1975Patriots) March 6, 2017

Unfortunately for him, he was let go by the Browns after a down 2016 season.
Watson earns a spot over the likes of Jordan Cameron and David Njoku for being consistent.
He finished his Browns career with 1,674 yards and eight touchdowns in three seasons.
Tackle:
This position group needs no explanation.
Thomas made the NFL's All-Decade Team and is one of the best players to ever suit up in a Browns uniform.
"I feel very fortunate and incredibly excited."@joethomas73 reacts to being a unanimous selection to the All-Decade Team 🙌

📺: @NFLTotalAccess pic.twitter.com/ZbG5q0lE40

— NFL Network (@nflnetwork) April 7, 2020

Schwartz was also a key piece along the offensive line before being allowed to walk when the rebuild got underway in 2016.
The two were so great it is hard to even think of a third player to include on this list.
Adding anyone else would be an insult to Thomas and Schwartz.
Guard:
Bitonio and Zeitler headline the guard spot.
Bitonio has made two straight Pro Bowls and remains a key piece on offense.
Top 10 OG Pass Block Win Rate
1. Marshal Yanda, Ravens, 98%
2. Joe Thuney, Patriots, 97%
3. Richie Incognito, Raiders, 96%
4. Joel Bitonio, Browns, 96%
5. Zack Martin, Cowboys, 96%
6. Joe Dahl, Lions, 96%
7. Quenton Nelson, Colts, 95%
8. Elgton Jenkins, Packers, 95%

— Lions Guy (@LionsGuy9) January 23, 2020

Zeitler joined the Browns in 2017 on a massive five-year, 60 million contract.
But when the regime changed, so did the jersey Zeitler wore.
The talented guard was traded to the New York Giants two years later in the deal that brought Odell Beckham Jr. and Olivier Vernon to Cleveland.
Greco became a regular starter and was with the Browns from 2011-2016.
The Youngstown native was never a star, but he was a decent player during his tenure.
Center:
Mack was the other former Browns player to make the NFL's All-Decade Team.
Congratulations to former Browns @joethomas73 and Alex Mack on being named to the NFL's All-Decade Team for the 2010s! 👏

(Unsurprisingly, Thomas was one of 8 unanimous selections.)

Details » https://t.co/N0bBV3yae9 pic.twitter.com/Tj4bVFaZ1K

— Cleveland Browns (@Browns) April 6, 2020

The fact he was not retained for the long-term is a catastrophe and shows why the team has struggled for so long.
Mack was with the Browns from 2009-2015 and started all 16 games every year except for 2014, when he broke his leg after five games.
The center made three Pro Bowls with the Browns and is one of the best first-round picks in franchise history.
The position was in a state of transition until J.C. Tretter arrived in 2017.
He has started every game at center since joining the team and was rewarded with a nice extension at the end of last season.
Cleveland Browns All-Decade Defense
Defensive End:
The 2017 No. 1 overall pick tops this list after only 37 career games.
Garrett is an absolute monster and has 30.5 career sacks to his name at this point in his career.
He was on pace to set a new personal best last season before his infamous incident with Mason Rudolph that caused him to miss the final six games of the year.
The act and the following suspension put a dark spot on Garrett's young career, but it should not define him as time goes on.
Myles Garrett of the Cleveland Browns has been "suspended indefinitely" by the NFL after hitting Pittsburgh Steelers quarterback Mason Rudolph with his own helmet.

Full story 👉 https://t.co/6WTQDpK3E3 #bbcnfl pic.twitter.com/iILUkZS55H

— BBC Sport (@BBCSport) November 15, 2019

He was worth the No. 1 overall pick and could be a perennial Pro Bowler if he stays healthy and on the field.
Myles Garrett has 5.0 sacks through 2 games. Clay Matthews was the last player with 5.0 sacks through 2 games, doing it in 2012.

— ESPN Stats & Info (@ESPNStatsInfo) September 17, 2019
After Garrett comes a former second-round pick in Sheard.
He spent four years in Cleveland and recorded 23 sacks before leaving in free agency to join the New England Patriots.
A general rule of thumb should be to do what it takes to retain players who are targeted by Bill Belichick.
He seems to know what he is doing when it comes to acquiring talent.
Alas, Sheard, who was both a defensive end and linebacker, could not get a second deal in Cleveland after a nice start to his career.
Ogbah is another player who left too soon, and not by his own choosing.
The 2016 No. 32 overall pick had 12.5 sacks and 122 total tackles in the first three years of his Browns career.
However, he was a Sashi Brown pick ultimately traded by John Dorsey in the spring of 2019.
Defensive Tackle:
Rubin was a sixth-round pick by the Browns who performed well above his draft slot.
The nose tackle started 75 games for the Browns from 2008-2014 and had 12 sacks and 338 total tackles in those seven years.
2011 was Rubin's best year as he had five sacks and an impressive 83 tackles.
Remember Ahtyba Rubin?#ClevelandBrowns #DawgPound #Browns pic.twitter.com/EuEFUgEF7m

— Cleveland Browns Guys (@CleveBrownsGuys) December 27, 2019

Ogunjobi has already matched Rubin's total of 12 sacks and has done so in just three seasons.
He has become a key part of the defense and was one of the better picks during the rebuilding phase of the franchise.
Shelton, the team's top pick in 2015, is considered a bit of a bust by many Browns fans.
That is fair given he was traded after three seasons and only had 1.5 sacks with the team.
Yet once again, it is hard to find much-talent at some of these positions.
Jamie Meder would be a fun choice for his few special moments, but Shelton edges him out by having more production.
Linebacker:
Jackson was the heart and soul of the Browns defense for much of his time in town from 2006-2013.
2011 saw the linebacker finish with 158 total tackles, with 116 of those being solo tackles.
D'Qwell Jackson would be #1 for me! #DQ52 My favorite defensive player ever for the @browns pic.twitter.com/qSjRJLBM4m

— Ted Atwell (@Atwell63) April 6, 2020

His production never faltered and he was released in 2014 after Ray Farmer took over.
Schobert and Kirksey are two players from the 2019 squad who were allowed to leave this offseason.
Not wanting to retain Schobert was a bit odd considering he has been one of the most consistent players on defense and is only 26 years old.
He made the Pro Bowl in 2017 and had 408 total tackles in four seasons with the Browns.
2019 was a turning point as Schobert also had four interceptions.
Imagine not watching joe schobert highlights first thing in the morning pic.twitter.com/yUo8hCTFO2

— ℂ𝕙𝕒𝕣𝕜𝕊ℤℕ ❄️ (@IcyChark) March 18, 2020

Letting Kirksey go is a bit more understandable, but fans should remember the linebacker was great when healthy.
The former Iowa Hawkeye shined in 2016 and 2017 to lead a defense during a miserable stretch in franchise history.
He had 148 tackles in 2016, followed by 138 in 2017.
The injuries that came in 2018 and 2019 do hurt the latter part of his legacy in Cleveland.
The two-year, $16 million deal he signed with Green Bay this offseason shows that he is still valuable even if Browns fans were done with him.
Defensive Back:
Seeing Joe Haden in a Pittsburgh Steelers uniform is a painful sight after all he did in the city of Cleveland.
Haden embraced the city and was also great on the field when he could stay healthy.
The new Joe Haden banner outside Browns' Stadium is 🔥 pic.twitter.com/fk0FV9cMd3

— Sports Nation Ohio (@SN_Ohio) July 19, 2015

The corner was taken No. 7 overall in the 2010 draft and was the perfect pick at the start of a new decade.
Haden had six interceptions in his rookie year and had 18 passes defended.
He made two Pro Bowls with the Browns and was second-team All-Pro in 2013.
His play declined a bit as time went on, but he was still a surprising cut in 2017 right before the start of the season.
Naturally, he has become a nice piece on defense for the Steelers.
Ward will hopefully be the second coming of Haden and even more.
The No. 4 overall pick in the 2018 draft made the Pro Bowl in his rookie year after appearing in only 13 games.
Injuries, and specifically concussions, are a worry with the 22-year old.
His five interceptions in two seasons make him a key piece to build around on defense for years to come.
After Haden and Ward, it is a bit tough to find someone on that same level.
Taylor gets the nod for his two years with the team.
He spent three years in the NFL without an interception, only to record three in his first season with the Browns.
Safety:
Ward was taken in the 2010 draft along with Haden.
With pick 38 in the 2010 NFL Draft, the #Browns selected T.J. Ward, SS, Oregon.

He posted a poor #RAS with poor size, v.poor speed, okay explosiveness, good agility at the SS position.

He went to two pro bowls. pic.twitter.com/1N9Kt8N1DV

— Kent Lee Platte (@MathBomb) May 23, 2019

He was an absolute beast in the secondary and had 123 tackles in his rookie season.
His last game in a Browns uniform came in the 2013 Pro Bowl.
Not re-signing Ward made zero sense.
Not much did during the past decade.
Chalk it up to one of many regime changes.
That is the only explanation of why the team would let a Pro Bowl safety leave for a deal with the Denver Broncos worth only $23 million.
Gipson played alongside Ward for a few seasons in his Browns career that lasted from 2012-2015.
The safety was undrafted out of Wyoming and worked his way to making the Pro Bowl in 2014.
He had six interceptions that season, which was a new personal best after the five he had in 2013.
Gipson ultimately became too expensive for the new Browns front office in 2016, leaving to join Jacksonville on a five-year, $36 million deal.
The duo of Ward and Gipson was a special one and it is too bad the union only lasted a few years.
Browns All-Decade Special Teams
Punter:
Punter, the most exciting position in football!
Colquitt earns the top spot after spending three years with the Browns and got plenty of work from 2016-2018.
Did Britton Colquitt just steal Kenny Britt's helmet for when he had to hold the extra point? #Browns @Reflog_18 @UniWatch @PhilHecken pic.twitter.com/noArgEqF0U

— Kevin J. Chmura (@KJChmura) November 12, 2017

Hodges makes the list mainly because of his 68-yard run against the New Orleans Saints in 2010.
Browns at Saints 2010, on 4th down from their own 20, the Browns call on Reggie Hodges for the fake punt. Browns eventually win 30-17 @Fr8zilla #Browns pic.twitter.com/ynukk8xeuC

— CleWest (@erjmanlasvegas) September 13, 2018

The buff punter brought some rare athleticism to the position that was not seen again until Jamie Gillan's arrival in 2019.
Kicker:
Dawson is a Browns legend right up there with Joe Thomas.
His Browns career spanned three separate decades from 1999-2012 and his only Pro Bowl came in that 2012 season.
Who remembers when Phil Dawson tied the game on a kick that bounced-back? Via Browns…
Watch this classic HERE: pic.twitter.com/eFrsZD5JsW

— Cleveland Sports Talk (@CLEsportsTalk) March 30, 2020

The team has been looking for his replacement ever since and has had some decent players serve as kicker.
Phil Dawson retirement press conference https://t.co/HYmLn9oOMY

— Cleveland Browns (@Browns) August 2, 2019

Seibert looks to be a suitable option, even though the sample size is only one year.
The rookie was 25-29 on field goals and 30-35 on extra points.
The longer extra point makes this position a tough one to judge based on different rules in different years.
Seibert still makes the cut right after Dawson after a nice debut season.
Returner:
Travis Benjamin
Cribbs is another obvious choice for this list.
He was one of the last great kick and punt returners in the game before the NFL changed the rules to make the league safer.
Cribbs was with the team from 2005-2012 and made the 2012 Pro Bowl.
Josh Cribbs is a @Browns legend. pic.twitter.com/A4erblrS8z

— BROWNS OR DIE 💀 (@BrownsorDie) March 24, 2020

The bulk of his success did come in the previous decade, but he was still a Pro Bowl player at a spot that is overlooked in today's game.
Benjamin shows up on the list again for some brief success returning kicks and punts.
He had two punt return touchdowns in four years.
Browns All-Decade Coaches:
Mike Pettine
Gregg Williams
This was easily the most difficult section of the entire list.
Browns' head coaches under the Haslams:

🏈2019 Freddie Kitchens
🏈2018 Gregg Williams
🏈2016-18 Hue Jackson
🏈2014-15 Mike Pettine
🏈2013 Rob Chudzinski
🏈2012 Pat Shurmur (Shurmur was HC in 2011 before Haslams bought the Browns).

— Adam Schefter (@AdamSchefter) December 30, 2019
Pettine finished his Browns career with a record of 10-22 in two seasons after a truly promising start.
That is the most wins for any coach during the decade.
You read that right, 10 wins is the best mark.
I've said it once and I'll continue to say it, Mike Pettine was the best coach the #Browns have had since returning to Cleveland https://t.co/e95N8t4KXZ

— MoreForYouCleveland (@MoreForYou_CLE) January 13, 2020

Eric Mangini also had 10 total wins, but his first season was in 2009.
Pettine earns the top spot solely because of the 2014 season where the Browns finished 7-9.
The 7-4 start made it seem like the duo of Pettine and Kyle Shanahan would bring the Browns back to greatness.
Then Manziel became the starting quarterback and the whole operation collapsed in a matter of weeks.
Pettine earns the spot by default.
The only other logical choice after Pettine was an interim coach in Williams.
He had five wins in eight games after the long-awaited firing of Hue Jackson in 2018.
That is two more wins than Jackson had in 40 total games.
That sentence right there sums up the last decade in a nutshell.
Be sure to let us know in the comments section if we missed anyone on this list!