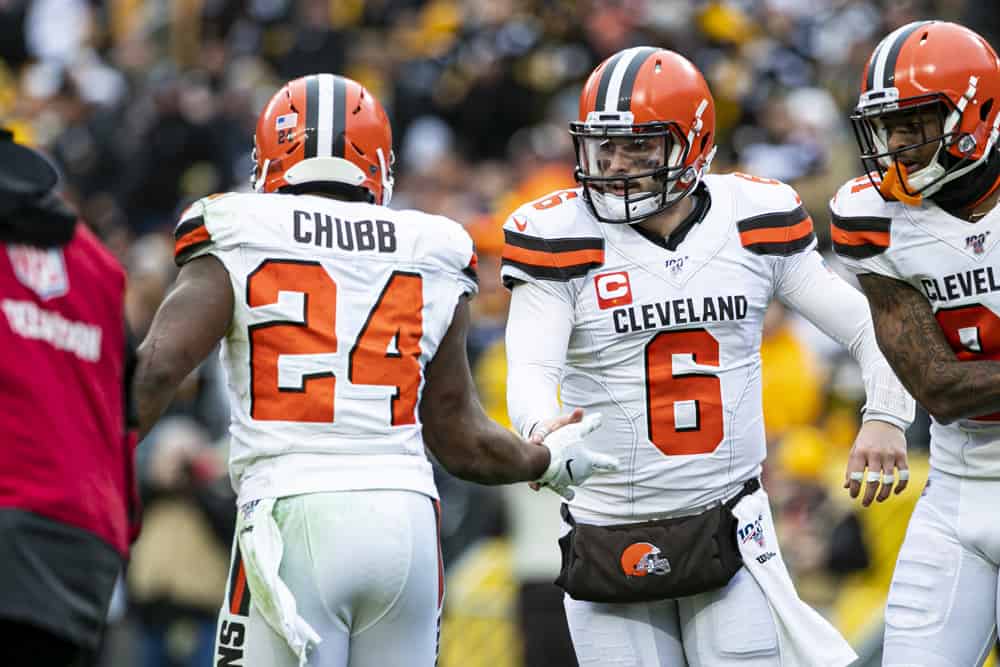 It is the time of year when everyone with a remote interest in NFL football settles into prediction mode.
Rosters aren't close to being settled, but we know who is battling and that is good enough.
Co-workers, neighbors, and family jump on every published article, tweet, and quote for support.
And, as if Cleveland Browns fans need more reinforcement, a major source has weighed in.
PFF simulated the NFL season 10,000 times. Chance to win the AFC North

🔹 Browns – 46.3%
🔹 Ravens – 34.4%
🔹 Bengals – 9.7%
🔹 Steelers – 9.6%https://t.co/doiYjdpzGl

— PFF College (@PFF_College) May 18, 2021
Pro Football Focus says Baker Mayfield will be (at least) a division-winning quarterback this year.
Well, they give him the best odds for now, and that means the same thing, right?
PFF is among the biggest names in NFL analytics, using sophisticated data to rank players and teams.
But even they recognize nobody is perfect, so for this study, they pulled in some local market sources.
#Browns Baker Mayfield is currently T-9th for odds to win the 2021 NFL MVP award (33/1) pic.twitter.com/Q6XCD5PCLK

— MoreForYouCleveland (@MoreForYou_CLE) April 14, 2021
They added the additional analysis to their own player Elo ratings and rankings.
Then they threw it all into a computer and ran simulations of each scheduled game of the upcoming season.
Data on home-field advantage, the time between games, and seasonal weather add to the projections.
And The Results Show… Cleveland Rocks! 
After 10,000 simulations, Cleveland came out a division winner 46.3 percent of the time.
That doesn't sound decisive, but it is a solid 12 percentage points better than Baltimore.
And in another feel-good data point, Cincinnati has better odds than Pittsburgh.
PFF's game simulation also gives the Browns a 72% chance to make the playoffs.
The only team with a QB and TWO running backs in PFF's latest rankings 👀

🥇@Browns 🥇 pic.twitter.com/Es0rpHzRN1

— PFF (@PFF) May 19, 2021
They are ranked 5th overall, but only 3rd in the AFC, leaving them with a 14% chance of winning the conference.
As in many simulations, Baltimore ranked close to the Browns in sixth place.
But PFF's computer games still give much better odds to Cleveland with just a half-win more on average.
Baltimore won the AFC North in 34.4% of the simulated seasons and made the playoffs in 63.6 %.
And in the most important projection, Cleveland won the Super Bowl 700 times to the Ravens 420.
The rivals trailed only Tampa Bay (1600), Kansas City (1510), Green Bay (1380), and Buffalo (750).
How Accurate Can The PFF Simulations Be? 
PFF puts a lot of pride in objective data input and results in their player rankings.
But their won-loss projections bear the notable caveat that comes with using betting site projections.
In a typical season, a handful of NFL teams win 13 or more games.
But betting sites rarely project more than 11, and that is almost the case with PFF's computer simulation.
Is this revamped #Browns defense now a top 10 unit in the NFL? 👀

Cleveland's PFF Draft Grade: 🅰️ ➕ pic.twitter.com/2JJzgvVNbA

— PFF (@PFF) May 2, 2021
In fact, Cleveland (10.2) is one of only 5 teams with more than 10 wins in the expanded 17-game 2021.
And most Browns fans know the team is destined for 13-14 wins this year.
For that reason, the comparative context of the results has more value for bettors and fans.
That is why we'll cut PFF some slack for validating the Browns are the best team in the AFC North.
And maybe we can admit that the Ravens are still a threat even as we revel in Pittsburgh's fall.