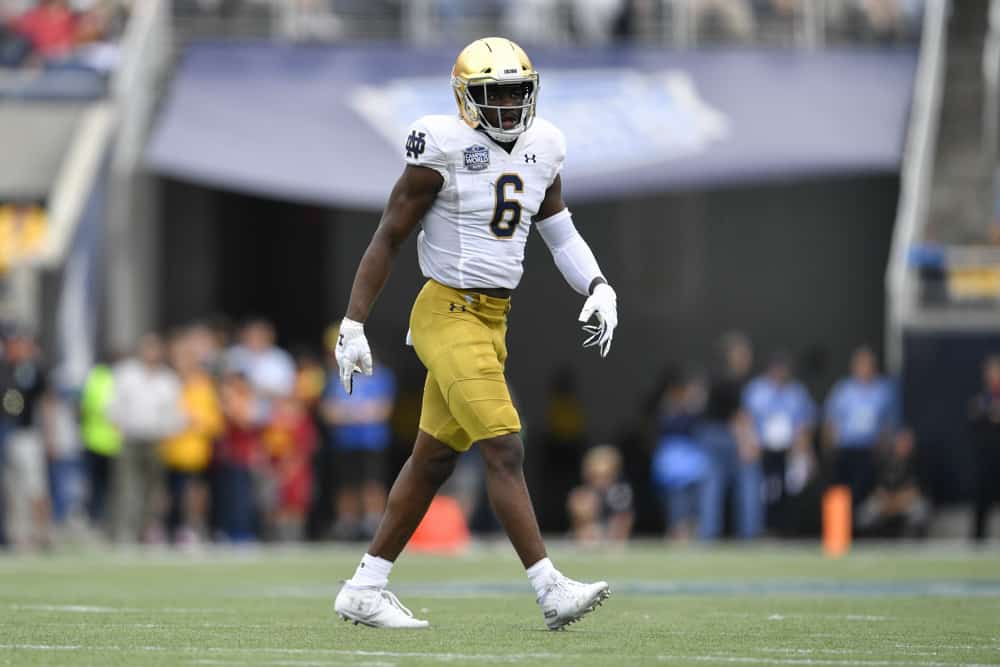 With less than three weeks to go until the 2021 NFL Draft, analysts are frantically changing their draft boards with new mock drafts almost on a daily basis.
The Cleveland Browns have the 26th pick in the first round of the draft.
So much can happen until the Browns are on the clock that it is not surprising the mock drafts are moving targets.
The latest Pro Football Focus mock draft shows the Browns picking linebacker Jeremiah Owusu-Koramoah (JOK) with that first-round pick.
.@ByGeorgeThomas: Notre Dame linebacker Jeremiah Owusu-Koramoah says #Browns told him they want smart, tough, accountable players and "those three virtues you could call it … fit perfectly with who I am" https://t.co/NXcOKJPIlW

— Nate Ulrich (@ByNateUlrich) April 8, 2021
Who Is JOK?
JOK is a 6'1″ 215-pound linebacker from the University of Notre Dame.
At Bethel High School in Hampton, Virginia, JOK played many positions on the football team including running back, wide receiver, linebacker, and safety.
He was a two-sport athlete who excelled at basketball also.
JOK was the 2020 recipient of the prestigious Dick Butkus Award given to the top linebacker in college football.
Very well deserved. Jeremiah Owusu-Koramoah was sensational this year. He makes plays all over the field and he is just the type of open field player that NFL Defensive Coordinators are looking for. Congratulations Jeremiah on winning the 2020 Butkus Award https://t.co/V4hDP8F15D

— Tony Dungy (@TonyDungy) December 22, 2020
Pro Football Network's Assessment
PFN projects him as a first-round draft pick.
JOK is small by NFL standards, but he possesses speed and explosiveness that make him a valuable player on all three downs.
His versatility most certainly piques the interest of GM Andrew Berry and Coach Kevin Stefanski.
PFN draft analyst Tony Pauline lists JOK as the third best linebacker in the 2020 class behind Penn State's Micah Parsons and Tulsa's Zaven Collins.
Notre Dame Coach Brian Kelly's Assessment
Coach Kelly talked about how JOK stepped up his level of play in 2020.
"When the caliber of play stepped up, his play stepped up to a level where we really saw him almost stand out against the really top performing teams.  He brings his best against the best. I think that's how you measure great players is at what level do they play. Competitive greatness is always measured about the great players play their best against those types of teams and I think that's where we started to see his separation and ascension as a football player."
NFL Teams Interested Besides The Browns
JOK has talked with the Philadelphia Eagles and has spoken about how he feels he fits in at Philly.
"I think I fit better than the other guys in terms of my mentality going back to that. The Eagles is a place that's a gritty place. You have to have some fierceness to you to survive in Philly. You win in Philly, they love you. If you lose in Philly, they hate you. So you got to be able to deal with that and coming from my background, even here at Notre Dame, you know what I mean? It's a lot of situations that I had to persevere through and I think that, first and foremost, my mentality prepares me more than some of the other players in terms of in terms of Philly, in terms of my athletic ability, in terms of physicality and point of attack, I'm physical. Physicality in terms of block-shedding. I think I excel in a lot of things if we're comparing other guys, but in terms of Philly. I think that's what separates me."
The Eagles have the 12th pick in the first round of the draft.
According to PFN, other potential suitors are the New England Patriots (15th pick), Las Vegas Raiders (17th), Washington Football Team (19th), and the Buffalo Bills (30th).