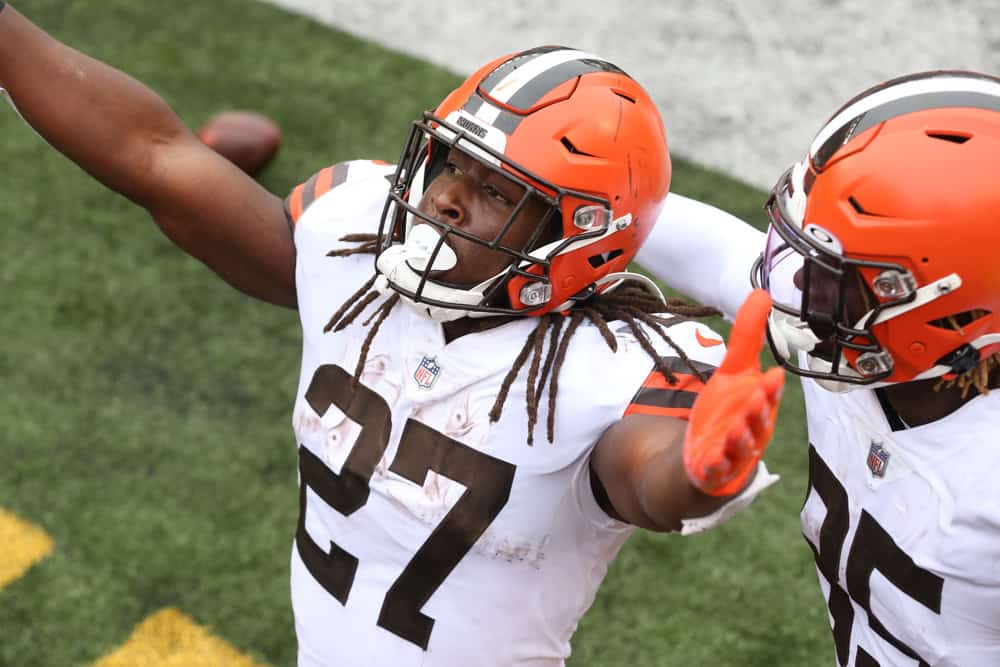 There are two surefire ways to come up with a great NFL roster heading into the 2021 season.
You can take the reigning champions' roster and re-sign every player like the Tampa Bay Buccaneers did.
Or you can hire Andrew Berry to work his magic as the Cleveland Browns did.
Every #Browns fan should be grateful for the outstanding free agency signings Andrew Berry has brought to Cleveland, not to mention they haven't even had draft picks yet. pic.twitter.com/CMNs0FAoQE

— 𝘾𝙡𝙚𝙫𝙚𝙡𝙖𝙣𝙙𝙎𝙕𝙉 🌟 (@GoatedBaker) April 14, 2021
Pro Football Focus released their pre-draft roster assessments this week.
And PFF likes what they see from the Cleveland Browns, per writer Anthony Treash:
"The Browns put on a clinic in free agency this offseason, signing top-tier players at positions of need and for a great price, too."
Cleveland's 2021 collection of players ranked second only to the Super Bowl champions from Florida.
The Browns came in one spot ahead of Kansas City, the team that lost to the Buccaneers in the big game.
"Super Bowl contender Cleveland #Browns."

What's your reaction to that statement?

— MoreForYouCleveland (@MoreForYou_CLE) April 14, 2021
And in case you're wondering about PFF's history of ranking rosters, they nailed the Browns in 2020.
PFF's preseason rankings listed Cleveland #11 overall and #6 in the AFC, behind the Ravens and Steelers.
To refresh memories, Cleveland finished just behind those AFC North rivals as the 6th AFC playoff seed.
Great Things Ahead For 2021? 
PFF's pre-draft rankings will do nothing to curb the enthusiasm and expectations of Browns fans.
Their 2021 evaluation puts Cleveland on top of the AFC and the division.
Baltimore's roster is the only other AFC North team ranked in the top half of the league.
They came in at no. 7, while Pittsburgh (18) and Cincinnati (21) lag far behind.
1. Tampa Bay 🏆
2. Cleveland 👀
32. Detroit 🤢 @PFF_Anthony ranks all 32 NFL rosters ahead of the 2021 NFL Draft ⤵️ https://t.co/Cd3WqCN0ym

— PFF (@PFF) April 23, 2021
Of course, things can change for several teams with a good draft.
Most significant for Cleveland fans is the Raven's pre-draft assessment.
PFF believes their only weak spot is at wide receiver, a position loaded with talent in the draft.
Baltimore could jump a notch or two closer to the Browns by landing a top wideout.
It is less likely the Browns will fall after the draft, in part because their roster is already stacked.
But also because Berry and his draft room team are expected to perform as well as they did last year.
Other than the injured Grant Delpit, Cleveland got production from every selection in 2020.
What Else Did PFF Say About The Browns 
PFF primarily ranked teams by using the WAR (Wins-Above-Replacement) ranking of each player on every roster.
That raw assessment was supplemented by some subjective assessments of up-and-coming teams.
But it did not use any draft expectations, such as where the top quarterbacks will land, in settling their list.
The man with the PLAN! 💯

Cleveland @Browns fans: How would you grade Andrew Berry's offseason so far? 🤔

Via @HeavyOnBrowns 🔥 pic.twitter.com/2HoF9sMl9o

— BROWNS OR DIE 💀 (@BrownsorDie) April 15, 2021
Treash specifically cited John Johnson and Troy Hill as difference-makers on the defensive side of the ball.
And he called Myles Garrett and Jadeveon Clowney one of the league's best edge tandems.
Cleveland's top-ranked offensive line helps secure their rank as the second-best roster in the league.
Treash noted in his write up:
"Cleveland has gone worst to almost first in just a few short years while building one of the best rosters in the league."
And they didn't even mention the Browns' offensive skill players.
Working under the reigning NFL Coach of the Year and his assistants, big things are expected from that roster.
And not just from folks at PFF.